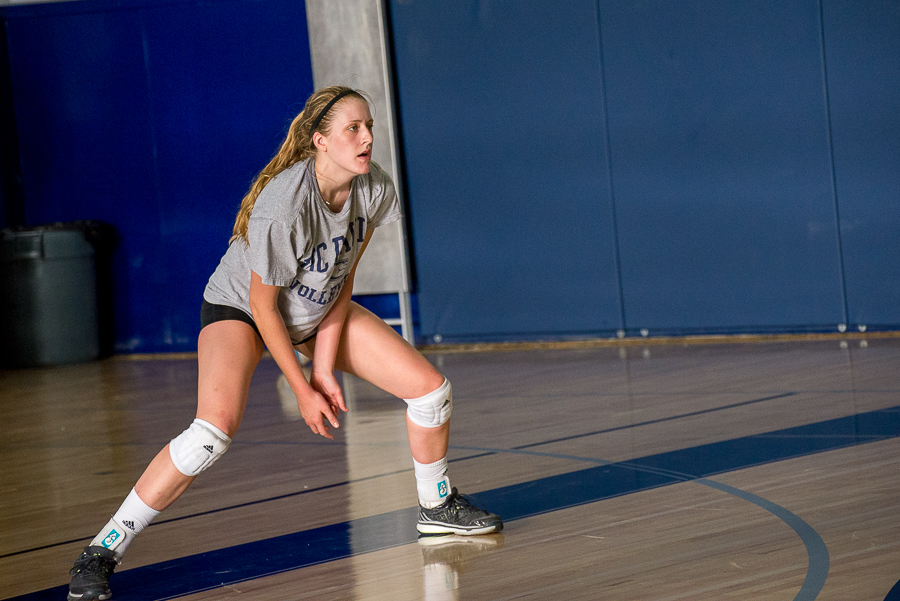 Women's volleyball's Lauren Matias earns collegiate accolades, looks forward to her years at UC Davis.
The pressure is on for everyone in their first year of college. However, it's especially intense for student athletes, who juggle academic rigor and the anxieties of freshman year, as well as the discipline required to excel in collegiate sports.
Some say it's impossible, but not for the rising star of UC Davis women's volleyball, freshman outside hitter Lauren Matias.
After sitting out senior year in high school to focus on competing in the club season, Matias soon accepted an invitation to come play for the UC Davis women's volleyball team and took collegiate play by storm.
The California Aggie had the chance to sit down with Lauren Matias to comment on her accomplishments as an Aggie and about the team moving forward.
Lauren Matias
Height: 6'2"
Year: Freshman
Position: Outside Hitter
Major: Undeclared/Exploratory Program
Hometown: Santa Cruz, California
High School: Harbor High School '16
History: Played with Main Beach VBC, played for Jan Furman, former legendary Davis volleyball club mentor.
Accolades: Two time Big West Freshman Player of the week, most kills in a match in the Big West in 2016, tied for third at UC Davis for most kills in a match.
How long have you been playing volleyball? What got you into the sport?
I have an older sister, so I started tossing the ball around third grade with her. She really inspired me to get started playing around sixth grade [and] I started playing club in ninth grade. It was a lot of fun to get to [play] because I was watching my sister do it.
What was the process like to play for UC Davis? Were you recruited, did you go to open tryouts?
It was a recruiting opportunity. I committed pretty young in my sophomore year [of high school]. I came on campus for a few unofficial visits and I really enjoyed the campus and the team and what we wanted to create out of Davis volleyball. I committed super young because I knew this was the place for me and I was going to do it sooner or later.
How does it feel when you see that over a short two-month time period, you receive the Big West Freshman of the Week twice?
It is super gratifying. Coming here, I didn't know any of this would come out of it. The team is instilling so much confidence in me. Being a freshman, I didn't know the system coming in and so it was a huge change for me. The team behind me has been great and I couldn't do it without them.
You recorded 34 kills in the conference game against Cal State Fullerton and realized it was the most kills recorded in Big West 2016 play, and you tied for the third-most kills in a match in school history.
That was a lot of fun. I didn't know how many kills I was getting but it all comes back to my team and being able to have those opportunities they helped me create. It was awesome at the end to see how many kills I got.
How does the team react to all of the records you have been breaking and the accolades you have received? What is the level of support from them?
They keep instilling confidence in me and getting me used to new situations so I can continue to attack at a high level, so they have been super supportive.
How do you feel the team is doing right now?
We are trying to take it one game at a time. We are working harder every day in practice and we still feel like we can still compete at a higher level. Having that kind of family mentality with the team is great and I think we can still continue to succeed.  
What does the team need to focus on moving forward?
We talk a lot about playing that "Davis volleyball" and we have talked about that being us attacking at a high and aggressive mentality. Also just instilling confidence in one another and controlling what we can control.
What is the ultimate goal for you to achieve athletically at UC Davis during your next few years?
I haven't really thought about that yet. I think just contributing to the team as much as I can and trying to win that Big West title. Just take it one season and one game at a time because it is an awesome opportunity and it has been my dream for so many years.
Written by: Ryan Bugsch — sports@theaggie.org