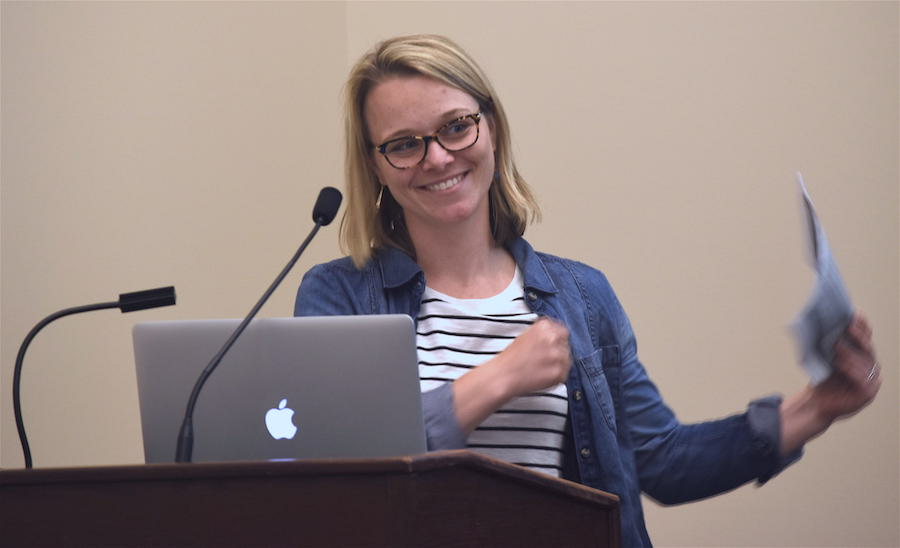 Gray struck, killed by rock while in East Africa for plant biology research project
UC Davis plant scientist Sharon Gray was struck and killed on Oct. 4 by a rock that crashed through the window of the vehicle she was riding in on the outskirts of Ethiopia's capital, Addis Ababa. She was 30.
Gray was in the East African nation to attend a meeting regarding the commencement of a plant biology research project.
According to the Netherlands Institute of Ecology, which was also involved in the research project, Gray's death was not a direct consequence of the large-scale protests currently occurring in Ethiopia, but rather the result of a random act by a few individuals who were throwing stones at passing vehicles.
Gray was postdoctoral student at UC Davis who studied the impact of climate change on plant life. Her graduate work focused on the response of soybean plants to high carbon dioxide levels in the presence of drought, and showed that plants did not respond as the scientific community had anticipated.
Before her passing, Gray had just completed her National Science Foundation-funded postdoc project, which characterized the responses of a drought-tolerant wild species of tomato and a drought-sensitive domesticated species of tomato.
Siobhan Brady, associate professor in the Department of Plant Biology and the Genome Center at UC Davis, travelled with Gray on the trip to Ethiopia, and the two worked closely together at UC Davis. Brady said that Gray was a charismatic and wonderful person to work with and was very knowledgeable about her topic of research.
"She worked so hard, was patient, funny [and] incredibly smart," Siobhan said.
"She had an extensive background in physiology and statistics, which was so useful not only to my lab, but to several departments. Her smile lit up a room. In a room where there were 'big voices,' that is, people who speak loudly and can sometimes dominate, she would persevere and ask critical, thoughtful questions. I really admired this about her."
Gray was born in Carbondale, Ill. and grew up in Lindenhurst, Ill. with her parents, three brothers and two sisters. She earned her undergraduate and doctoral degrees from the University of Illinois Urbana-Champaign before joining the Plant Biology Department at UC Davis in 2013.
In 2014, she married R.J. Cody Markelz, a postdoctoral researcher in plant biology at UC Davis who was also from Illinois. They met as freshmen at Urbana-Champaign in an introductory biology class.
According to Markelz, Gray met a young Ethiopian scientist who had access to a wide range of molecular equipment and tools, but who needed training in how to use them.
"[Gray] really wanted to bring her to UC Davis for training and was so motivated to remove this barrier to learning when the resources were already in place," Markelz said in a statement for UC Davis Dateline.
Gray also mentored undergraduates at Urbana-Champaign and UC Davis, as well as high school students from Davis High and Pioneer High in Woodland.
UC Davis alumna An Nguyen had Gray as a mentor for two years before graduating recently with a degree in biotechnology.
"Sharon meant a lot to me and was a big part in the success of my undergraduate career," Nguyen said in a statement for UC Davis Dateline. "I couldn't have done it without her support. Even now, I aspire to be able to give the same valuable mentorship to someone else as she had done for me."
To honor Gray and her work, Gray's family is raising money via GoFundMe to mentor women in science.
"The mission of this current campaign is to make something positive out of this tragedy," Markelz stated on the GoFundMe site.
Savithramma Dinesh-Kumar, professor and chair of the Department of Plant Biology, believes Gray was a woman who was truly cherished and destined for great things.
"Sharon was liked by everyone in the Plant Biology Department at UC Davis," Dinesh-Kumar said. "It is a great loss to the Plant Biology Department, UC Davis and the scientific community."
Acting Provost Ken Burtis and the dean of the College of Biological Sciences Mark Winey released a statement expressing their condolences and honoring Gray's work and her dedication to UC Davis.
"On behalf of the entire UC Davis campus, our hearts and condolences go out to Sharon's husband and extended family," Burtis said. "Even in tragedy, we hope that we all can find some comfort in the wonderful work [Gray] was engaged in that will better the lives of so many around the world."
Written by: Demi Caceres — campus@theaggie.org