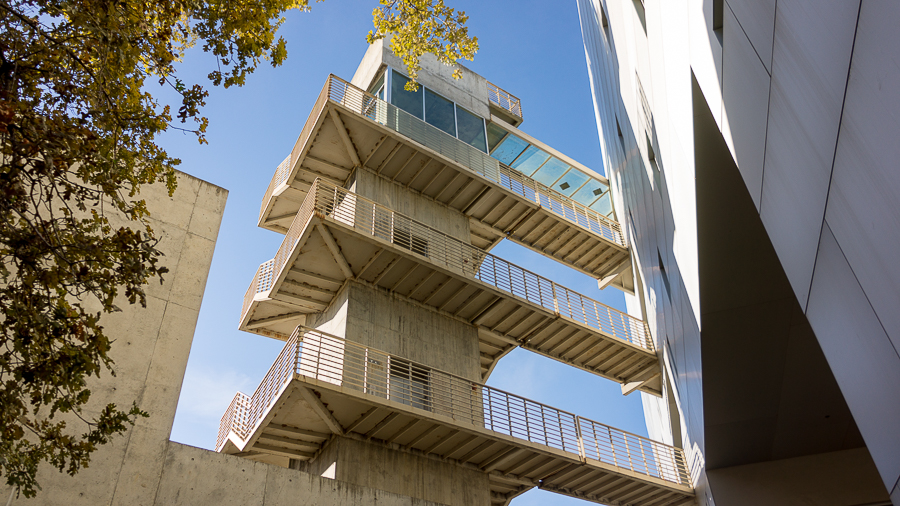 A closer look at the Social Sciences and Humanities building
Looking at campus from 3rd Street, a tall gray building most commonly known as "The Death Star," looms over the center of the UC Davis campus. Designed by architect Antoine Predock, the Social Sciences and Humanities building's dark grey concrete and glass walls contrast the colors and symmetry of the rest of campus. Built in 1994, this building's distinct architecture often draws people to the programs it houses and stands out to all who pass by.
"The architecture is really nice," said Melinda House, a fourth-year human development major. "People say you get lost in here but it's really cool once you explore it."
The Social Science and Humanities building is a constant maze for students, who are often seen wandering the halls, trying to find a way through the perplexing layout. Many students on campus often get lost trying to get to class or offices; the building houses the Economics, History, Philosophy and Sociology departments as well as the East Asian Studies, Hemispheric Institute on the Americas, Jewish Studies, Middle East and South Asia Studies and the Science and Technology Studies programs.
"It's the same with everybody else, the first time you come here you get lost," said Kevin Tran, fourth-year managerial economics major and peer advisor for the Managerial Economics department. "The first time I was starting this job, I made myself come and look for [the office] at least once or twice so I wouldn't be late on the first day of training."
According to Predock's website, the building resembles the geology of the Great Central Valley of California. The building was also purposely designed to encourage social interaction, as it is the building constructed for social sciences.
Its confusing hallways and floors force people to talk to each other and ask for directions.  Janis Ho, fourth-year psychology major, has experienced this confusion first-hand through the several classes he has had in The Death Star.
Written by: Fatima Siddiqui — features@theaggie.org