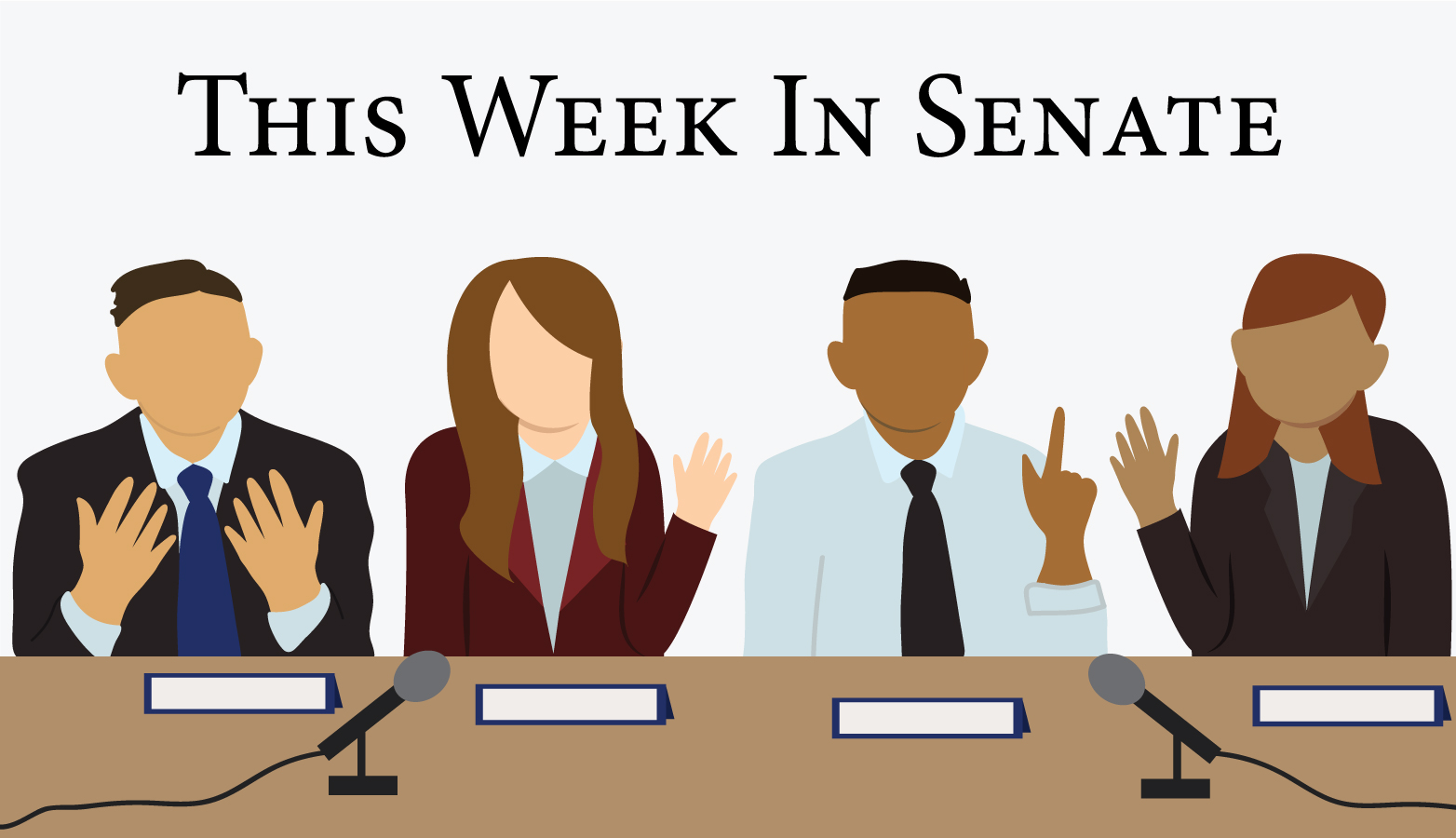 The ASUCD Senate meeting was called to order at 6:11 p.m. on Oct. 20, followed immediately by the establishment of the quorum with ten out of the eleven senators present. Senator Sam Park was absent.  
The meeting began with a presentation by Athletic Director Kevin Blue accompanied by a member of the women's tennis team. Blue discussed the education of the athletes and the department's continued effort to keep student-athletes on track and focused on their school work. He emphasized the impact athletics has on the academic enterprise, providing statistics of many universities' level of academic and athletic success over the past years at schools including Princeton, Stanford and UC Davis.
Those in attendance then had the opportunity to bring up questions. External Affairs Commission chair Sara Williams asked, "What is being done about sexual assault awareness within the athletics department?" Blue stated that there are programs that athletes must attend every quarter to discuss that issue.
Senator Samantha Chiang also brought up the issue of mental health, asking if the athletics department is doing anything to address that issue. Blue stated that Counseling and Psychological Services provides psychologists for athletes to seek help and discuss issues in confidentiality.
Blue provided his e-mail and phone number, asking the senators to reach out to him with any other questions or concerns.
Citizens for Responsible Planning presented next, with Eileen Savitz, former planning commissioner for the City of Davis, stating her concerns with the current student housing situation. She expressed her worry regarding the lack of housing for students on campus, and the limited housing is unfair due to the fact that UC Davis is the largest UC in the state and many other smaller UC's are able to provide more options.
"Davis has been growing over the years but did not increase the amount of housing," Savitz said. "We won't be able to house all students."
Savitz agreed to discuss the issue with President Alex Lee personally on a later date.
Academic Affairs Commission chair Hemali Patel introduced new commission chairs fourth-year neurobiology, physiology and behavior major Kishan Patel and third-year microbiology major Justin Hurst. Senator Joshua Dalavai moved to confirm Patel and Hurst to the Academic Affairs Commission and the motion was seconded with no objections.
Gender and Sexuality Commission chair Allison Tam introduced GASC Commissioners Mary Rasooli, Sheyla Mirka Dirzo, Savannah Vandenbos and Weizheng Zhang. Senator Dalavai also moved to confirm Rasooli, Dirzo, Vandenbos and Zhang to the Gender and Sexuality Commission. The motion was seconded with no objections.
President Alex Lee then introduced Whole Earth Festival (WEF) director Jess Tierney.
Before confirmed as director, Tierney said that she hoped to fix WEF's relationship with ASUCD and explained her goals for this year's festival. Tierney said she would like WEF and ASUCD to work together to foster open communication and mutual respect. Her goal is to have a more student-focused festival.
"I would like to essentially create a festival for students by students," Tierney said.
Senator Ricardo Martinez moved to confirm Tierney as Whole Earth Festival director. The motion was seconded and there were no objections.
The senators moved on to consideration of old legislation and discussed Senate Bills seven and nine as well as Senate Resolution one.
SB 7 would have allocated $720 for the ASUCD's Gender and Sexuality Commission (GASC) publicity, outreach and supplies. At the meeting Tam withdrew the bill.
SB 9 is an ASUCD Senate Bill to allocate $61 for Housing Advising for Undergraduate Students to purchase a vinyl banner to help them advertise for Housing Day. Dalavai moved to call the bill into question. The motion was seconded. The motion carried unanimously and there were no objections to passing the bill.
SR 1 calls for the halt in the designation of the next chancellor of UC Davis until a more transparent and democratic process for selection and appointment has been established. Senate pro tempore Adilla Jamaludin moved to call the resolution into question. The motion was seconded. The motion carried unanimously and there were no objections to passing the resolution.
New legislation was then introduced. The Senate first discussed the ASUCD bill to exempt KDVS and The California Aggie's social media pages from including ASUCD in their social media page titles. They also discussed the ASUCD bill to increase spending limits during elections, the ASUCD resolution to stand in solidarity with Standing Rock and the ASUCD bill to allocate $270.50 for Aggie Reuse.
The meeting closed with elected officer reports, announcements and approval of past meeting minutes.
The meeting adjourned at 9:48 p.m.
Written by: Demi Caceres — campus@theaggie.org