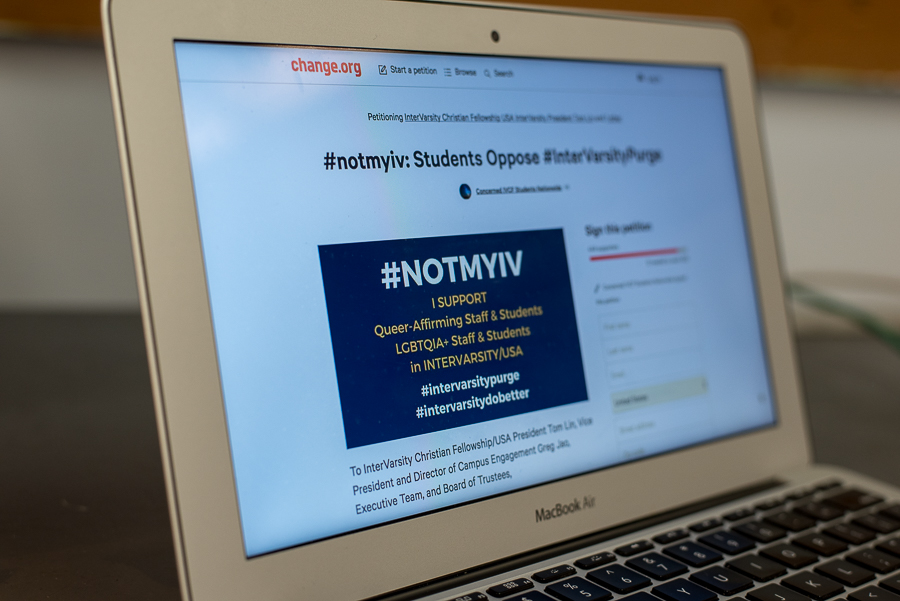 Davis students speak out against organization's stance on human sexuality
Earlier this month, InterVarsity Christian Fellowship/USA, one of the largest Christian ministries operating on college campuses, released a policy change notifying staff members who held theological views in support of gay marriage that they should step forward for involuntary termination starting Nov. 11.
The organization, which operates on 667 campuses and serves over 40,000 students in the United States, announced the policy change after a four-year review of the Bible and the group's theology on gender, sexuality and marriage, examining the Scripture's words on human sexuality and reaffirming a stance that the group said it has held for 75 years.
"We have always expected employees to reflect the ministry's theological beliefs, as would be true for any church, synagogue, mosque or religious organization," said Greg Jao, vice president of InterVarsity and director of campus engagement, in a statement responding to backlash to the new policy. "We recognize employees who disagree, or whose beliefs have changed over time, will leave employment because we have reiterated our beliefs."
Heather Nguyen, a fourth-year psychobiology major and a member of Davis InterVarsity, believes the new policy creates tensions within the organization.  
"Those terminations across the country have created this climate of fear and self-censorship amongst staff members because if they don't align with InterVarsity's policy of human sexuality then they jeopardize their livelihoods," Nguyen said. "It sends this message that queer students are not loved for who they are in InterVarsity spaces."
Since the policy announcement, students have expressed disagreement with the group. A Change.org petition, created by student members of InterVarsity, asks President Tom Lin, Vice President Jao, the executive team and Board of Trustees to reverse their decision on same sex marriage and to acknowledge the experiences of LGBTQIA+ individuals.
"We are students who oppose InterVarsity's policy of involuntarily terminating staff who openly affirm same-sex relationships as God-blessed," the petition states. "Some of us who sign this petition are queer and Christian. Some of us are Christian and queer-affirming. Some of us share InterVarsity's redeemed sexuality theology. All of us are Christian. All of us are or have been in InterVarsity. All of us wholeheartedly oppose this policy as siblings in Christ."
InterVarsity/USA has said that staff members would be allowed to stay as long as they uphold the group's theological principles.
Zac Fielding, a third-year psychology and sociology double major and a member of Davis' InterVarsity who identifies as queer, said that the InterVarsity's new position is affecting its students and staff in a different way.
"I think this specific policy is different because before, a lot of the ways in which InterVarsity would sort of go into the personal lives of their staff members, were things about pre-marital sex, drug use and alcohol abuse," Fielding said. "And I think in those cases, they're reaching into the personal lives of their staff members more so from a way that didn't necessarily devalue them as people."
For Nguyen, a singular interpretation of what the Bible says about human sexuality goes against many of the practices she has learned in her time at InterVarsity.
"By creating a policy like this, it's politicizing something that is incredibly personal," Nguyen said. "I would say that InterVarsity is overreaching by making staff all agree on one theological interpretation, especially because inductive study is all about having different interpretations."
As an interdenominational organization, InterVarsity uses inductive bible study by focusing on scriptures and sharing interpretations amongst its members.
Fielding said that the UC Davis campus' diversity helps bring in members of different backgrounds. With the new policy, he said that InterVarsity as a national organization should keep in mind many of the students that take part in its membership.
"We're fortunate in a way where Davis is a more liberal community, so InterVarsity at [UC Davis] is more liberal," Fielding said. "But I think it's because InterVarsity [is] a national public organization, they pride themselves in reaching out to students and helping students and serving students. And so I think the students that they are serving should have some sort of say in how InterVarsity serves them. […] If InterVarsity is attempting to serve students in a way which is actually harming students […] then it's more the organization's problem to fix versus the students' [problem]."
Written by: Ivan Valenzuela — campus@theaggie.org