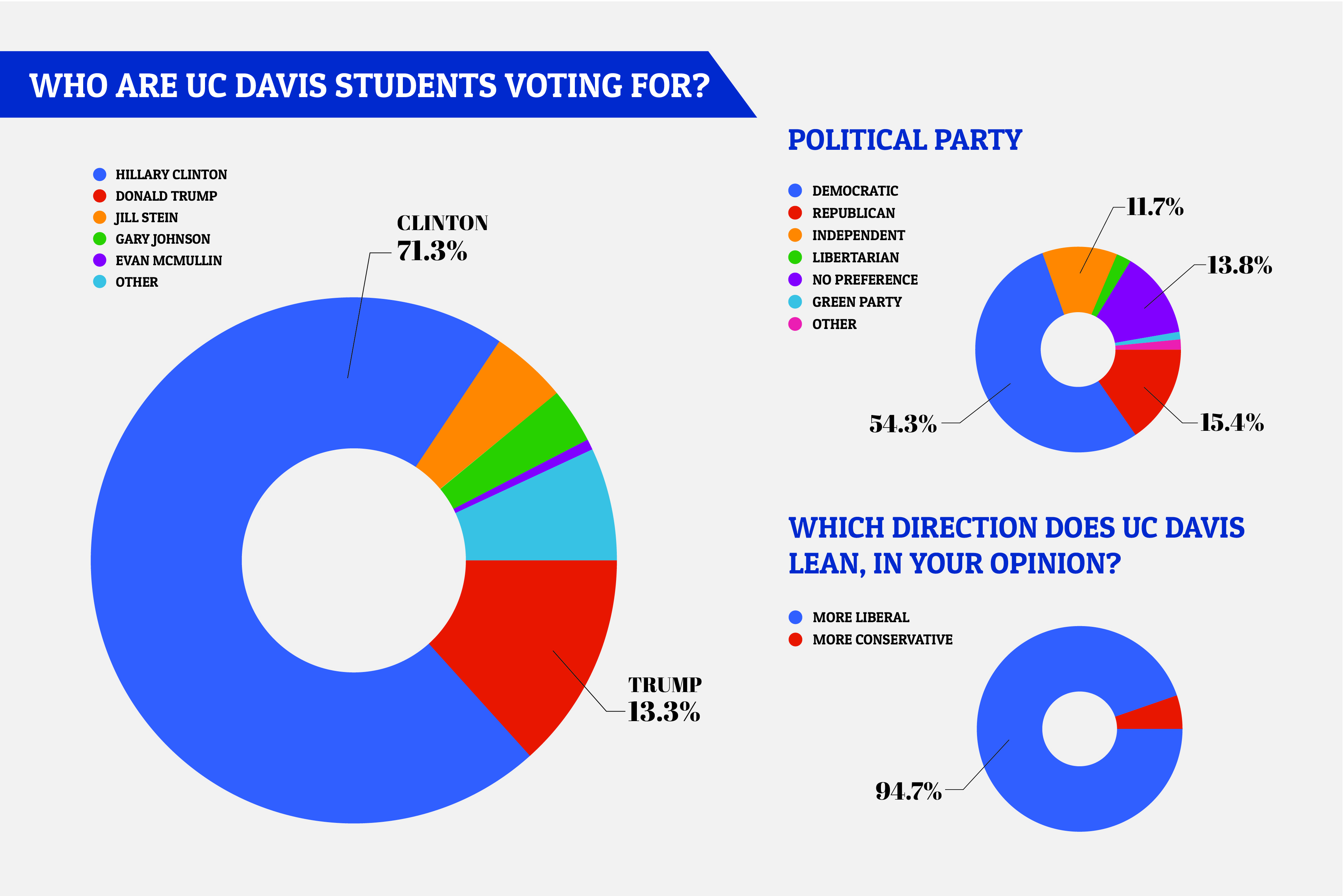 Student body, student organizations voice sentiments toward general election
Next Tuesday, Nov. 8, is a day that will forever leave a mark on United States history.
This 2016 presidential election is like none other for a multitude of reasons, one of those reasons being that the nation may have its first female president.
The UC Davis student body has expressed strong sentiments toward the election and the future of the country through The California Aggie's General Election survey, which asked the question of how, in the students' opinion, UC Davis thinks politically. The online survey polled around 200 students across all years and colleges, and allowed them to voice other options such as their race or gender if desired.
One particular group is the Davis Students for Hillary (DSH), a political community on campus supporting Clinton and the Democratic Party in the election. Samip Mehta, fourth-year political science major and vice president of the club, described that DSH hosts events such as club banking, debate watches and debates with groups that support different candidates from other parties.
"We are freely progressive but consider ourselves 'blue-dog' Democrats," Mehta said. "However, we are not as liberal as certain Bernie [Sanders] supporters because we have more conservative views on finances, prices and political feasibility."
While surrounding areas are predominantly conservative, Mehta considers Davis to be "extremely liberal," which can be seen in the poll results taken from the student body.
54.3 percent of the student population surveyed said that they were democratic compared to 15.4 percent that said they were Republican. 71.3 percent said they were voting for Hillary while 13.3 percent said they are voting for Donald Trump. While it is clear that the DSH believes that Hillary is the most capable of all the candidates, Mehta is nonetheless concerned for the health of the two-party system.
"I personally feel really strongly that the [those in the] GOP at this point should readdress [themselves], and think 'am I a Trump conservative, or am I a McCain conservative?'" Mehta said. "The same goes for the Democrats. Should we address ourselves as blue-dog Democrat[s] or progressive liberal[s]?"  
The California Women's List at UC Davis is another on-campus political organization and is a chapter of a statewide political action committee devoted to fundraising for democratic women elected into state office.
The California Women's List aims to allow students to network with people in politics as well as fundraise campaigns to elect democratic women to state office, all while operating as a statewide political action committee.
Michaela Worona, third-year political science major and president and co-founder of the Women's List, is mostly concerned with the treatment of women in this year's election.
"I just hope that even though women are gaining more visibility through Clinton's candidacy, we don't take for granted that feminism has achieved its goal," Worona said. "[Hillary] is still being treated much differently [compared to] Trump. It's enlightening to see the way that gender comments and behavior are still at play even though women are gaining more visibility."
The "nasty woman" memes and shirts of Trump's disrespectful comment toward his candidate in the final debate bothers Worona, since it reveals a lot about U.S. politics with regards to gender. However, the 76.1 percent of the students who answered The California Aggie's General Election survey were female, which suggests that UC Davis women have not been ultimately deterred by the controversial politics in this election.
When asked in which direction UC Davis leans as a political entity, 94.7 percent of students said that the campus is more liberal than conservative. However, the voice of the Davis College Republicans (DCR) can still be heard on the UC Davis campus.
Nicholas Francois, third-year political science major and chair of the DCR, described how his organization makes a difference within the state by attending California Republican Party Conventions and volunteering with Republican candidates running for state positions.
"Most campuses are known for being liberal, Davis having a reputation for being one of the most liberal in the nation," Francois said. "While we may see liberal biases expressed by some professors and even in UC hiring practices, Davis doesn't tend to represent 'militant liberalism,' meaning [that] while we disagree on many things, we feel that there's not hostility between us because of these differences."
As one of the only openly Republican groups on campus, the DCR has done its best to represents its own interests while still addressing the opinions of others. The group emphasizes the need for political alignment within each party, as this particular election has taken a toll on both sides.
"We are a conservative organization and we are Republicans, but we are individuals representing diverse people. The party is in-line with many millennials' beliefs," Francois said. "This is a difficult national race for both parties […] but it's important to realize that historically, this has happened before and allowing opposing ideas to have a voice in your own party is how parties survive and how change occurs."
Professor of political science at UC Davis Robert Huckfeldt noted that while this is true from a general perspective, he has also noticed a variety of political views on campus.
"[The campus] is considerably democratic and liberal, and in that sense it reflects the views of the state," Huckfeldt said. "We do see […other political beliefs] when we ask people to do questionnaires. From this we see that we do have a substantial number of conservative Republicans keeping us honest."
On the topic of this particular election, Huckfeldt, like Mehta and Francois, expressed his concern and premonitions about the health of the political party system.
"[The two party system] is badly fractured right now and they're having trouble holding it together during this trying time," Huckfeldt said. "Democratic politics require two healthy parties but now the Republican Party is on life support and that's not good for Democrats either."
Huckfeldt noted that elections — especially the 2016 election — are wake up calls for both Democrats and Republicans to take the population's problems more seriously. Huckfeldt encourages students to remember that political parties are solely for winning elections.
"[Students] have to buffer [the dirty politics] and realize that maybe things aren't quite as bad as they're making them out to be in terms of the other side," said Huckfeldt. "The whole thing is predicated on winning so I would encourage everyone not to despair."
Written by: Gillian Allen and Sahiti Vemula — features@theaggie.org