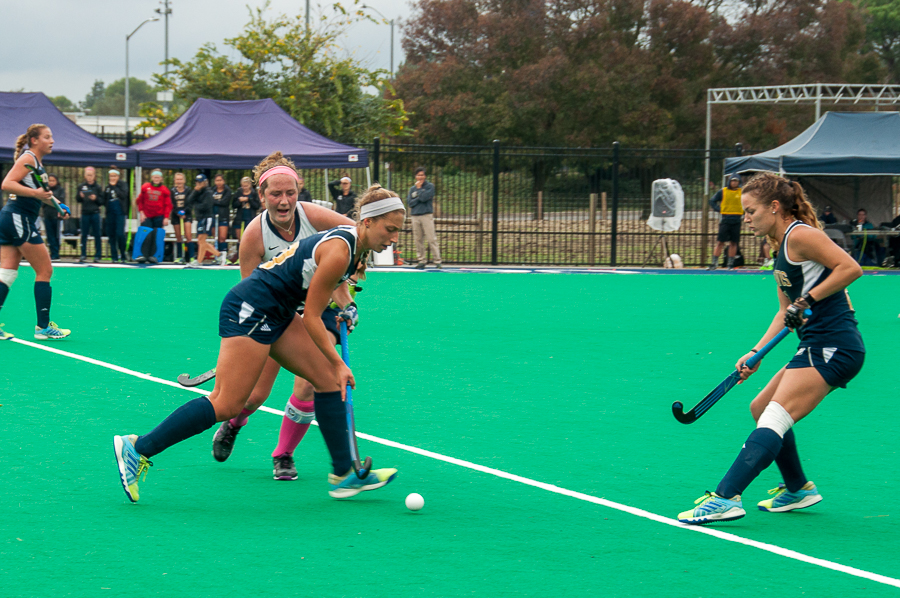 Aggies end Senior Day with 2-0 win over Cal Golden Bears
Before taking the field for one last time, the UC Davis women's field hockey team entered last Friday's game with a chip on their shoulder and a message to send. The team would not leave quietly.
Whether it was the added pressure of Senior Day or the looming threat of rain, the Aggies took the field against the Cal Golden Bears on Oct. 28, and imposed their will; taking control of the game's tempo for nearly 70 minutes en route to their 2-0 victory over the visiting team.
"The whole team has worked hard, and it's always nice to go out on a winning note," said head coach Chrissy Kilroe.
Before the game, the team honored all of its departing seniors alongside their loved ones as they took the field before their final home game: goalie Beth Lee, backs Eden Borsack and Lauren Copeland and forwards Courtney Hessler, Kat Jackson, Agustina Singh and Kayla Wigney.
"I'm really proud of them," Kilroe said. "It's not easy to have a new coach [senior year] playing different systems, but they have 100 percent bought in."
Not everything came easy for the field hockey team this season, which ended regular season play with a 5-12 record overall. Despite the hardships that plagued the season, Kilroe believes the year was still a success.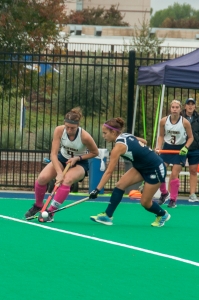 "It was inspiring to see how hard they worked, and how on board they were," Kilroe said.
Despite the preseason festivities and the looming threat of rain, there was still a game to to be played. The team showed up on the back of Wigney, who came into the game having scored just one goal on the season. By the end of the first half, however, she had increased that total to three.
"It was really nice to have everything come together and play for 70 minutes and finally get this result," Wigney said. "I think there was a lot of emotion that went into this game and also a lot of intelligence; and in the end, the emotion and the intelligence paid off."
While the ball stayed on the offensive side of the field for a majority of the game, especially in the first half, the victory would not have been possible without the stellar goalkeeping of Lee, who helped keep Cal scoreless, including one brief stretch near the end of the first half when she withstood a flurry of kicks from the opposing team. Lee finished the game with six saves.
"I think we really build our composure off of each other," Lee said. "[…] My defensive unit really helped our composure during that situation."
Both Lee and Wigney took time to reflect after the game, sharing what they will miss most about playing with their Aggie teammates.
"It's been a great journey: four years," Lee said. "It's been long, but it's also been so memorable and so rewarding."
Wigney's takeaway came in the form of her teammates, even crediting them for her great night.
"Not many other people in the world will have the opportunity to have the bond, that type of chemistry at this level," Wigney said. "Just being able to be good friends and being able to play well together is enjoyable.
Kilroe hopes that the graduating seniors recognize their personal growth when reflecting on their time as Aggie athletes.
"I know 100 percent that they have [grown as players] — but I also hope that they have grown as young women and take their leadership skills that they have gained here at UC Davis to become strong, powerful women within their community," Kilroe said.
While the regular season is over, there is still more field hockey to be played. The UC Davis field hockey team will travel to Stockton to face Albany at 2:30 p.m. on Thursday, Nov. 3 for the America East Championship tournament.
Written by: Bradley Geiser — sports@theaggie.org