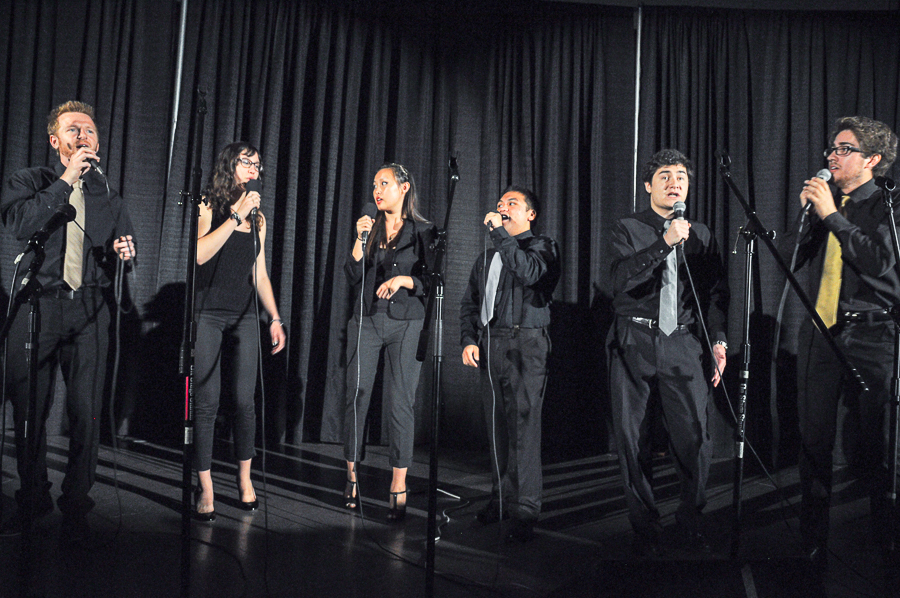 Davis Chamber Choir offers different approach to a cappella
The Liquid Hotplates, the Lounge Lizards, the Spokes: these student-run a cappella groups are ubiquitous on the UC Davis campus. With a repertoire of pop mash-ups and catchy melodies, their performances have an effortless appeal. But lesser known is the Davis Chamber Choir (DCC), which lacks such campus familiarity.
But that's not to say its sound is any less lovable; Ashley West, second-year music and sociology double major and DCC member, emphasized that DCC performs a variety of tracks.
"It's a different approach, I would say. It's classical music — but not all of it; we do jazz and pop interspersed with that. That makes us different than other student music groups on campus," West said.
DCC members, who are mostly trained musicians, have a strong overlap with other campus organizations like Band-Uh! and various a cappella groups.
"From the other a cappella groups, I get that for them it is a fun activity more than it is theoretical. There's definitely more of a nerdy type [in DCC]," West said.
Yet DCC is no stranger to fun. Whether it's performing at the Bookstore's grand opening this fall or caroling around the holiday season, DCC ensures its performances are lively and entertaining — and that its friendships are strong.
In fact, personal relationships are heavily emphasized for the chamber choir. Nicole Villalon, second-year student animal science and music double major, explained that, for her, DCC was a way to meet people immediately after arriving in Davis.
"I've always viewed choir as a place where I can meet my closest friends, especially at a new school. So I decided to join choir here so I could get a head start on meeting people," Villalon said.
Bailey Cooke, DCC director and second-year music major, similarly mentions the importance of DCC relationships.
"It's been a bountiful source of friendship, personal expression and learning. I've learned so much about not only choral music and leadership but also how music can touch others and inspire in ways unmatched by any other medium," Cooke said.
West mentioned the importance of DCC friendships, despite the group's recent growth and the challenges that such growth entails.
"We're a bigger group than usual. We were 24-ish last year, and now we're more like 30 — which is awesome; now we have this big sound. But we want to maintain the closeness and the friendship aspect, so we have to be more intentional about that this year," West said.
But like any on-campus organization, DCC has faced its fair share of challenges. After a recent policy change by the Department of Music, DCC (and other non-department music organizations on campus) was no longer able to practice in the music building. It now holds its bi-weekly rehearsals in Olson Hall.
"We had the luxury of rehearsing in the UC Davis Music Building last year and for a few weeks this quarter. Many full sized pianos and acoustically-sound practice rooms were at our disposal," Cooke said. "We were expelled from the building a few weeks ago when the music department mandated that all non-department affiliated ensembles not rehearse there. We've since relocated to Olson Hall and although it hasn't been ideal, we've made it work and are still able to rehearse effectively and efficiently."
However, West emphasized that this was in no way a conflict between DCC and the Music Department, but simply a minor inconvenience the group faced and overcame.
"Another thing that's come up is satisfying different people's wants with the repertoire. Some people want to do more carols, [and] some people say we need to do more pop songs," West said. "Obviously there's no way to please everyone, and [it's a challenge] trying to balance that so everyone can be really excited about what we're singing."
Less challenging for DCC, however, is music. With consistent rehearsal schedules and a dedicated (and talented) team, its performances are a wonderful surprise.
"I think we have street cred in the fact that we sing with passion as well as technical excellence. I'd like to further our reputation for excellence," Cooke said.
West noted that the majority of the group's audience is musically trained, but anyone can enjoy their music.
"People who aren't [musically] trained enjoy our music, but they wouldn't know that they would," West said. "Like the 'choir' in the name is off-putting, or something."
But, of course, talent supersedes recognition. Don't believe it? Take a listen. Check out DCC's cover of Steam Powered Giraffe's "Honeybee" on YouTube, or attend the group's performance at the annual Alotta Capella event on Dec. 2 at 7 p.m.
Written by: Ally Overbay — arts@theaggie.org