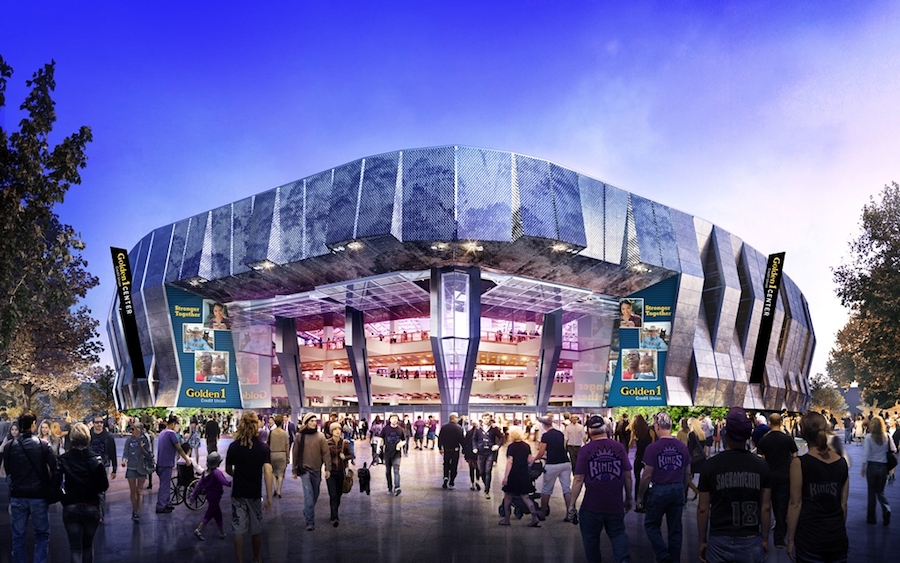 New Golden 1 Center offers more accessible entertainment venue for UC Davis students
Sick of trying to find a way to get to San Francisco or Oakland for concerts? Look no further than the new Golden 1 Center. Located in the heart of downtown Sacramento and home of the Sacramento Kings, the Golden 1 Center is a multi-purpose arena that hosts concerts and other entertainment events.
Unlike some large arenas, the center has implemented many new sustainable practices. Sacramento is known for its farm-to-fork philosophy, and Golden 1 honors that by bringing concessions from within a 150-mile radius and by donating all leftover food to Sacramento Community Food Bank and Family Services. On top of that, any leftover fryer oil is converted to biodiesel by a local family-run business.
Another new aspect to the center is the Art Collection. This collection is the result of the Sacramento Kings' partnership with the Sacramento Metropolitan Arts Commission. The team has already contributed art currently displayed in downtown Sacramento and has also donated $5.5 million to the "Art in Public Spaces" program.
And no need to fret about getting tickets — this new arena has a seating capacity of 17,500, so there will be plenty of chances to get tickets to sporting events and concerts.
Here are some highlights of the upcoming season:
Kanye West: SAINT PABLO TOUR / Sunday, Nov. 19 at 9 p.m.; tickets start at $26
Kanye has added a second leg to his tour along with new dates and locations, including Sacramento. Tickets went on sale on Oct. 22 at www.livenation.com. This tour promotes his chart-topping new album The Life of Pablo.
Cirque Du Soleil: Toruk — The First Flight / Wednesday, Nov. 30 to Sunday, Dec. 4; tickets range from $30-$100
This new Cirque Du Soleil show is based on James Cameron's Avatar. This show takes audience members to the world of Pandora to experience storytelling like never before. Cirque Du Soleil is known for its beautiful visuals and ability to transform venues into different worlds through the power of dance acrobatics.
Electric Christmas / Thursday, Dec. 8 at 6 p.m.; tickets are $36, $40 and $75.
Fan of alternative music? Check out this event hosted by Radio 94.7, the best radio station in the Greater Sacramento area for alternative artists. The lineup for this event includes Capital Cities, Milky Chance, Glass Animals, The Naked and Famous and Warpaint. And since this event is at the end of finals week, it can serve as a good way to end finals on a high note.
V101 Throwback Holiday Jam / Saturday, Dec. 10 at 8 p.m.; tickets range from $30-$75
The event features live performances by Bone Thugs-N-Harmony, Juvenile, BLACKstreet, Ginuwine, En Vogue, Baby Bash, Zapp and JJ Fad. It is put on by Pacific Concert Group and the V101 radio station, Sacramento's home for throwback hip hop and R&B.
Written by: CaraJoy Kleinrock — arts@theaggie.org