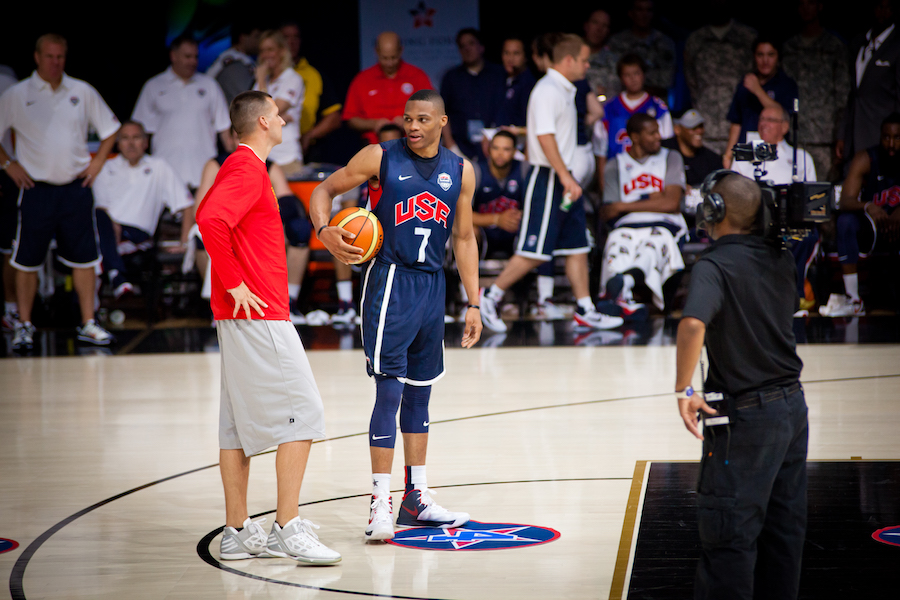 Russell Westbrook was put in a difficult position in the beginning of July. His longtime partner in crime and teammate, Kevin Durant, opted to join the Golden State Warriors in probably the biggest free agent acquisition in NBA history aside from LeBron James' decision to join the Miami Heat in 2010.
After Durant's departure, many fans, analysts and pundits speculated that the Thunder organization was doomed. Westbrook surely had to follow Durant's footsteps and leave now, right? Many predicted he would bolt at the end of the 2016-2017 season and go back to his hometown, Los Angeles, to bring the Lakers back from the dead. He was born in Long Beach. He went to UCLA. Going to the Lakers was going to be the next move, but it never happened.
Westbrook extended his contract with Oklahoma City. The NBA community assumed he had to go elsewhere. Being in Oklahoma City as a perennial contender is one thing, but fans believed his desire to remain was contingent on the strength of the roster. Westbrook signed a three-year extension worth $85 million to stay in Oklahoma City.
As a self-proclaimed fashion icon agreeing to another three years in a cowboy town that many believe can't contain personalities such as his, this move was shocking. Now, Westbrook is out to claim that he can do it alone, and he is off to one hell of a start.
Last Friday, Westbrook tallied 51 points, 13 rebounds and 10 assists in a game against the Phoenix Suns. This was the first time a 50-point triple-double has occurred since Kareem Abdul-Jabbar did it 40 years ago.
Oh, and that wasn't just some anomaly. Westbrook was just one assist away from tallying another triple-double in the first game of the season. This will be a recurring theme this season.
Westbrook will have some absolutely filthy stat lines this season; he's out to prove that he doesn't need KD or anyone else to keep his team near the top of the Western Conference.
Westbrook's decision to extend with Thunder after Durant's exit was, in my mind, the most admirable move a prominent athlete has made since I can remember.
Westbrook has the old-school mentality that many former athletes love to see, because it reminds them of their generation. Westbrook never pouted, never complained and took this as a challenge. And it's fueling him to become a man on a mission.
This breakup has set him on track for a historical season, and I'm clamoring to watch it all unfold. I still get the jitters thinking about Durant vs. Westbrook Round I on Thursday, Nov. 3.
The matchup between the Warriors and the Thunder won't encompass all the animosity from the fans that we will see once Durant returns to Oklahoma City, but it should be a memorable one nonetheless.
Written by: Michael Wexler — sports@theaggie.org