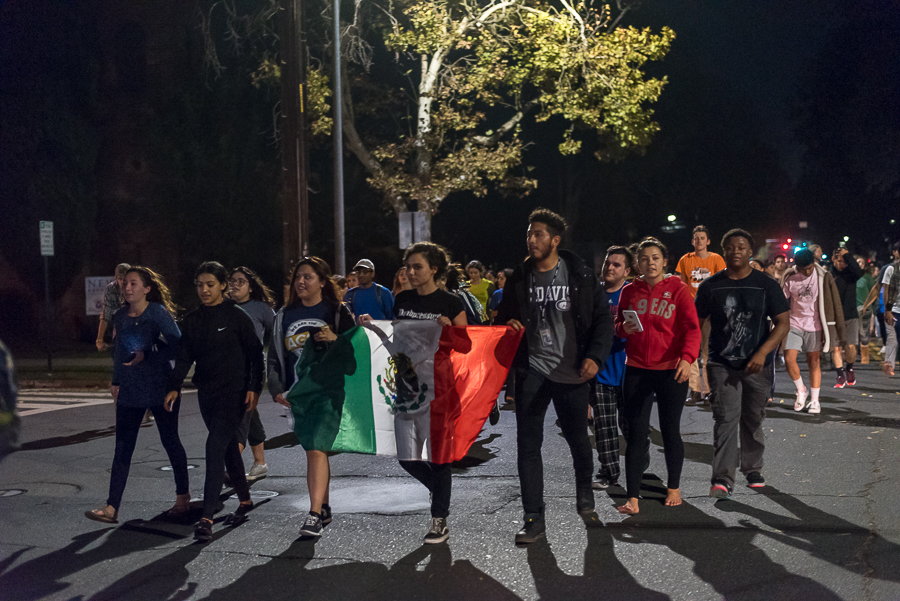 Students march through campus, Downtown Davis to express frustration with election results
At around 11:30 p.m. on Nov. 8, a few hundred students began marching through campus and Downtown Davis to protest Donald Trump winning the presidential election.
Student chants during the march included "f*ck Donald Trump," "Trump is an asshole" and "not my president." At times, protesters blocked Russell Boulevard while police remained on standby.
"I actually think this is a beautiful protest because we're all coming together as one and protesting against Donald Trump," said Luisa Gonzalez, a first-year undeclared student.
For many students, the protest provided not only a way to express disappointment in the election results, but also an opportunity to demonstrate their political views in a way other than voting.
"I personally can't vote because I'm too young, so this is my way of still voicing my thoughts," said Christal Juarez, a first-year English major.
Karen Lopez, a first-year student majoring in human development, said that the protest allowed her to have a voice in the election.
"I'm not a citizen, so this is my way of making my voice heard," Lopez said.
At around 2:00 a.m., the protesters gathered in front of the Whole Foods in Downtown Davis. At that time, protesters spoke on why the election result mattered to them and stressed the need for the protest to remain peaceful.
Post-election results protests occurred at universities nationwide, including UC Santa Barbara, UC Berkeley and University of Oregon.
Written by: Alyssa Vandenberg — campus@theaggie.org