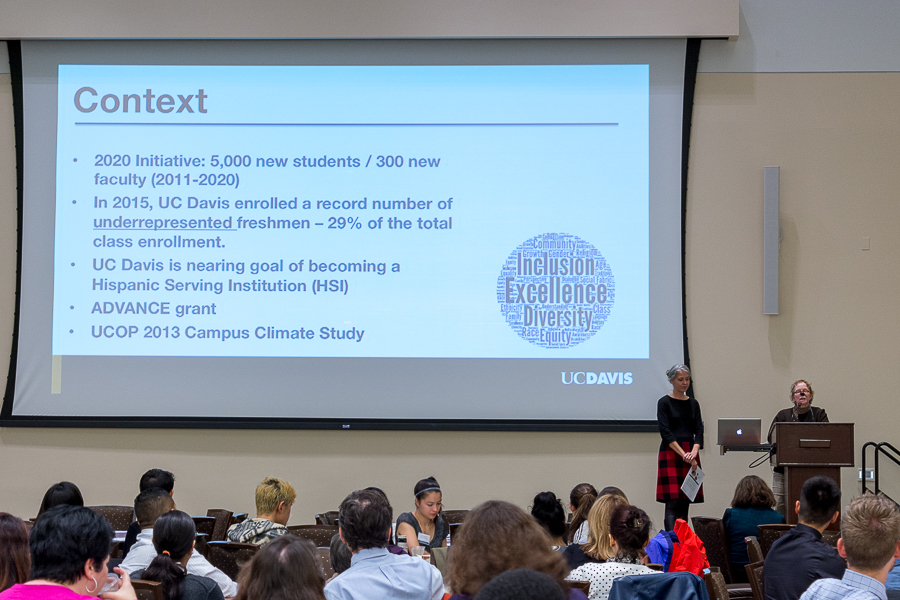 UC Davis aims to review, improve Diversity and Inclusion Strategic Plan
In an effort to review the objectives set forth in last year's forum to improve diversity and inclusion on campus, the UC Davis Diversity and Inclusion Committee (DIC) hosted a follow-up community engagement forum on Oct. 27 from 5 to 7 p.m. at the UC Davis Conference Center.
The DIC was originally designed by former Chancellor Linda P.B. Katehi in 2014, but has been taken over by Vice Chancellor for Student Affairs Adela de la Torre since Katehi's resignation. De la Torre said the committee strives to ensure every student and faculty member feels welcome on campus regardless of their individual identities.
The goal of the program was to review the draft of the previous year's Diversity and Inclusion Strategic Plan with the help of undergraduate and graduate students, faculty members and other community representatives. Vice Provost for Academic Affairs Maureen Stanton began the event by providing background on the importance of inclusive excellence around campus.
"Inclusive excellence […] is fundamentally the belief that eclectic knowledge [of] diversity in culture and belief systems is our greatest asset in our development of new knowledge, new solutions and new opportunities," Stanton said.
After explaining the history of the draft process, de la Torre asserted that the forums are crucial to establishing a proposal that properly embodies the UC Davis image of inclusive excellence. She also stressed the importance of examining "prior initiatives" and programs from other universities, such as UC Berkeley, to construct a plan.
De la Torre said the plan has been reviewed and revised since the last forum to identify various problems and concerns.
"The plan lacks a sense of urgency, [there is] no real change, […] we need to look at current editions, […] and staff issues weren't adequately high-minded," de la Torre said.
The purpose of the follow-up forum was to refine the draft plan by splitting attendees into teams to analyze its multiple objectives.
Laura Cerruti, an analyst for the DIC, led the group activity and summarized the four themes of the plan: pipeline, recruitment and retention; campus climate; research, teaching, public service and training; and institutional commitment, policies and practices.
Cerruti urged team members to keep in mind a quote from scientist Thomas Huxley in their group discussions: "Try to learn something about everything, and everything about something."
Each group collaboratively brainstormed ideas in response to their first impressions of the assigned objective and what they thought was important or missing from the plan's focus on diversity and inclusion. Cerruti then told the teams to cluster their ideas and announce their suggestions for improvement to the rest of the groups before bringing the forum to a close.
DIC intends to finalize the Diversity and Inclusion Strategic Plan by February 2017.
The Diversity and Inclusion Strategic Plan Draft can be viewed and sent feedback at studentaffairs.ucdavis.edu.
Written by: Jeanna Totah — campus@theaggie.org