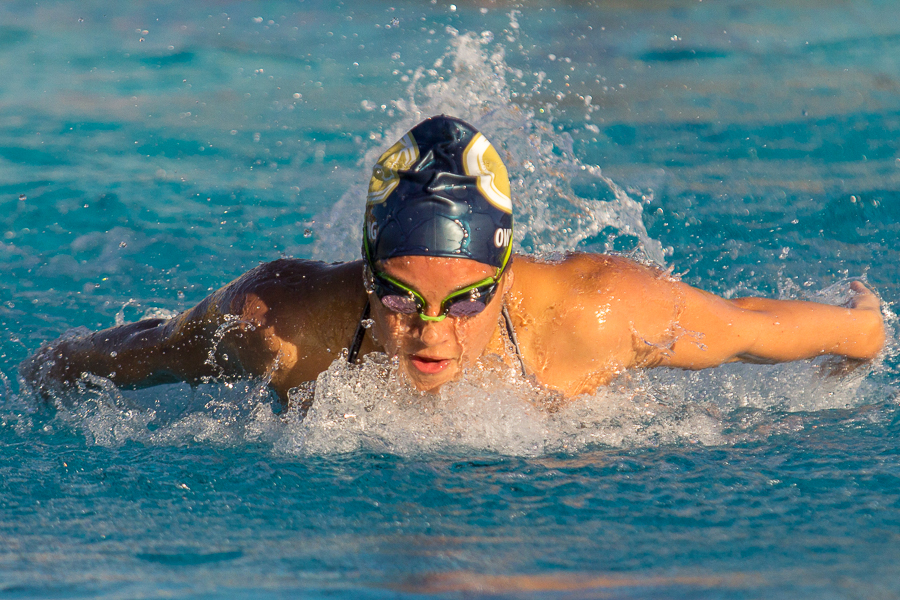 With two opponents coming into town, Aggies split their matchups to improve to 6-3.
Just two weeks out from an upcoming three-day invitational, the UC Davis swimming and diving team found itself in a double-dual meet versus the Pioneers of Cal State East Bay and the Wolf Pack from Nevada. While the team won big against the Pioneers, scoring 227-67, it struggled to keep up with the Wolf Pack, and fell 169-126. With the Phill Hansel Invitational in Houston, Texas just under two weeks away, the Aggies needed a good showing. Though they did not win, head coach Barbara Jahn liked what she saw from her team.
"It was a good meet for this time of the year. I think the weather really cooperated with us," Jahn said. "We had quite a few season-best times, so that was encouraging. There are just little things that we need to tweak here and there to get faster."
Senior Marissa Brown didn't let fatigue wear her down.
"Everyone's pretty tired right now, but I think they did a really good job of staying positive and fighting through. I think it's a good learning meter. We have our big taper meet in a couple weeks, and everyone's positive. We just have to keep fighting."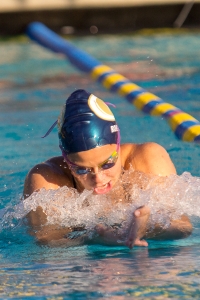 Brown raced in both of the long freestyle events and placed first in both. She explained what a swimmer does to keep fresh between two long races, and that is by keeping hydrated.
"I warm down very well after the 1,000 and try to drink a lot of liquid," Brown said. "It feels like I'm collapsing, but I just try to get mentally ready for it. I've been doing this for a while, and I'm used to the doubling."
In the first race, the 1,000 yard freestyle, Brown found herself neck and neck with Nevada swimmer Sita Kusserow for a majority of the race. Rather than let the close race get to her, she credited associate head coach Pete Motekaitis for keeping her on her toes.
"Pete told me to keep it effortless the first 400 [yards]. Once I hit 400 I pushed ahead a little bit and saw how far I could get ahead of her," Brown said.
Jahn praised Brown for her effort.
"She's making a very good comeback," Jahn said. "She took last year off because she's had some medical issues, and it's really fun and encouraging and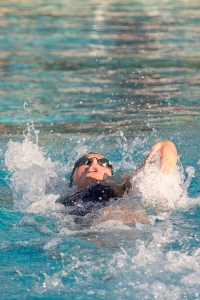 exciting to see how well she's swimming right now. She's a fifth-year senior, and it's rewarding to see all her work and dedication to rehab pay off."
Meeting two teams at once may seem like it would put a damper on preparation, but according to Jahn, the preparation is not much different than any other game.
"In this situation we put our lineup up against UNR and let the chips fall where they may against Cal State, East Bay," Jahn said.
While the team may have struggled on the boards, placing no higher than fourth on both the one-meter and the three-meter boards, the other side of the pool proved to be a much closer matchup. Aside from the victories in the 1,000 and 500 yard freestyles, the Aggies placed first in the the 200 yard backstroke (sophomore Solie Laughlin, 2:02.92) and the 400 yard freestyle relay (junior Courtney Schultz, freshman Jamie Pincin, sophomore Mia Facey and senior Kirsten Brand, 3:30.50).
All things considered, Jahn knows what she needed to see from her team moving forward.
"We were tired and sick," Jahn said. "So they need to take care of themselves and get healthy so that we can have a great meet when we are in Texas."
The Phill Hansel Invitational takes place in Houston, Texas from Nov. 18 to 21.
Written by: Bradley Geiser — sports@theaggie.org