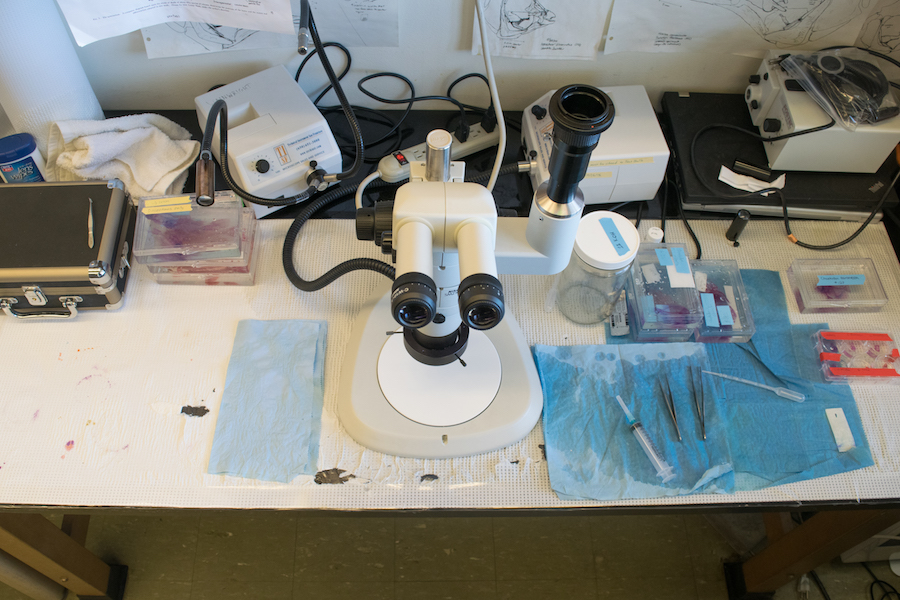 Microscopic Anatomy provides students magnified perspective of human anatomy
The UC Davis Department of Cell Biology and Human Anatomy will offer a new course  beginning in Winter Quarter highlighting the microscopic components of human anatomy. The new class, Cell Biology and Human Anatomy 102: Microscopic Anatomy, will aim to complement the popular Cell Biology and Human Anatomy 101: Human Gross Anatomy course and prepare undergraduate students for medical school.
Microscopic Anatomy will be taught by UC Davis School of Medicine professor Paul Fitzgerald.
"This class is taught in every medical school, and it's [similar to] what I teach to the [UC Davis] medical students," Fitzgerald said. "It's a really good course to take so at the very least you'll be able to get a little more health care consumer savvy. If you go into healthcare, whether it's physical therapy, or dentistry, or medicine or nursing, this will just give you a nice, broad general understanding of how things work and how things are put together."
While Human Gross Anatomy focuses on organ systems visible to the naked eye, Microscopic Anatomy will take an even closer look at these systems in order to evaluate how their anatomical structures relate to their functions. Students will learn about how organs are assembled from the four basic tissues, and how those tissues are assembled from various cell types.
"Really, it is anatomy at the microscopic level," Fitzgerald said.
Microscopic Anatomy will feature a virtual lab which will train students in microscopy and how to read microscopic imagery. In doing so, said Fitzgerald, students will have a more precise visual understanding of the relationship between anatomical structure and function.
The course will also aim to prepare students interested in careers in medicine and research.
"We think this course will be helpful for future students of the allied health professions and students interested in biomedical research because so many new discoveries are based on sophisticated imaging technologies," said Kenneth Beck, a lab instructor for Microscopic Anatomy.
However, biological sciences students are not the only ones who stand to benefit from the class.
"Liberal arts students interested in the course will also benefit from being able to understand how their bodies work at the microscopic level," Beck said.
As students are selecting courses for the upcoming quarter, some have taken an interest in what the class has to offer.
"I had no idea that [Microscopic Anatomy] was being offered, but it sounds like the kind of course I would love to take," said Jessica Larbaoui, a second-year biological sciences major. "I feel like taking this course in addition to anatomy will better prepare me for medical school. It could really give me an edge over other potential med students."
Although Fitzgerald said that his goals for the course are to provide students with the means to understand their own bodies and prepare prospective medical school students, he hopes the course will extend beyond that.
"Ultimately, I would love the campus, in collaboration with the medical school, to develop a human health major," Fitzgerald said. "I'm working with folks in the College of Biological Sciences to lean toward that goal, and this would be one of the courses that would be a part of that."
Microscopic Anatomy will be held in Olson 125 on Tuesdays and Thursdays from 2:40 to 4 p.m. The lab portion will be held before lecture from 12:10 to 2 p.m. in the Sciences Lab Building 2020. Students can concurrently enroll in both Human Gross Anatomy and Microscopic Anatomy.
Written by: Emma Sadlowski and Abby Saenz –– science@theaggie.org