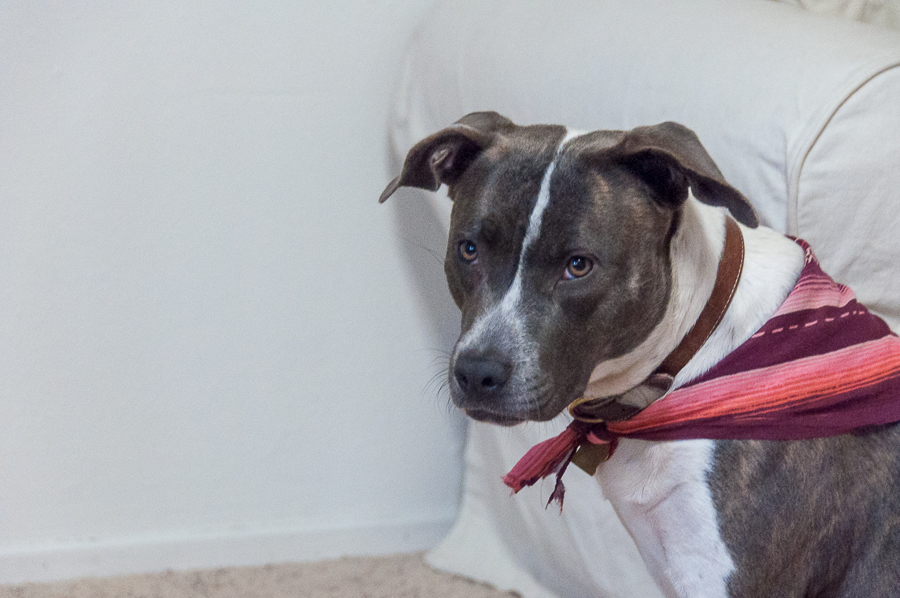 One clinic helps veterinary students, undergraduates, a small community
Knights Landing is a small community in Yolo County where 16.9 percent of people fall below the poverty level. As a result, some residents find it hard to pay for their pets' expensive veterinary bills. Luckily, students from the UC Davis School of Veterinary Sciences provide a monthly free animal clinic in Knights Landing, a project that benefits the veterinary students, undergraduate pre-vet students and the community (and pets) of Knights Landing.
According to Boram Lee, clinic co-director, the project started in 2009, when residents of Knights Landing reached out to the UC Davis School of Medicine for regular medical services. When the School of Veterinary Medicine joined, those services were expanded to include animal care. The institutions combined forces to create the One Health Clinic in Knights Landing, which formally opened in 2012 and operates every third Sunday of the month.
Kelly Yu, a second-year graduate student at the UC Davis School of Veterinary Medicine, is an intake coordinator for the Knight's Landing One Health Clinic. Through the clinic, Yu is able to work with veterinarians and gain more experience with the animals. According to Yu, the clinic has grown quickly, and it has recently been able to enact new procedures such as conducting bloodwork.
In addition to the new services being offered, the clinic continues to offer spay and neutering services and preventative care.  
"Preventative care is basically just physical exams, and the physical exams are mainly done by the vet students at the school," Yu said. "Generally […] we give them the yearly vaccines that they need, [and] update them as needed. We give them flea medications, which is a monthly thing, and we also give them deworming in case they have any sort of parasite."
In addition to providing experience for veterinary students and animal care services to an underserved community, One Health also serves undergraduate pre-veterinary students.
Brigitte Clark, a fourth-year animal science major, is president of the Pre-Vet Students Supporting Diversity (PSSD) Club on campus. Through PSSD, undergraduate students can apply to volunteer at the clinic in Knights Landing and get experience with animals that can set them apart on veterinary school applications later on.
"The undergraduates are [placed] at different stations," Clark said. "One station is pharmacy, where you'll be drawing up the vaccines, and you'll be pretty much getting the medicinal materials that the vet student needs. […] The next station is helping with the paperwork in the front, […] it's called intake. You help patients get their paperwork done, you call out patients and you interview them. […] Another position that the undergraduates do is that they [act as] vet-tech assistants at each station."
Clark volunteered at the clinic monthly until last year and said that the number of procedures that undergraduates have been able to help with has increased.
"Now what's different is if you have a rabies vaccine you get to touch the animal and restrain them versus before […] the undergraduate students couldn't touch the animals because of the insurance policies," Clark said. "If you provide them with your rabies vaccinations and a couple of other things, you can restrain the animals now."
While the clinic gives both veterinary students and pre-vet undergraduates experience for their chosen career paths, it also serves the community of Knights Landing with its mission of keeping pets healthy and owners informed.
"We actually set up a table [in the clinic] so we could have more one-on-one conversations with clients regarding […] pet health or any kind of questions they might have," said Michelle Luis, a second-year veterinary student and one of the education coordinators for the clinic. "We try to just get clients to know about other factors that affect their animals' health and their own health."
While the education coordinators help to teach the pet owners about animal health, the benefits do not stop there. For Luis, one of the most rewarding parts of the program is engaging with the kids that stop by the table.
"For me, the outreach portion is really important, and that's the part that I like the most," Luis said. "Just trying to get kids excited to maybe go into [a veterinary] career in the future, or just pursue science further, or higher-level education in general."
Written by: Meral Basit and Darien Barnett – science@theaggie.org