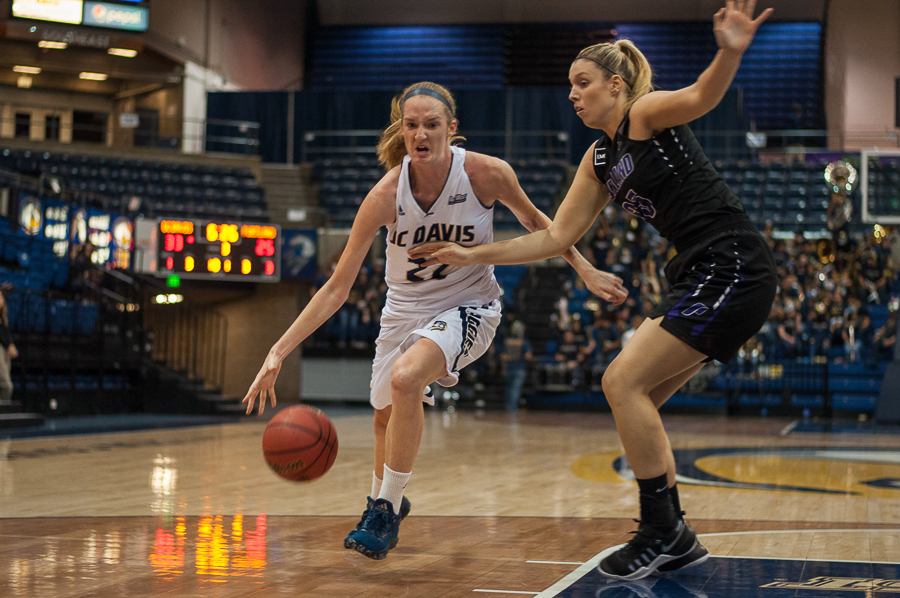 Aggies break two-year losing streak
The Pavilion was filled with both cheers and jeers from an excited crowd on the night of Nov. 11 as the UC Davis women's basketball team opened its regular season with a hard-fought win over the Portland State Pilots, 66-52.
The Aggies looked primed to begin their season with a head start in the Big West Conference — joining just three other schools (out of nine) in the division to win their openers. They showed an ability to deliver big wins in the two exhibition games leading up to the first regular season game, creating high expectations for a stellar 2016-17 season.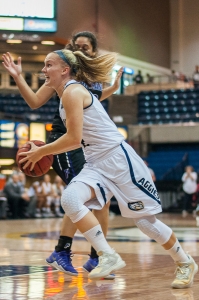 Friday night's win was not the only reason for celebration, as multiple Aggies played some of their best ball to date. Junior forward Pele Gianotti was a key contributor to the win and witnessed an elevation in her game that produced a career high: 12 rebounds to go along with 20 points — an impressive double-double to start the season. Sophomore forward Morgan Bertsch continued the level of play that she showed during the two exhibition games by putting up 10 points and five rebounds, with six of those 10 points coming from the free-throw.
Junior guard Dani Nafekh matched her fellow guard, sophomore Kourtney Eaton, by scoring 12 points, and combined for half of the three-pointers made for the entire team with five.
"We've been working so hard […] we don't really think about the opponent, but more on what we can do," Eaton said. "We've been working so hard on our defense and changing some things
up this year [by] putting more pressure on the ball and forcing a little more turnovers."
The Pilots didn't allow the Aggies to run away with the game, desperately chipping away at the lead and keeping the point differential below 20. The Pilots were also able to control the paint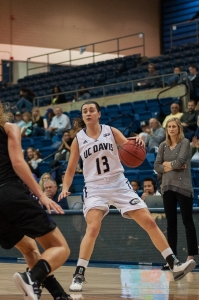 more effectively than UC Davis by scoring 28 of their 52 points from there, while the Aggies were only able to put up 14. However, the Aggies dominated beyond the arc — making 10 three-pointers to the Pilots' three.         
This win marked the first time since the 2011-12 season that the UC Davis women's basketball team has been able to come away with a victory in a home opener.
"This year's team is just focused on playing really hard and competing, and we did that; we did a great job […] and I felt that our team competed really well tonight," said head coach Jennifer Gross.
The team had 17 turnovers for the night, while Portland had 11.
"We did this to ourselves, just making risky passes and not taking care of the ball enough," Gross said. "We know we have to take care of the ball to be able to win games against every opponent that we play."
Written by: David Flores — sports@theaggie.org