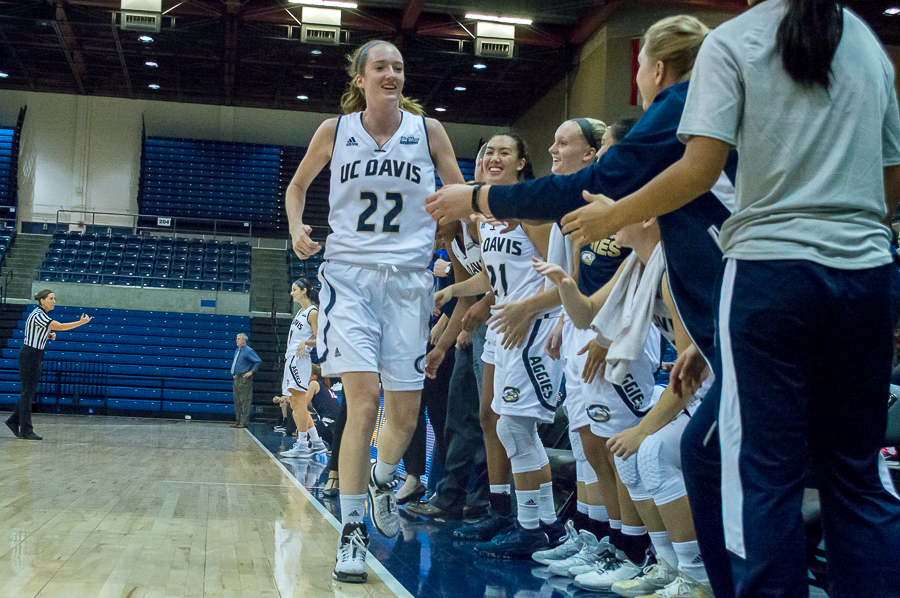 Bessolo erupts as the Aggies demolish Holy Names by 40 points at the Pavilion
Even after her team throttled Holy Names by a score of 91-51 on Sunday afternoon at the Pavilion, UC Davis women's basketball head coach Jennifer Gross said that her team still has lots of areas to improve on.
Despite leading the Hawks 49-22 at halftime, Gross wasn't satisfied with her team's defensive effort. During the break, she let her squad know that the team needed to do a better job securing defensive rebounds.
"Quite honestly [the defensive rebounding] wasn't good enough in the second half either," Gross said. "So that's an area where we're really going to have to focus our efforts and really get better there."
An area that Gross was pleased with was the Aggies' fast start on Sunday. UC Davis hopped up to a fast 7-0 lead before Holy Names was even able to put points on the board. Sophomore center Morgan Bertsch broke the net first, scoring ten opening quarter points to go along with two Aggie rebounds. Junior forward Pele Gianotti also hit from downtown en route to five first quarter points.
"We came out with a lot of urgency and focus," Gross added. "And for the most part we got better [on Sunday]."
After the hot start, UC Davis led the Hawks, 23-6, after a quarter of play.
During the second quarter, it was Holy Names who struck early. The Hawks' starting point guard, Lindsay Littlejohn, hurt the Aggies from behind the arc, tallying three triples for a nine-point quarter. However, the Aggie offense continued to produce on the opposite end, recording 26 second-quarter points. Gianotti found the net on four separate occasions and UC Davis freshman phenomenon forward Nina Bessolo scored six points in just five minutes of action.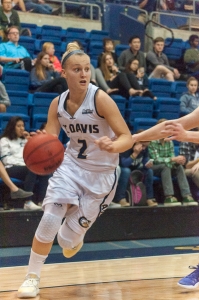 "I think [Nina's] going to be a tremendous player," Gross said. "She's obviously a phenomenal athlete and she can be such a spark for us, both defensively and offensively."
Gross is confident that once Bessolo becomes more accustomed to the speed of college basketball, she'll become a consistent playmaker for the Aggies. The young Aggie looked right at home on Sunday, tallying a career-high 16 points to lead UC Davis, along with eight rebounds, two blocks and two steals.
"She just needs to let the game come to her," Gross said. "But I can already see greatness."
Starting the second half with a 27-point advantage, UC Davis junior guards Dani Nafekh and Rachel Nagel kept the Holy Names defense on its toes. Nafekh connected with Nagel across the court early on, translating into a Nagel floater from 10 feet out.
Next, Nafekh fed three separate Aggie shooters on three-pointers (Bessolo, Sophia Song and Karley Eaton) — which included freshman forward Song's first career Aggie points. Nafekh finished the quarter with five assists.
After three tilts, UC Davis had a 40 point lead, 76-36. And the UC Davis defense didn't stutter in the fourth quarter either. For a nearly four-minute stretch, the Aggies kept the Hawks from scoring in the fourth and forced Holy Names down into the paint, where the Hawks scored 12 of their 15 fourth-quarter points.
Gross said the Aggies have been focused on improving their team defense since day one this season, and to watch her players lock down on Holy Names, even with her two bigs (Bertcsh and redshirt junior center Marly Anderson) on the sideline, was extremely pleasing.
"When Marly and Morgan are out we have Lauren Beyer," Gross said. "She might have limited minutes, but she's one of the smartest players out on the court. She's been here for a while and she's always in the right place at the right time and does a great job anchoring our defense for us."
With three formidable post players at her disposal in Bertsch, Anderson and Beyer, Gross has a handful of options to pick and choose from this season as the Aggies go up against some of the Big West's tougher frontcourts.
"We also have young kids that are athletic and can compete with them," Gross said, hinting at the Aggies 6-foot-2 freshman center Emma Gibb.
Now 2-0, UC Davis will have a week off before hitting the road to take on Pacific in Stockton next Monday, Nov. 21. The Aggies will return to the Pavilion again on Wednesday, Nov. 23 at 7 p.m. to face Montana State.
Written by: Owen Yancher — oyancher@gmail.com
Owen Yancher is a student at Sacramento City College