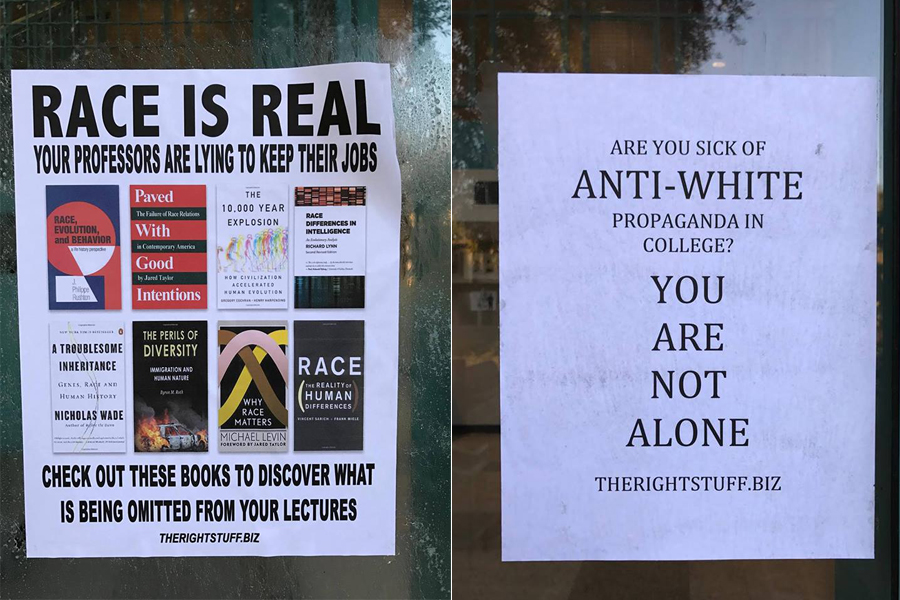 Interim chancellor Hexter denounces incident as an attack on diversity
Several anti-diversity posters were found in Sproul Hall, Olson Hall and around the Memorial Union on Nov. 14. These posters included phrases such as "are you sick of anti-white propaganda in college?" and "race is real." The posters also advertised racially charged books, such as The Perils of Diversity and Race Differences in Intelligence, as well as a racially-charged website. The site includes phrases like "democracy is an interracial porno" and "we're white and we're not sorry."
In a Facebook post, ASUCD reported that students should also be aware of posters with razor blades hidden in the tape, as some found on campus injured several campus faculty and students during a protest last week.
On Nov. 14, an e-mail from the Office of the Chancellor was sent to students and staff informing them of the posters and reaffirming the UC Davis Principles of Community.
Interim chancellor Ralph J. Hexter sent a second e-mail on Nov. 16 further condemning the incident.
"Although the First Amendment may give someone the right to criticize UC Davis' proud commitment to diversity, it also gives me the right to condemn messages such as the ones we were subjected to this week," Hexter said in the e-mail. "These posters were designed to fuel hatred directed at virtually every member of our campus community. I encourage vigorous discussion of difficult issues, and I welcome all points of view, but I will not remain silent when confronted with messages designed to stifle discussion by promoting fear and intolerance."
Many UC Davis faculty members, such as professor in the department of history Kathryn Olmsted, share Hexter's concern that these posters perpetuate racism and intolerance. Olmsted views the racial sentiment of these posters as a well-defined historical thread within America.
"Theories that there's a conspiracy against white people have a long history in the United States," Olmsted said. "You can go back to second Ku Klux Klan in the 1920's and see this anger among white Protestant Americans that feel like their country is being changed. They believe that white men in particular are losing their place in society and their authority."
English professor Matthew Stratton related the posters to contextual events within current American politics.
"We're seeing them all over the country, the grotesque reality of what used to be extremely fringe," Stratton said. "That has been encouraged and normalized by the media, by the last election. So it's no surprise that we're starting to see reports of this happening and worse, all over."
Written by: Aaron Liss — campus@theaggie.org
UPDATE (11/18/16): The UC Davis Office of Strategic Communications confirmed that there were no blades hidden in the tape of the posters.