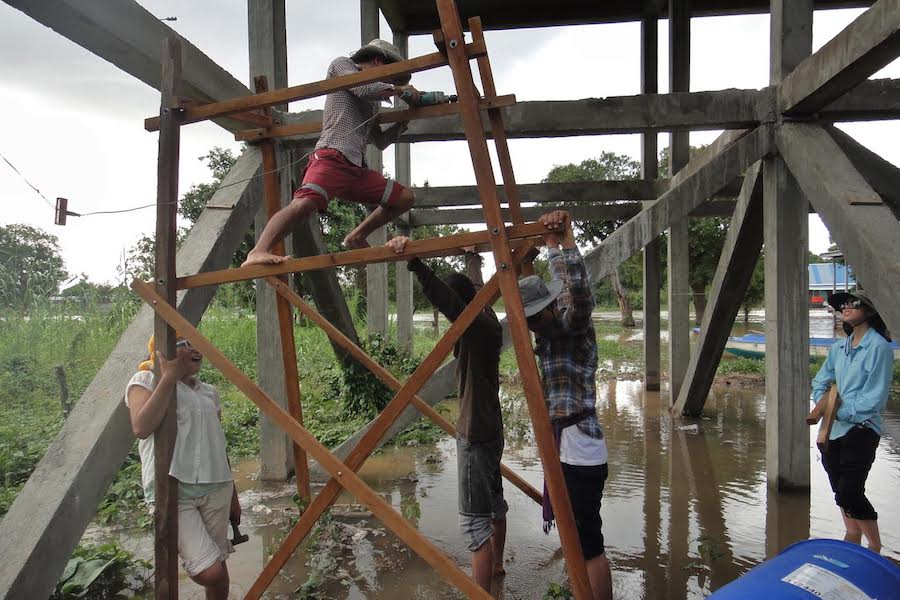 UC Davis students spend summer abroad working to improve sanitation in Cambodian floating communities
Joanne Wu, Rachel Muradian and Eugene Yao Guan's trip to Cambodia wasn't the typical study abroad experience. While other students might have spent their summers working, taking summer classes or relaxing, these UC Davis mechanical engineering (ME) students spent their summer abroad prototyping water treatments in floating communities along the Tonle Sap Lake in Cambodia.
Muradian, a fifth-year ME major, as well as Wu and Guan, UC Davis alumni, decided to do their ME senior design capstone project on developing a sanitation solution with Wetlands Work! (WW), a social enterprise based in Cambodia that designs and builds innovative constructed wetland systems to treat various contaminated waters. The three spent their winter and spring quarters designing water treatment systems before traveling to Cambodia in August 2016 to begin building the prototypes.
"Once we started working on the project and communicating with the company in Cambodia, all of our conversations were about how much easier things would be if we were just on location to figure things out," Muradian said.
According to Guan, floating communities, or villages living on or near water, are especially vulnerable to water treatment issues. Without proper water treatments, these communities expel waste directly into nearby bodies of water, which can lead to bacterial infections, such as diarrhea if consumed.
"[Water treatment] is an issue for floating communities because they are living on the water and there's no way for them to filter what goes into the river," Guan said.
WW uses a sanitation solution called HandyPod that has been mostly successful at reducing pathogenic content in Tonle Sap Lake, but the solution is expensive and used primarily for floating houses, not stilted houses along the lake. The team worked with WW to modify the HandyPod system by minimizing the water system costs and adapting it for stilted houses.
The group focused on designing and building a stand alone stilted support structure for the HandyPod and a hand crank allowing floating community residents to extend or reel in tubing.
During the process of prototyping their water treatment designs, the group quickly learned that the limited supplies available in Cambodia led to major adjustments to their initial designs. With the support and assistance from Cambodian locals, those setbacks didn't stop them.
"What could be seen as inconveniences actually helped us repurpose our project," Wu said. "It was sort of an exercise in rolling with the punches."
Wu, Muradian and Guan worked with local Cambodian residents and students to figure out how to modify the prototypes with the supplies available in Cambodia.
"It was really a lesson in flexibility, and it was really cool to learn from the Cambodians about how they go about building and designing," Muradian said.
By the end of the trip, the support structure proved to be almost completely functional while the hand crank needed additional work to improve its functionality. WW was pleased with the team's work and will use their prototypes to improve future sanitation problems in floating communities.
Guan looks back on the experience as one that helped him become more independent and bold. Not only did his team learn about Cambodia's culture and history, he said, but they also made a difference in the residents' lives.
"Helping others doesn't necessarily mean going somewhere and telling people what to do, but rather working with them to help them come up with a solution," Guan said. "Whatever input they have is viable."
Written by: Emma Sadlowski – science@theaggie.org