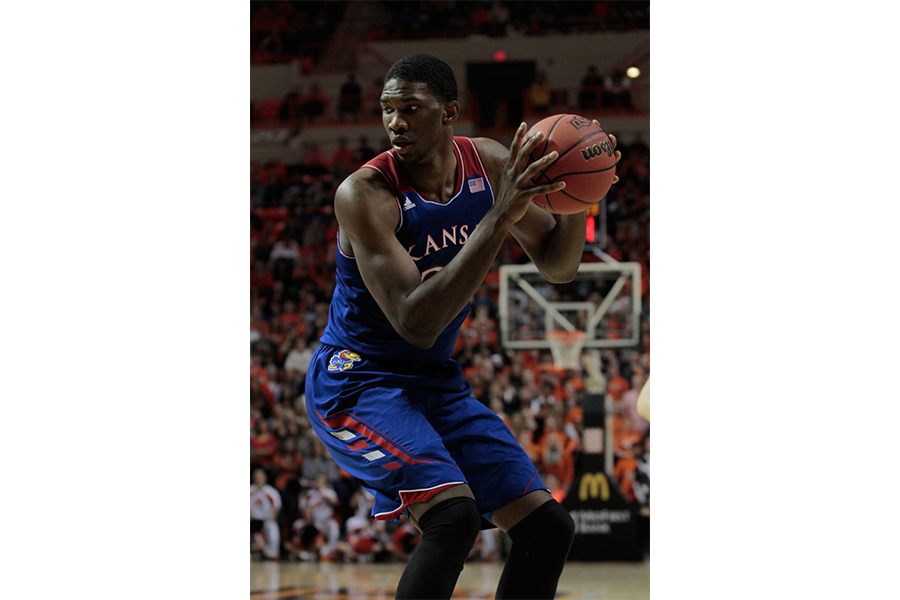 Aggie Columnist Michael Wexler talks Philadelphia 76ers' young center Joel Embiid's hot start to NBA career after two absent seasons
When the NBA season started, I put out my predictions for the 2016 season, which included choosing Kris Dunn of the Minnesota Timberwolves to be the NBA 2016-2017 Rookie of the Year.
"Kris Dunn […] has seemingly won the position battle over Ricky Rubio for starting point guard. While I haven't followed Dunn particularly closely, I like him over Joel Embiid, who's going to have a season of distraction as his quest to earn the love of Kim Kardashian continues."
Dunn is off to a very interesting start. An elbow injury to Ricky Rubio has opened up an expanded role for the young guard, and the results have been mixed. His struggles on the offensive end have been well-documented. He is shooting an extremely-inefficient 36.7 percent from the field while averaging a mere 5.3 points and 4.2 assists per game. On the other end of the floor, his tendency to gamble on defense has resulted in a solid 1.8 steals per game. Dunn's numbers aren't particularly eye-popping; however, the numbers of Joel Embiid of the Philadelphia 76ers have stood out immensely.
While I'm wary of reneging on my commitment to Dunn as the ROY due to Embiid's extensive injury history, I will admit that I was wrong to write off Embiid after his first two seasons, in which he totaled zero minutes on the court.
For those unfamiliar with Embiid's past, here is the breakdown: Embiid missed his rookie campaign with a broken navicular bone in his right foot, and the same injury recurred during his sophomore season. The Philadelphia Inquirer claimed that the 76ers believed this injury to be career-threatening.
Before this slew of injuries, Embiid was regarded as a generational talent and was a consensus number one overall pick; the fact that he only fell two slots when Philadelphia drafted him reflects upon Embiid's tremendous talent — talent we are seeing now. It is still early, and while I haven't been watching every minute of every Sixers game, Embiid's numbers are outstanding.
At first look, his numbers were impressive. After five games of play, Embiid was averaging 17.6 points per game along with 6.8 rebounds and 2.6 blocks on 48.3 percent shooting from the field, and an unheard of 66.7 percent from deep. These numbers, especially the unsustainable 3-point percentage, are impressive for anyone, especially a rookie, but they stand out because these stats have been accumulated in heavily-managed minutes.
Embiid is averaging only 21.4 minutes per game, so these numbers are literally unheard of. I know it's a small sample size, so this comparison must be taken with a grain of salt, but when extrapolating Embiid's statistics to the often-used 36 minutes per game, the results speak for themselves.
| | | | | | | | | |
| --- | --- | --- | --- | --- | --- | --- | --- | --- |
| Player in Rookie Year (games) | PPG/36 | REB/36 | AST/36 | BLK/36 | STL/36 | TO/36 | FG% | FT% |
| J. Embiid (5) | 29.6 | 11.4 | 2.0 | 4.4 | 1.0 | 7.4 | 48.3% | 76.5% |
| K. Abdul-Jabbar (82) | 24.1 | 12.1 | 3.4 | N/A | N/A | N/A | 51.8% | 65.3% |
| S. O'Neal (81) | 22.2 | 13.2 | 1.8 | 3.4 | 0.7 | 3.6 | 56.2% | 59.2% |
| H. Olajuwon (82) | 20.9 | 12.0 | 1.4 | 2.7 | 1.2 | 2.9 | 53.8% | 61.3% |
Comparing Embiid's numbers to three of the greatest NBA centers of all time through five games is something ESPN would probably do to prey on the minds of feeble and naive 13-year-old basketball fans via their show First Take — so the answer is yes, I made this graphic half-jokingly.
The point still stands, though, that Embiid's tremendous success thus far is a delight to many. Foot injuries have derailed the careers of NBA greats such as Bill Walton and Yao Ming, so Embiid suffering similar injuries at the young age of 20 was hard to watch. After his second surgery, many (including myself) were quick to label Embiid as the NBA's next big bust.
When you google "Joel Embiid Greg Oden," 25,300 results appear, demonstrating a comparable career path to the 2007 first overall draft pick, whose career was quickly and painfully ended by debilitating knee injuries. Fortunately, Embiid's play thus far has proven the naysayers wrong. Embiid is back in the conversation with other young stars such as Karl Anthony-Towns and Rudy Gobert.
Seeing young kids' dreams dashed by chronic injuries is heart-wrenching, so I wish Joel Embiid good health in his quest to become one of the most dominant bigs in the NBA.
Written by: Michael Wexler — sports@theaggie.org