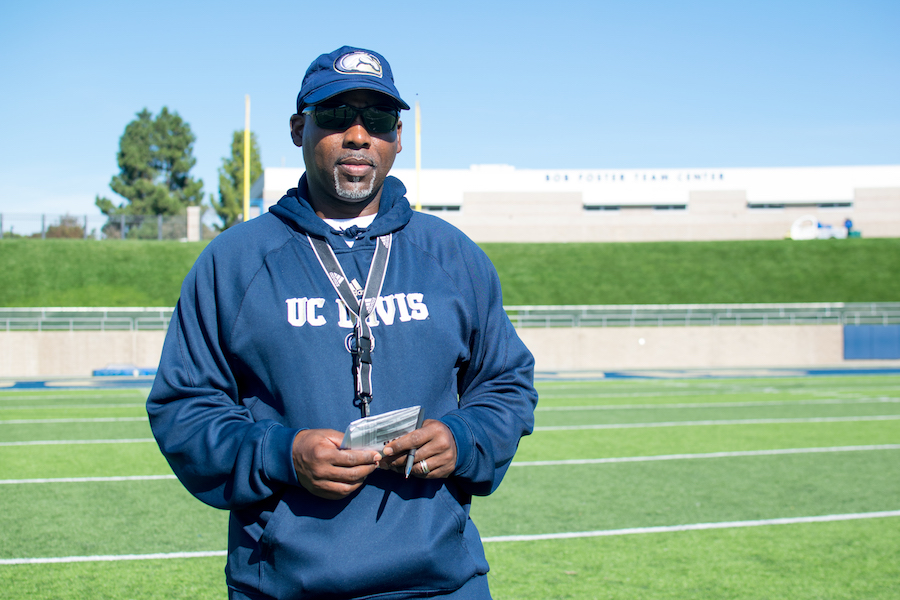 Former UC Davis football head coach Ron Gould
It's 1:26 p.m. on a rainy Monday afternoon. Five men are sitting in a room with whiteboards for walls, which are blackened by marker ink and color-coded magnets labeled with random, short words like "base," "tex" and "ace."
There's an oval-shaped table in the center of the room surrounded by a dozen chairs; one of the men sitting is scribbling frantically on his bright yellow notepad while the others chat casually about their wives and weekends.
More men file in and fill a chair, each greeted by the company present, until there are eighteen people crammed into a room that's only slightly bigger than a walk-in closet.
One seat — the seat — at the head of the table is still empty, a throne of sorts.
It's 1:30 p.m. now. The last man shuts the door, and the casual atmosphere is replaced with tacit respect — maybe even fear. "Sup, coach?" they all ask in unison.
Former head coach Ron Gould takes his seat. "What do you guys have for me today?" His voice is raspy from shouting on the field for so many years. "I want some good news."
Everyone turns to the man in the far corner opposite Gould as he clears his throat and says, "Well, Coach, I'm not too sure about Spencer."
"How is that good news?" Coach Gould demands. The rest of the men laugh, but the coach is waiting for an explanation. With Portland State coming to town this weekend, he's anxious to know what — or who — he's got to work with.
"Tell me more," Gould says. The meeting begins.
***
Even though Gould's office is very tidy, he spends countless hours every week there — watching film, hosting high school or professional coaches, talking to prospective Aggie players and their families.
There's a flat screen that's paused on a potential high school recruit's film from last week's game. On his desk are pictures of his two sons, Tevin and Trae, who are both going to school in Oregon. Gould sat down with both of them to ensure they didn't feel pressured to play football for the wrong reasons. Neither one of them does.
Next to their pictures is a brick that has the UC Davis emblem on it and the phrase "Every Man a Brick, Together a Wall," reminding him of his primary goal as head coach: creating strength through togetherness.
***
Ron Gould was born and raised in Tucson, Arizona, where he played football as defensive back at Scottsdale Community College for a year before earning a scholarship to Wichita State. After its program was discontinued, Gould went to the University of Oregon to continue playing football and eventually graduate in 1988 with a bachelor's degree in criminology.
He stayed with the Ducks as a graduate assistant until he was offered a defensive back assistant coaching job at Portland State and, later, Boise State. Gould eventually made his way to UC Berkeley, where he was the running back coach for ten years before moving up to associate head coach in 2008.
In 2012, Gould took the head coaching job at UC Davis.
"I'd never been on campus before I got hired," he said. "But I knew it was a highly academic, diverse school."
Since his appointment, Gould has taken UC Davis' football program to a new level — both on the field and in the classroom. He emphasized how high his expectations are for prospects because UC Davis has such a rigorous core curriculum.
"We have four pillars that we look for in recruits: athletic ability, academics, character and competitive spirit," he said. "We don't compromise one for the other."
He emphasized the necessity of well-rounded players, doing their part as full-fledged adults in the community.
Gould wants each player to feel important. His priority lies with his desire to develop the men on his team as athletes, students and, most especially, people. He constantly reminds them, "If football is the only thing I've taught you, then I have failed you."
He and his wife, Teresa, moved to Davis after spending almost 16 years in Berkeley. Teresa served as interim athletic director until the university named Kevin Blue for the position this past spring. With the Goulds so involved in collegiate athletics, the UC Davis athletic staff has become like family.
"Coach Gould loves to cook," said Mike Robles, assistant athletic director and communications coordinator. "He invited the entire staff and team over and we thought, there's no way coach would actually be cooking for all of us and he goes, 'Oh yeah? Come on over.'"
***
When Coach Gould blows the whistle, chaos ensues. With a quick shuffle, dozens of players hustle into their respective sections — offense, defense, quarterbacks and running backs — with their designated coach across Jim Sochor Field.
Gould is in the dead center of the commotion, calm and collected, directing each section like a conductor of an orchestra, trying to restore order in the music: blown whistles, strained shouting, bodies crashing into each other, the football meeting the arms of their intended receiver.
The timer on the jumbo screen overlooking the field is counting down from 05:00 and buzzes loudly throughout the stadium as soon as it reaches 00:00 before resetting. Each time it does, the configuration of the field changes into something completely different from the one before — Coach knows how to make the most out of these practices.
This goes on for two hours before Coach calls the team in for a huddle, ready to deliver the make-it-or-break-it evaluations.
On his wrist he wears a rubber bracelet with "RESPECT THE PROCESS" typed across the band.
"Be patient, respect the process, and good things will happen," Gould said.
It's why he has in-team programs he likes to call Big Brother, much like a mentoring program, and Accountability Program, in which players nominate teammates as coaches and are drafted onto five different teams. He wants them to bond and trust one another like brothers.
"If one member of the team is slacking, either in the classroom or just in the community, the others are just as responsible," he smiles. "That way they're helping one another succeed both on and off the field."
***
In the heart of Aggie Stadium, the Bruce Edwards Club Room is empty after a long night of football. The UC-Davis-emblem-patterned backdrop that sits behind the table at the front of the room has a spotlight on it expectantly.
Soon enough, Coach Gould appeared through the sliding door and took a seat at the table. His eyes are bloodshot, but he still holds his shoulders high, prepared for anything that comes his way.
One of the reporters asked, "What happened tonight?"
The Aggies just lost to the Portland State Vikings. Badly. It was a disappointing regression. Definitely not up to Coach Gould's standards.
As he takes his time to articulate, he may be thinking back to what he said during practice a few days before.
"No one is born a leader, okay," he said. "They may have leadership qualities, but it's using those qualities that makes someone a leader."
For Coach Ron Gould, this is his way of respecting the process. This loss reminds him that there's much more work to be done. He holds his team and, therefore, himself to the highest standard both on the field and off it.
Coach Gould finally put his hands up slowly and sighed, "We just didn't execute." He shook his head. "I told the players, 'You can't talk about it. You got to be about it.' We just have to get back to Aggie Football."
With only two games left in the season, the only thing the UC Davis football team has left to do is to get back up and finish strong. And with a leader like Ron Gould, that feat shouldn't be that hard to accomplish.
Written by: Nicolette Sarmiento — sports@theaggie.org