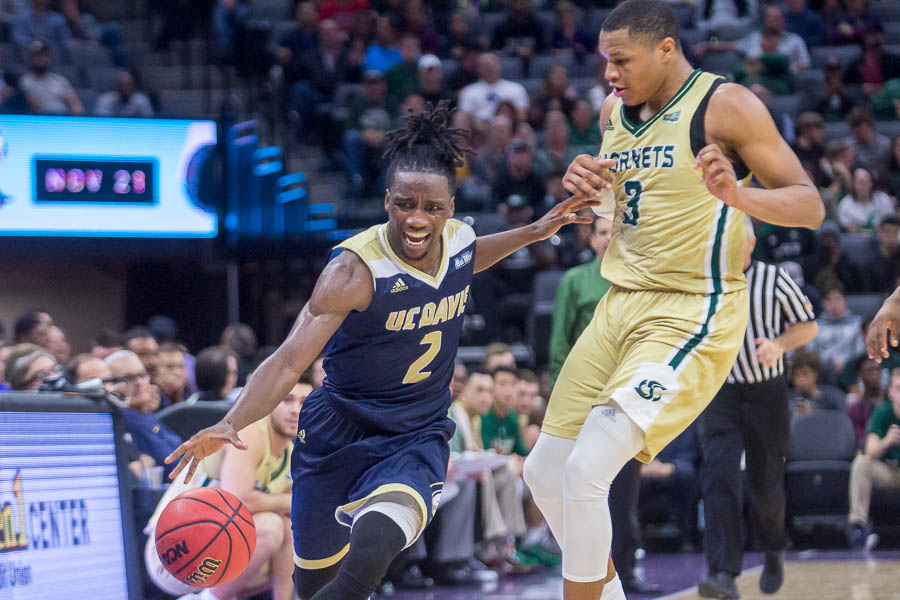 Aggies' depth proves to be too much for Hornets to overcome
In a night of many firsts, it seemed fitting that the first basket ever scored by a student-athlete in Sacramento's brand new Golden1 Center belonged to Sacramento native Darius Graham.
Graham, a senior guard for UC Davis' men's basketball team, drained a three-pointer from the left baseline to open up the scoring in a tightly-contested game between the Aggies and rival Sacramento State on Nov. 21. UC Davis edged out a hard-fought win over the Hornets, 81-72.
The Aggies moved to 4-1 on the season with the win and knocked Sacramento State to 1-3. The matchup was the first NCAA game ever played at the arena, which opened in September in downtown Sacramento.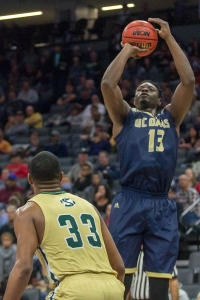 "It was crazy looking back at it," Graham said about his opening shot. "I wasn't thinking about it much during the game, but now after, it goes down in the record books. I can always tell my kids and grandkids that, 'hey, I played the first college game [at the arena] and hit the first basket.'"
Graham finished the game with 10 points and was one of five Aggies who scored in double figures. Senior guard Brynton Lemar led the Aggies with a career-high 23 points, and junior forward Chima Moneke recorded a double-double with 15 points and 13 rebounds to go along with freshman forward Mikey Henn's 13 points and senior forward J.T. Adenrele's 10.
UC Davis head coach Jim Les was impressed by his team's depth.
"We have a lot of places we can go to get points, to get productivity," Les said. "I think the guys embrace that. They really enjoy playing with each other, so the ball moves, and guys are looking for someone."
That someone was Lemar, who rattled off 14 consecutive points for the Aggies during one stretch in the second half.
"Brynton got the hot hand, and everybody ramped up their ability to screen for him," Les said. "We found him on some sets and went to him when he got hot. And we've been that type of team because they like playing with each other."
Lemar seems to enjoy playing against Sacramento State. Late in the second half, he surpassed his previous career high of 21 points, which also came against the rival Hornets last November.
"I just feel like I'm a competitor," Lemar said. "When it's a big game, I feel like I always play my best, and I came into the game confident because we had a good week of practice, and it showed."
Lemar's big second half allowed UC Davis to pull away late after a hotly-contested opening half. The Aggies led 35-33 at the break, thanks to a buzzer-beating three-pointer to close out the first half by Graham.
"I knew we had a couple seconds on the clock," Graham said of his shot, which wrapped up a 12-2 UC Davis run over the final two-plus minutes of the half. "I was able to get a quick glance at [the clock]. I tried to loft it up there. It was a lucky bank, but, you know, we'll take it."
The Aggies continued their run into the second half. Henn's three-pointer at the 12:30 mark in the second half gave UC Davis a 51-42 lead.
But Sacramento State kept it close, matching threes down the stretch to keep within striking distance. The Hornets' occasional full-court press also caused UC Davis to turn the ball over, leading to fast-break layups for Sacramento State.
According to Les, the Aggies' foul trouble contributed to him not being able to keep his best ball handlers on the court for extended stretches, which led to Aggie turnovers. The Aggies finished the game with 16 turnovers.
"We put some guys in some positions they weren't really comfortable with, and I think that's easily rectifiable," Les said. "I like to see pressure, because [Lemar and Graham] thrive in that environment. So [the turnover count] doesn't really bother me."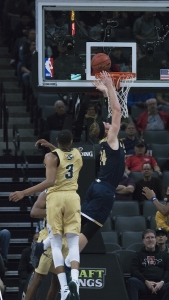 The Golden1 Center is the new home of the NBA's Sacramento Kings, for whom Les played for four years during his seven-year NBA career.
"I couldn't be more honored that the Kings organization would invite us into this new house and give our university, our basketball program this opportunity to play in this game," Les said. "We just feel blessed and fortunate, and we just wanted to take advantage of this opportunity."
The Aggies looked comfortable playing in the arena, as they made eight three-pointers and shot 50 percent from beyond the arc.
"It's big for me," said Adenrele, who hails from nearby Roseville. "Going back to my high school years, playing in ARCO [Arena], and coming back here for college now, it's the same feeling: excitement, nerves, anxiousness, all that kind of stuff. So it was fun for me. I'm glad we got the win."
The Aggies may be slightly less comfortable over their next few games, as they head to Anchorage, Alaska to take part in the Great Alaska Shootout tournament from Nov. 24 to 26. Nevertheless, Les is confident in his team.
"I know it's going to be cold," Les said. "I know we're going to have to go there and play some really good basketball and warm ourselves up a little bit. We'll be ready for that, embrace it, enjoy the opportunity and compete our tails off."
Written by: Scott Dresser — sports@theaggie.org