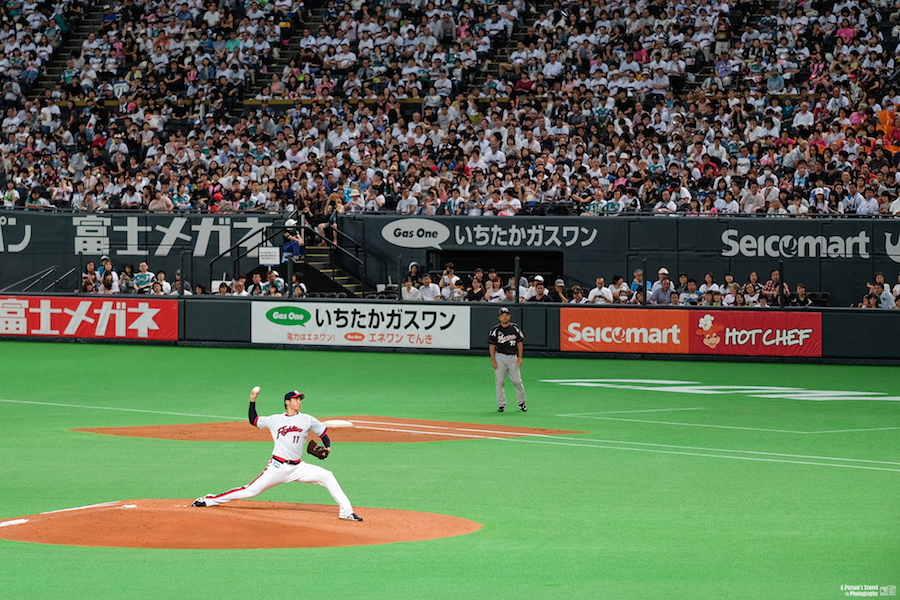 Japanese professional baseball superstar already being eyed by MLB, fans
In 1995, the Los Angeles Dodgers signed a star pitcher from the Japanese Professional Baseball League by the name of Hideo Nomo. Once Nomo won the Rookie of the Year and earned an All-Star nod in his first season, scouts and other baseball minds started to turn their attention toward the international market with the realization that other professional baseball leagues had players who were more than capable of competing in American baseball.
The Nippon Professional Baseball League has been a great source of talent for Major League Baseball (MLB) clubs since the Dodgers' acquisition of Nomo, and many of its stars have transitioned to the MLB and remained incredibly successful. Ichiro Suzuki, Koji Uehara, Junichi Tazawa, Nori Aoki, Yu Darvish, Hisashi Iwakuma, Masahiro Tanaka and most recently, Kenta Maeda, headline the current wave of Nippon Professional Baseball (NPB) turned MLB stars who have been amazing acquisitions for the teams willing to take the gamble on them.
In today's NPB, there are two great talents expected to garner a mega-deal that could reach $300 million. The offensive talent had 22 Home Runs, a .322 batting average, 67 RBIs, and a 1.004 OPS in only 382 plate appearances (for reference, Mike Trout of the Angels had 681 plate appearances) in his season for the Hokkaido Nippon-Ham Fighters. The other talent, a star pitcher, threw 140 innings with a ridiculous 1.86 ERA while racking up 174 Ks, also for the Nippon-Ham Fighters.
Is it a coincidence that these two are on the same team? No, because they are the same person! Let me introduce you to the Babe Ruth of the Nippon Professional Baseball League, Shohei Otani.
Otani's pitching profile is something MLB scouts dream of. Otani throws between 94 mph and 97 mph as a starter, and during a relief appearance, he pumped it up to a ridiculous 102 mph. During one of his starts, he averaged 100 mph on the gun, which is absurd. To help put that into perspective, the top three average fastball velocities in 2016 were by Noah Syndergaard (98 mph), Yordano Ventura (96.1 mph) and Carlos Martinez (95.6 mph). Otani's potentially elite fastball is also not the only astounding pitch in his mix. He has a wipeout slider that has drawn comparisons to that of Andrew Miller, but from the right side. He also throws a forkball, splitter, two curves and a changeup he learned from MLB legend Trevor Hoffman.
At the plate, Otani has tremendous power and incredible bat speed from the left side. These tools have helped him compensate for his sub-par pitch recognition and inability to hit inside pitching. At the young age of 22, Otani has plenty of time to clean up his mechanical flaws at the plate, especially with the help of American hitting coaches.
While Otani has tremendous potential, he does come with a degree of risk. He has dealt with leg strains in prior seasons, supposedly the results of poor conditioning and he has also had some issues with blisters on his pitching hand. Despite these mild issues, us fans need to see Otani come over to the United States as soon as possible. After an incredible 2016 postseason, Major League Baseball is riding a huge wave of momentum that bodes well for viewership and fanship in the future. The entrance of Otani to the picture would just accelerate this process. Imagine this superstar joining a big market team in the next year or so; ratings would surge as baseball fans would drool over the prospect of watching this guy on a nightly basis.
San Francisco Giants fans can brag all they want about how Madison Bumgarner is a two-way player and should hit in the annual Home Run Derby, but Otani is the real deal. Seeing a legitimate two-way player in the modern day MLB would be a sight to behold. To say a player of this caliber comes around once every blue moon would be an understatement, because I don't think we've ever seen anything like him.
I fear that the Nippon-Ham Fighters won't make Shohei Otani available until 2018, but if you love baseball, do yourself a favor and keep an eye on this guy. He will soon become a household name.  
Written by: Michael Wexler — sports@theaggie.org