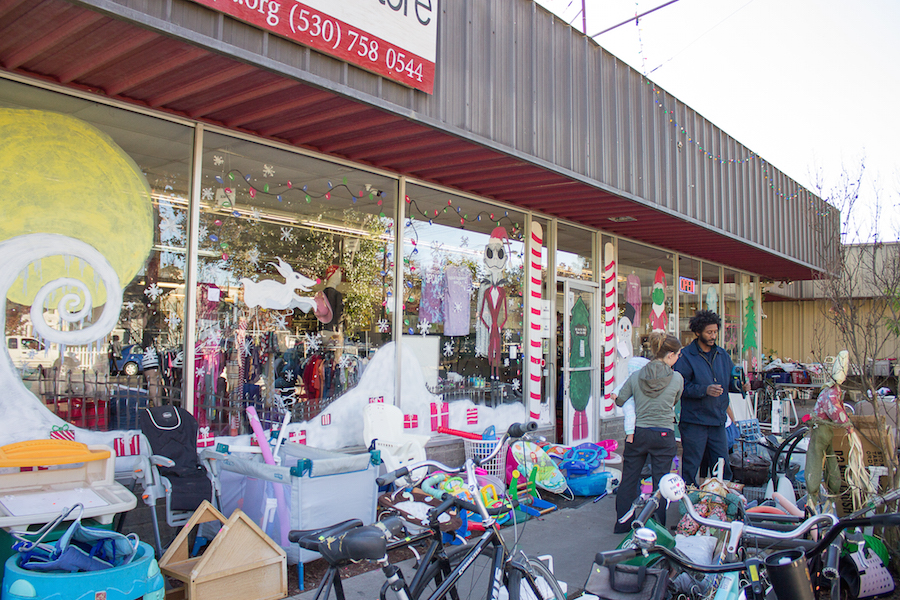 From casual wear to high-end fashion
Davis isn't known for its places to shop for clothing, especially for students on a budget. So here are few options to find the most fashionable, new styles at a fraction of the regular price.
SPCA Thrift Store
This store, located at 920 3rd St. Suite A and F, is the primary source of funding for the Yolo County Society for the Prevention of Cruelty to Animals. It is also a hoarder's haven; with a wide variety (and quantity) of items, this is your one-stop shop for last-minute items.
The store's merchandise includes clothing, jewelry, accessories, furniture, household goods, books, movies, music and even electronics. Anything damaged or broken will not be accepted. They employ paid workers and volunteer workers, and all merchandise comes from community donations, which are accepted seven days a week from 8 a.m. to 5 p.m.
The donations are processed the same day they come in, and the only reason they might not make it into the store is because there isn't enough space. If something is brought in that is too worn to sell, they are resold per pound to clothing recyclers, and the Salvation Army picks up leftover items three times a week.
They also recycle all unsellable clothing to those in need, and the unsellable household goods are donated to  Davis Community Meals. Some other organizations that benefit from the SPCA are Families First, Communicare, the Battered Women's Shelter and the Davis Cold Weather Shelter.
Aggie Reuse Store
Some of the practices this store carries out are waste diversion, creative reuse and environmental advocacy. With waste diversion, they aim to divert materials from landfills and redistribute them at a lower price to the community, which helps UC Davis stay green. With  materials from landfills, the store creates DIY crafts which allow for reuse. In addition, the store holds workshops about environmental issues.
Yudith Roman, a second-year psychology major, works at the Aggie Reuse store and believes that it is a great way for the community to help out.
"Being a thrift store on campus makes it convenient for students and even faculty. We get donations from lost and found, and sometimes we get scantrons, blue books and Davis gear. Just being on campus makes it unique," Roman said.
The clothing sold in the store varies depending on the season, and they even have UC Davis-branded gear at a much lower price. So far, the store has employed around 120 students and saved 6,500 lbs of waste from landfills. This on-campus store is located next to the Silo.
Haute Again
This is a designer consignment store for women, which means that all traded-in clothing must be name brand and in pristine condition. The clothes they sell are reflective of the store's environment so beware of venturing in while sporting your favorite yoga pants and t-shirt.
They sell new designer clothing along with vintage clothing — but don't worry, they also carry classics like Banana Republic and J. Crew. Items donated need to be seasonally appropriate and must be freshly dry-cleaned or washed.
Haute Again will accept items by appointment only, but if you cannot make time for an appointment, they also provide an at-home service where they come to your house and clean out or organize your closet. They are currently moving locations to 129 E St. Suite B-4 (upstairs of their current location) and will open again in late November.
Bohème Hip Used Clothing
This is one of the only second-hand stores in Davis that will buy/sell/trade clothes, and even take your clothes for cash or store credit on the spot. It is a locally-run store and is extremely affordable, pricing most items from $2 to $12. Rachael Roberts, a longtime employee, is proud to work at a local shop that wants people feeling good about themselves when they leave.
"We have such a diverse amount of clothes and people, and the fact that we have such a loving and accepting vibe appeals to many," Roberts said.
The clothes sold and bought change with the season, and the store is constantly bringing in new pieces. They accept almost all brands, including Free People and Anthropologie, which are the store's favorites, according to their website. Check out their selection at 409 3rd St.
Written by: CaraJoy Kleinrock — arts@theaggie.org