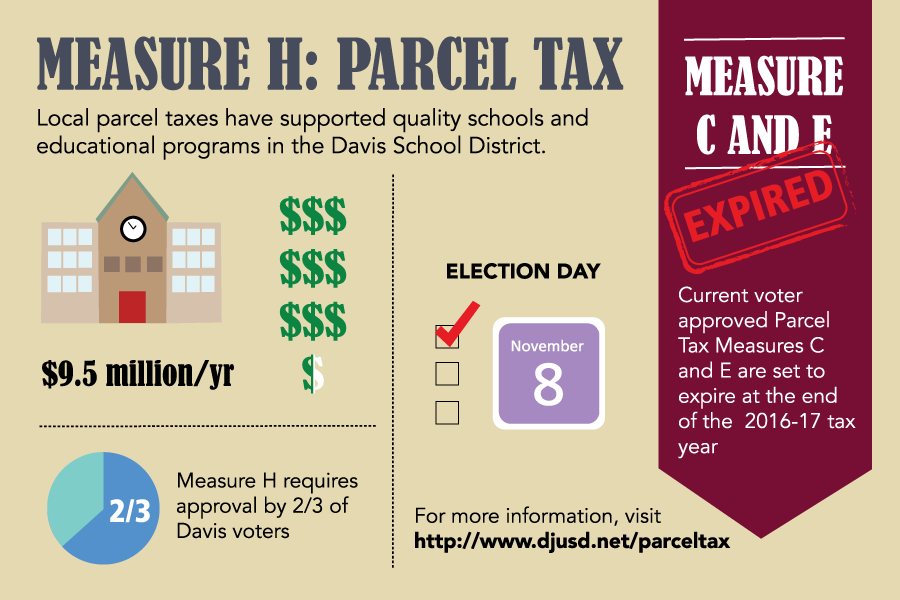 Davis community renews local parcel tax for K-12 education
Since 1984, Davis residents have voted to support local schools and education with parcel taxes that help sustain important programs and enrichment opportunities for Davis K-12 students. This election proved no different, as the votes tallied up beyond the required two-thirds majority for Measure H to pass.
Measure H employs a parcel tax to each single-family home to fund various school programs including lab sciences, arts and music, school libraries, world language, drama, speech and debate, journalism, athletics and more. It not only maintains school curriculum, but also provides funding for aides, counselors, nurses and school psychologists among other teaching positions and staff.
"It's kind of like the frosting on the cake," said Courtenay Tessler, head counselor at Davis Senior High School. "If you take the frosting, you would still have the cake, you would still get an education, but the things that make it better and more supportive for students would go away."
This measure renews and slightly increases expiring taxes that each single-family home pays, which totals to $620 per parcel per year. With state budget cuts and lost revenue, this tax, which raises about $10 million per year, sustains a high quality of education in Davis schools. Measure H also exempts seniors, those receiving disability and those receiving Supplemental Security Income, but they must first file an application with the school district for the exemption.  
Educators and staff are thrilled and thankful that the community continues to support students in their education.
"It really is a testament to our amazing community," said Maria Clayton, the Davis Joint Unified School District public information officer. "Time and time the community steps up to support our schools […] we couldn't be more delighted and grateful."
According to educators, without Measure H, the education of young students throughout Davis would have suffered — with this funding gained by the passage of the measure, students will be able to build a foundation for better education.
"Secondary science teachers attest to a real difference they see in the science-readiness and content background that elementary science instruction provides for students entering seventh grade, which translates into more in-depth learning in middle school, and more students ready for higher-level courses," said Ingrid Salim, science teacher at North Davis Elementary and Holmes Junior High, in an article published by the Davis Enterprise.
In the future, Davis educators hope that the community will continue to invest in young students' education. For more information about Measure H, visit the Davis Joint Unified School District website.
Written by: Bianca Antunez – city@theaggie.org