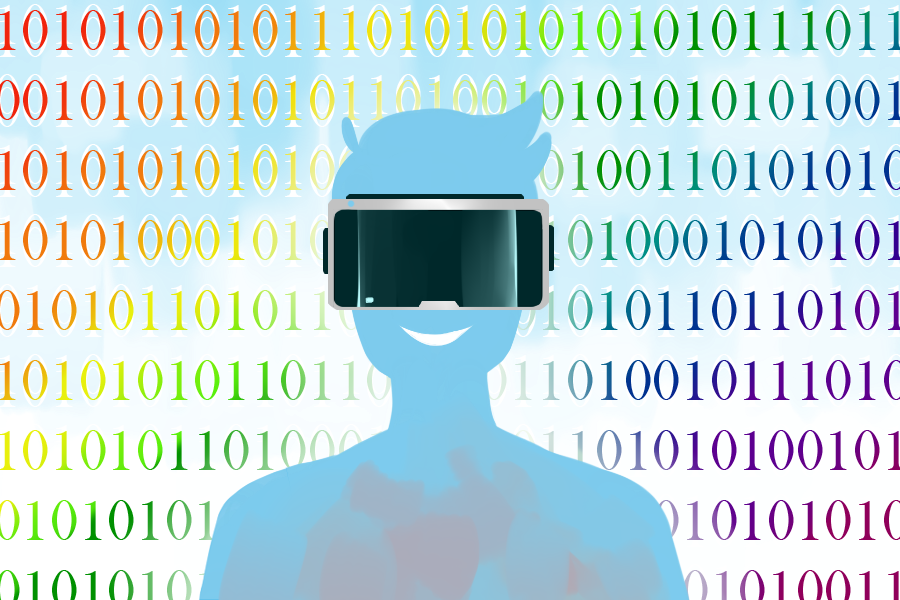 Exploring the many forms of interactive virtual environments on campus
Walk on the moon, swim through coral reefs, battle mythical beasts — all while never leaving the same building. These are opportunities that one can experience with virtual reality (VR) systems, which can be found in various forms throughout the UC Davis campus. From Gamers Gift to Play the Knave, several campus organizations and projects feature interactive virtual systems.
Gamers Gift is a nonprofit organization that provides video gaming and VR experiences for children at hospitals and elderly at assisted living facilities. The organization was founded in February of this year by Dillon Hill, a first-year cognitive science major, who started Gamers Gift as a senior in high school.
"Our mission […] is to promote well-being and positive spirits through video games and technology," Hill said. "In fifth grade, my best friend was diagnosed with cancer. A big thing that helped us as he was going through the tests and everything at the hospital was playing video games. [Video games] allow people to escape what they're going through."
After starting school at UC Davis this quarter, Hill brought Gamers Gift to campus. The campus organization now has 20 to 30 participating members, and meets every Monday to discuss fundraising projects, volunteer opportunities and video game topics.
Gamers Gift has visited two assisted living facilities and three children's hospitals. VR experiences offered to these communities include job simulations, rollercoaster rides and space exploration.
"We allow people to either do something that they can't do anymore — for example, an elderly woman [we visited] used to ski a lot, and we were able to find a program where she was able to experience that again," Hill said. "We [also] let people try and experience things that they wouldn't ever be able to do, like go to Mars or fight a dragon."
In addition to promoting health and wellbeing, Gamers Gift also pursues educational goals. Recently, the organization visited a school to teach young students about VR technology and provide them with immersive learning experiences through the use of VR. The organization also donated laptops and tablets to the school.
Hill remembered a specific moment in a children's hospital, when a patient was playing a scuba-diving game.
"He was talking to the nurses, to me and to his parents about how he feels like he can almost touch the fish," Hill said. "He was going to reach for the jellyfish and he touched his dad's hand. [He] thought there was actually a jellyfish in the room!"
A different type of virtual world is Play the Knave, a video game in which players act out scenes from Shakespeare plays using motion capture technology. Conceptualized in the fall of 2013 and created through the UC Davis ModLab, Play the Knave is a collaboration between students and faculty from a wide range of departments, including English, sociology, theater and computer science.
"[The game] is essentially a digital platform for performing Shakespeare," said Gina Bloom, associate professor of English at UC Davis and project director of Play the Knave. "You select your scene and customize your production of a Shakespeare play. Once everything has been set up, the players then play out their scene through their digital avatar on their digital stage."
The game includes scenes from about 20 plays, including Romeo and Juliet, Henry V and Macbeth, and each scene features one to four players. The system uses the motion capture technology of a Kinect camera, which is directly connected to a computer. During the scenes, lines from the script roll across the top of the screen for players to read and act out. The scenes are recorded into video clips.
"[The game is] like Shakespeare karaoke," Bloom said. "You read the line however you want and then use your body to move your avatar."
Although VR headsets are becoming increasingly popular, Bloom believes that using the Kinect interface adds to the theatrical aspect of the game by allowing spectators to observe the scenes and immerse themselves in the environment, as well as allowing the players to become more aware of their own body movements.
"I would like more people to have a chance to perform Shakespeare — the plays really make more sense when you play them," Bloom said. "Sometimes it's hard to integrate performance into the classroom, [because] it takes a lot of time [and] a lot of students don't want to perform. [The game] takes the pressure off players and turns it, literally, into a game. You get all the benefits of Shakespeare performance without the anxiety."
Play the Knave has not been released yet, but a team of 15 undergraduate interns are currently working on the project by play-testing and creating scenes, helping with installations, finding music, creating trailers and more. They aim to release the game in Winter Quarter.
VR games can allow users to experience entertainment, education and literature in a new, interactive way. Similarly, the touch screen wall at the UC Davis Welcome Center provides campus visitors with an interactive environment to quickly and conveniently learn more about the school.
The UC Davis Welcome Center first opened in the fall of 2013, and is where visitors begin campus tours and receive information about the university. A unique feature of the Welcome Center is a large touch screen wall, comprised of 12 screens, located near the entrance.
"We wanted to have something that provided [visitors] with a 'wow' and 'aha' experience," said Walter Robinson, the associate vice chancellor for enrollment, "And [that] is captured in that MultiTaction wall that we call mira, which is Spanish for 'look.'"
By interacting with the touch screen wall, visitors can learn a about wide variety of information, including academic programs, services and tidbits of UC Davis data. The information is displayed in the forms of videos, text and visuals. The primary function of the wall is to provide an interactive environment for inquiry and discovery about all things UC Davis.
"[The wall] has capabilities that go well beyond what we're currently utilizing," Robinson said. "There's content that's updated on a regular basis […] about our programs, all of our different majors, our graduate programs, our celebrations like Picnic Day, athletics, housing — almost anything you can imagine that someone will want to know about UC Davis."
Interactive computer-generated environments, Gamers Gift, Play the Knave and the Welcome Center's touch screen wall all leave a lasting impact on students, campus visitors, children and even the elderly.
"[The wall] is probably one of the most exciting aspects of the visit when people come here," Robinson said. "I would have colleagues of mine from other universities [come to campus], and I would showcase that space. They would go back to their campus and they would tell the campus leaders, 'You should see UC Davis' Welcome Center, especially that wall they call mira. We need one of those.'"
Written by: Jennie Chang — features@theaggie.org