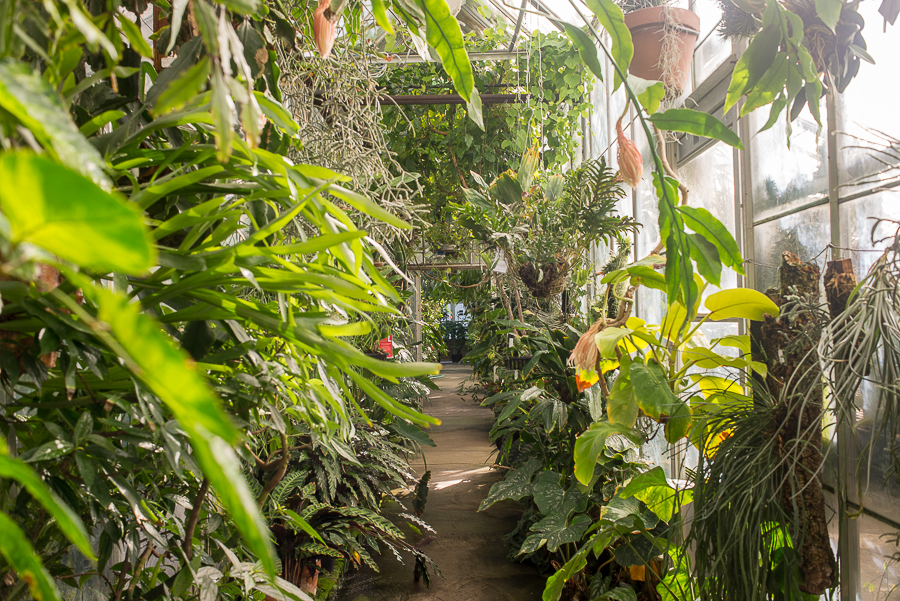 3,000+ plant species right under your nose
The UC Davis Botanical Conservatory can be seen glowing a hazy orange at night, in its location behind Storer Hall. Behind the glass, the greenhouses are filled floor to ceiling with greenery. Since it was founded in 1959, the conservatory has amassed a collection of more than 3,000 plant species both rare and common. The plants are used for everything from teaching in biology labs, to experimentation by researchers, to showing elementary school kids what plants have to offer.
Marlene Simon is the staff horticulturalist for the conservatory. Simon cares for the plants and conducts tours for elementary school classes, master gardeners and everyone in between. Simon said the conservatory got its collection to the size it is now because the exotic plants are mostly donations, and the main focus of the conservatory is not growing the collection, but maintaining it.
"We have over 3,000 different species, and we're very limited on space, but we will never pass up a plant if we need it for teaching," Simon said. "We are selective, we try to have plants or species that are pertinent to what students learn, but we also do have rare plants."
Examples of rare plants that the conservatory houses are the corpse plant, the osa plant and a collection of cycads. While most of these rare specimens are out on display in the main greenhouse, the conservatory is not always vocal about certain plants that it houses.
"Some [rare plants] we don't like to let people know we have," Simon said, in reference to the need to protect some plants from collectors. "[We house them] mainly [for] preservation. When you're talking about these plants, there are only a few out in nature and a few housed in botanical gardens. We are a living museum. We're responsible for caring for the plants as their habitats are being destroyed."
One of the rare plants that the conservatory is not shy about holding is the corpse plant (Titan arum), a flowering plant native to the large Indonesian island of Sumatra. When the corpse plant is in bloom, it has a vibrantly colored flower that can reach up to 3 meters in length, and smells like rotting flesh.
"Someone was able to collect [the corpse plant] out in the wild […] legally, and had been in contact with the conservatory," Simon said. "[UC Davis] was one of the first places to have this plant grow."
After growing their own corpse plant from the seeds they were sent, the conservatory staff was able to give offspring corpse plants to Sacramento State and UC Berkeley. The Conservatory of Flowers in San Francisco is also interested in renting Davis' plant when it blooms, Simon said.
Not only are corpse plant seeds hard to come by, but the corpse plant is also extremely hard to get to flower in botanical gardens, requiring precise conditions and years of patience.
Because the conservatory has such a wide variety of plants, it is particularly important that each individual plant's backstory, care-needs and scientific name be carefully kept track of.
Eva Bayon is a volunteer at the Botanical Conservatory, but previously held the position of assistant curator for almost 10 years. Now, Bayon is responsible for archiving the plants in the collection by inputting information like the plant species' name and where it is normally found, as well as how the conservatory acquired the plant into a database which, once finished, will be hugely helpful for researchers.
"If someone is studying the genus aloe, from South Africa, [and] they want to know how many aloe [plants] we have at the conservatory, they can look online at the database, and they should know how many species we have," Bayon said.
According to Bayon, although the conservatory is fairly small in size, it is incredibly impressive in terms of number of species housed.
"Other conservatories around the world, they have beautiful buildings," Bayon said. "Maybe there are not as many different species, but they can put [them] in a way for exhibition so many people will come to see them. But here it's more for a teaching experience. […] We have a lot more species than many conservatories around the world."
In particular, Bayon mentioned the carnivorous plant collection, which is world renowned.
"[The carnivorous plant collection] is one of the biggest collections, if you count the number of different species. We're one of the best in the country here," Bayon said.
Many classes at the university take advantage of the conservatory as an educational resource on campus. As manager of the conservatory, Ernesto Sandoval helps to grow and water the plants and supervises the teaching aspect of the conservatory. While biology classes do heavily rely on the conservatory, STEM students are not the only ones who use the space.
"English classes come in sometimes [and are asked] to describe a plant. Even a couple of art classes [visit] every year," Sandoval said. "Other classes include fiber and polymer science [and] plant-insect interactions classes that come to visit and use the conservatory for research and learning."
While the conservatory hosts classes frequently, it is also open to the public from 9 a.m. to 5 p.m. on weekdays. Community members and students are encouraged to visit and learn about UC Davis' wide array of plant life.
Written by: Meral Basit — science@theaggie.org