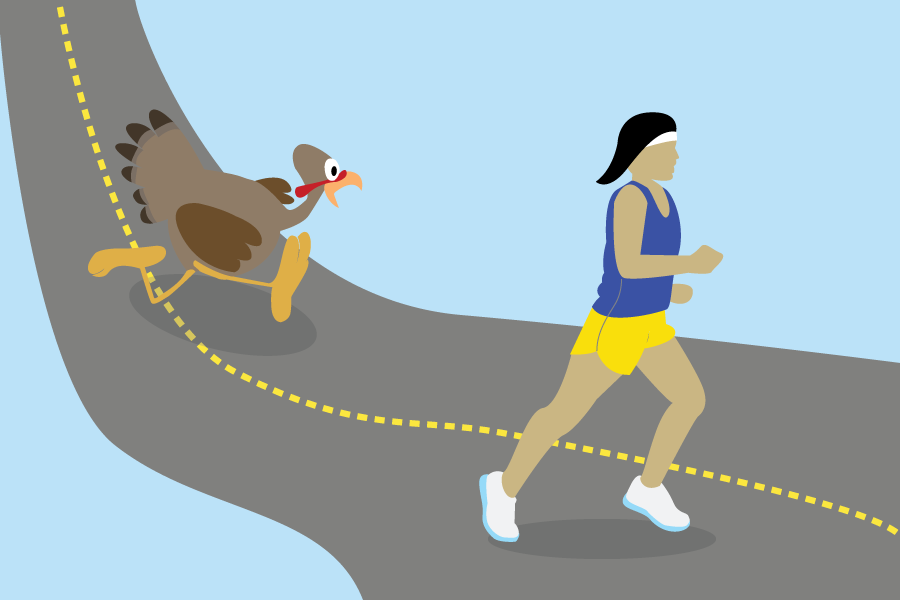 Participants gathered for 5k, 10k, half marathon races
Five, four, three, two, one… Go!
Those were the words that sent off just over 1,750 runners in the 29th annual Davis Turkey Trot on Nov. 19. The chilly and rainy weather didn't stop these determined athletes from running their hearts out. Hosted by A Change of Pace Foundation, race events included a 5k, 10k, half marathon and kids' fun runs.
Many who have run in similar events know the kind of atmosphere community races provide; they tend to offer another reason to run besides the competition alone. Some run the event for fun while others seek a challenge. Amber King, fourth-year managerial economics major, knows just what that feels like.
"I decided to run the Turkey Trot because my co-workers at FIT House Davis were sponsoring it," King said. "Even though I didn't put in much time training, I knew it was my last chance to run it again before I graduate."
Regardless of why people chose to run, it's clear that this Davis tradition is more than just another race: it's a way to bring people of all backgrounds together to promote well-being and a sense of community. According to Dave Miramontes, race director and executive director of A Change of Pace, the encouraging environment of the event has increased attendance and attracts people from nearly 250 cities.
"Over the years, when we first started this, it was a very highly competitive event," Miramontes said in an interview with KCRA Sacramento. "After about five, six, or seven years into it, we decided it was going to be more of a family tradition, a family style race. So our numbers boosted […] It is a pretty popular event for both competitive runners, for people who are just starting their running careers, and for various reasons, and for the middle of the packers."
1st place results for the 5k, 10k, and half marathon are as follows:
5k: Adam Cobert, 15:57.123
10k: Clancy Mcconnell, 32:55.770
½: Reed Scott, 1:19:55.217
A Change of Pace organizes numerous running events throughout the year in Davis and Sacramento. The next event, the Davis Stampede, will take place in February.
For more information on the Turkey Trot results and future races, visit its website.
Written by: Andie Joldersma — city@theaggie.org