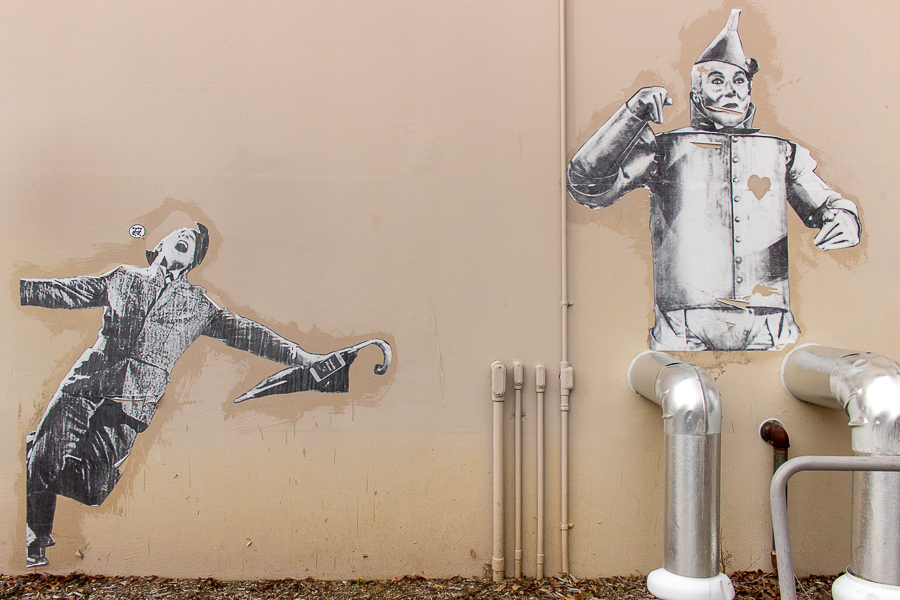 The lively yet little-known history of Cruess Hall
On her first day, Karen Nofziger sat at her desk in Cruess Hall, nervous about her new job as Staff Manager of the UC Davis Department of Food Science and Technology. A faculty member strode by with strawberry ice cream sprinkled with almonds and offered her some. This was just day one, but the rest of Nofziger's time in this department proved to be just as fun and exciting an experience. Although Nofziger is now the Chief Administrative Officer of the Arts Department, she remembers her time in Cruess Hall fondly.
"We were always faced with different [foods] to try out [back then]," Nofziger said. "They canned peaches in the back so we always had the first pick of the season['s] peaches. We would just gather up [ones the department couldn't use] and get to take [them] home."
Until 2010, when the department moved to the Robert Mondavi Institute for Wine and Food Science, Cruess Hall belonged to the Department of Food Science and Technology.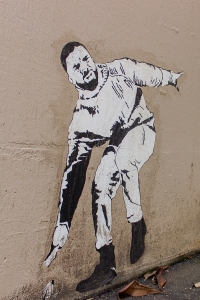 Constructed in 1952, the building was named in 1960 for William Vere Cruess, a professor of food science and technology at UC Berkeley in the 20th century. Cruess was famous for his work as a successful pioneer in this field, having invented fruit cocktail, and also for his contributions to the development of canned and frozen orange juice and raisin breakfast cereal.
Originally the home of educational spaces like cold storage and utility laboratories, food preparation kitchens, as well as a food pilot plant with its own brewery, Cruess Hall was an exciting hub of experimental food science and events for faculty, students and staff alike.
"We never got to sample the beer, of course," Nofziger said. "But Budweiser came out and had events in the back of the building. It was a lot of fun — [I] loved working there. We had a great time! There were candy-making courses [and] we had a food competition where they give you odd ingredients and you have to figure out what to make with them, and then we'd have a panel of judges and there would be a prize."
Many departments underwent a reorganization process due to severe budget cuts in the wake of the recession. Cruess Hall was not empty for long, though. The Design Department and the Design Museum, both moved out of Walker Hall, have inhabited the refurbished building since 2014. There, students work on architecture models, interior design and other design projects.
"The students are super engaged and they're able to actually touch and manipulate materials in new and exciting ways," Nofziger said. "[Cruess Hall] went from one place where the students learn more than just theory […] to another department where they have a true practical application piece, [since students] actually have a practical application piece to [their studies]."
A quick walk through the building today gives the sense that it is indeed a creative space. At the main entrance, light from large windows illuminates a staircase to the right, and to the left, a chalkboard wall scribbled with messages and embedded with a TV screen flashing the faces of students. Down the hallways are pictures, paintings, drawings, textiles and, most interesting of all, "random" stickers, also known as "tattoos," found on the doors, stairways and walls of the building.
"There's an upper-division design class here called environmental graphics," said Andrew Lee, a fourth-year design major. "One of the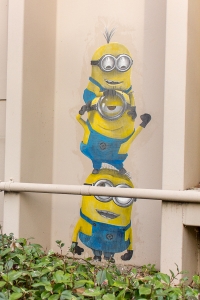 assignments is that they create random little text blurbs, and then they stick them around everywhere. A lot of them can be pop culture references. If it comes into mind, then it's probably a sticker somewhere here."
Other factors indicate an effort to break up the anonymity of the space. A courtyard nestled between three wings of the building is home to unique sculptures and other art pieces. Large stickers of cartoon characters like Tom and Jerry and celebrities like Miley Cyrus hide along the outside surface of the building. It is a courtyard unlike any other at UC Davis, unique in its exhibition of unconventional art.
Cruess Hall is also home to the UC Davis Design Museum, which hosts new exhibitions every quarter and highlights undergraduate and graduate students' work. There are numerous art studios, spaces for sculpting, painting, sewing, ceramics and more — there is even a motion capture studio called the ModLab.
"Last week I put my head around the door and a colleague in the English Department was using the ModLab to stage Shakespeare," said Simon Sadler, a professor of the history of architecture and the history of design. "She had her students acting it, but the ModLab is equipped to monitor the movements of the actors [to be] transformed into animation. They're learning the basics of motion capture.[…] It's pretty cool."
Even though Cruess Hall is a rather large building that sits on the corner of California and North Quad Avenues, it does not receive much traffic from students outside of the Design Department — this quiet atmosphere, however, is about to change. To accommodate an influx of students on campus, construction of a newly renovated building is scheduled to be completed by 2019.
"With the new building, we will have a new main entrance [the] parking lot will be landscaped and there will be a continuous flow of space right up to [the front] courtyard," Sadler said. "We're going to have art there, there might be outdoor film screenings, [and] there will be places for students to hang out. So we will go from being like 'Cruess Hall, where?'  to being Cruess Hall [as] a sort of terminus for all of us. It will become a cool new addition to campus."
Just like its transition from Food Science and Technology to Design, the building's future transition into an invigorated focal point of the UC Davis campus will be another chapter in the history of one of the Davis' most spirited buildings.
"It went from one exciting place for students to engage in their discipline to another exciting place," Nofziger said. "It's always been very much a 'maker-space' building, and I'm gratified to know that it continues to be that."
Written by: Marlys Jeane — features@theaggie.org