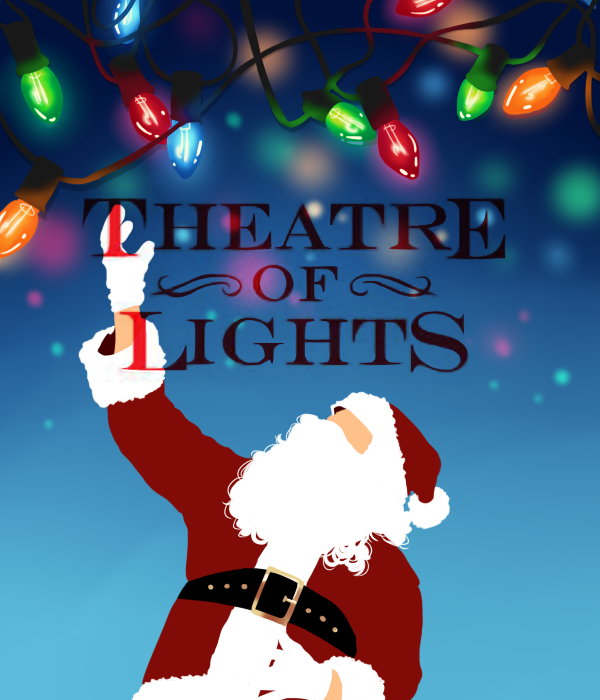 Live-action retelling of Christmas poem promises to bring holiday spirit
Celebrate the holidays 19th century style at Old Sacramento's Theatre of Lights, an annual menagerie of lights, carolers and a live-action version of Clement Clarke Moore's classic Christmas poem, "A Visit from St. Nicholas".
The Theatre of Lights runs Thursday through Sunday evenings, with 20 minute performances at 6:15 and 7:45, followed by about 35 minutes of Christmas caroling.
According to the Old Sacramento website, "The live-action retelling of Moore's 1823 poem — 'A Visit from St. Nicholas,' more popularly known as 'Twas the Night Before Christmas' — promises to be bigger and better than ever."
Visitors can witness the retelling on K and Front Streets, as it is performed from the balconies and facades of Old Sacramento buildings. All around the audience, sounds of fires, floods and parties emulate the atmosphere of Sacramento in the 1850s.
"It's a tradition, you know, there's nothing else," said Brooksie Hughes, Old Sacramento District director. "If you come down and see it, it's a great family tradition and the kids absolutely love it. It is in the center of the street on K Street, so there's not often times when you just get to stand and really experience Old Sacramento in the round."
The event was created by Troy Carlson from Stage Nine Exhibitions, and is sponsored by Macy's in downtown Sacramento.
According to Stage Nine Exhibitions website, "Theatre of Lights is at the center of Old Sacramento's complete holiday experience — from shopping and celebrating to giving to loved ones and to charity."
The Theatre of Lights features the work of several local Sacramento businesses: Associated Sound and Skywalker Sound, Sacramento Theatrical Lighting and Emmy-nominated voice actor Bill Farmer, the voice of Disney's Goofy.
"We designed the lighting for the show, and we control all of the lighting, all of the garland, and everything up and down the streets," said Steve Odehnal, the special project manager for Sacramento Theatrical Lighting.
Since the event's inception eight years ago, Sacramento Theatrical Lighting has designed and controlled the lighting. The company has had to learn and grow, with each year's show just as bright and colorful as the last.
"You really get a chance to see these buildings lit up. They're decorated in a way that we don't do any other time of the year. The main reason, for me, to go, is the lighting part of this. I love that! And for the kids, of course, [it's] Santa," Hughes said.
This year, there even more lights than usual to brighten the cobblestoned streets of Old Sacramento, and viewers can witness one notable change to program: Jack Frost. Coordinators encourage guests to keep an eye out for this whimsical character.
After the production, attendees can shop or eat in the area, or just enjoy the 19th century holiday atmosphere.
"It's a family friendly, free event that brings you down to Old Sacramento," Odehnal said.
Find out more about the Theatre of Lights at the Old Sacramento website.
Written by: Samantha Solomon – city@theaggie.org