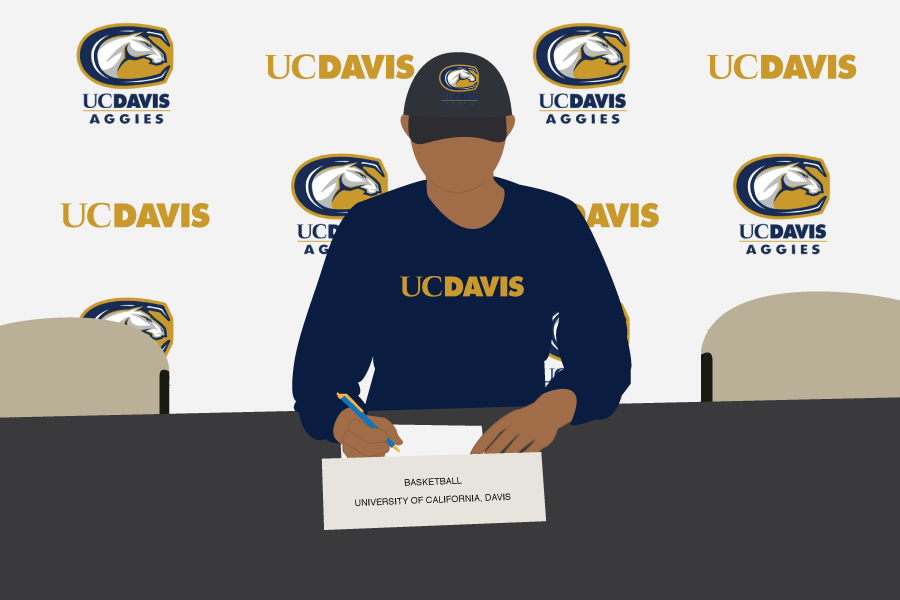 Women's water polo adds a Davis High standout
On Wednesday, Nov. 23, UC Davis athletics announced the commitment of two women's water polo players through national letter of intent (NLI) signings during the Fall period.
The two water polo commitments came during a slew of UC Davis NLIs that included several men's and women's basketball players, five softball players and a sprinkling of other UC Davis sports commits.
One of the two women's water polo signers, Ally Clague, is an All-Tri-River Athletic Conference first teamer and was her team's leading scorer at Clovis West High School.
The other prospective student-athlete, Alyssa Lengtat, already calls Davis home.
A tri-sport star, Lengtat also plays basketball and track and field at Davis Senior High School, holding the Blue Devils' triple-jump record at 39 feet, 1 inch.
Like Clague, Lengtat led her water polo team in scoring this fall, pouring in 97 goals to go along with 45 steals for Davis High.
UC Davis women's water polo coach Jamey Wright beamed with excitement discussing the future additions to his Aggie squad. The veteran coach talked about how playing multiple sports, especially basketball, can help translate to success in the pool.
"There's a lot of transfer between the sports," Wright said. "Everything from lane defense and pressure defense and opening up passing lanes to boxing out and setting picks and cutting, which are all things you also do in water polo."
For Wright, local recruits have made up the majority of his Aggie teams over his 33-year UC Davis coaching career, but Wright says that a change may be in the making. After watching his men's polo coaching colleague Daniel Leyson reach out to several international players in Ido Goldschmidt of Israel and Sasa Antunovic of Croatia, who have both been leading scorers for the Aggie men this fall, Wright thinks there might be something to gain from extending his recruiting perimeter.
"Historically I've kept all my recruiting within California," Wright said. "My assistant Kandace Waldthaler and I try to get out to as many high school and club tournaments as we can in the offseason, but there are just way too many teams for just the two of us to vet."
Wright said that as technology has improved over the past ten years or so, players being able to send him film has helped immensely with recruiting.
"I get a handful of emails with film in them almost every week," Wright said.
But the experienced Aggie coach cautioned that film analysis only tells part of the story.
"At tournaments I'm not just looking at how girls perform in the water," Wright said. "I'm watching how they act around their teammates, what they're doing during timeouts and seeing whether they stay focused or not despite whatever's going on around them."
As Wright had mentioned, local athletes have often already been on the UC Davis campus and have used the aquatics facilities at a tournament or practice prior to making their official visit. In Lengtat's case, Schaal Aquatics Center has been home base for the 5-foot-11 senior for the past three summers, where Lengtat practices club polo along with some current UC Davis players.
"I think that in the back of my mind, ever since I was a little kid that I've always loved UCD and loved the thought of going here," Lengtat said. "Because it's local, a lot of people were actually encouraging me to get out of town and go elsewhere, but after my recruiting visit, which really sealed the deal, I really just felt like I was home at [UC Davis]. And it's funny because Davis is home, so that's how I know it's the right decision."
Wright can't wait until Lengtat joins the Aggie ranks next year.
"She hasn't played a whole lot of water polo in her life," Wright said. "Which might look like a negative for her, but on the other hand it's all new and fresh and exciting and exhilarating for her. If you've got two girls and one is a fourth-year and one is a first-year player, the first year has so much room to improve and they're going to get better at a faster rate. And as counterintuitive as it sounds, because Alyssa hasn't played a lot of water polo," — this will only be Lengtat's fourth year playing polo —  "she's getting dramatically better each week. That's something you just don't see with players who've been around for a ton of years."
The UC Davis women's water polo team (17-13 overall last year) starts the season in January at tournament hosted by San Jose State.
Some other recent Aggie NLIs include:
Softball
Aly Gomonet, shortstop, Notre Dame High School (Salinas, CA)
Alyse Rojas, centerfielder, Vacaville High School (Vacaville, CA)
Riley Siegel, catcher, Drake High School (San Anselmo, CA)
Shelby Soares, shortstop, Granite Bay High School (Granite Bay, CA)
Brooke Yanez, first base, Buena High School (Ventura, CA)
Men's Basketball
Gio Nelson, forward, Centennial High School (Corona, CA)
TJ Shorts, guard, Saddleback College (Mission Viejo, CA)
Logan Strom, forward,

Norfolk High School (Norfolk, NE)
Women's Basketball
Kayla Konrad, forward, Valencia High School (Valencia, CA)
Cierra Hall, forward, Fairmont Prep Academy (Cypress, CA)
Sage Stobbart, post, Seycove Secondary School (North Vancouver, British Columbia, Canada)
Men's Tennis
Ivan Thamma,

Point Loma High School (San Diego, CA)
Chethan Swanson, Folsom High School (Folsom, Calif.)
Arjith Jayaraman, Granite Bay High School (El Dorado Hills, Calif.)