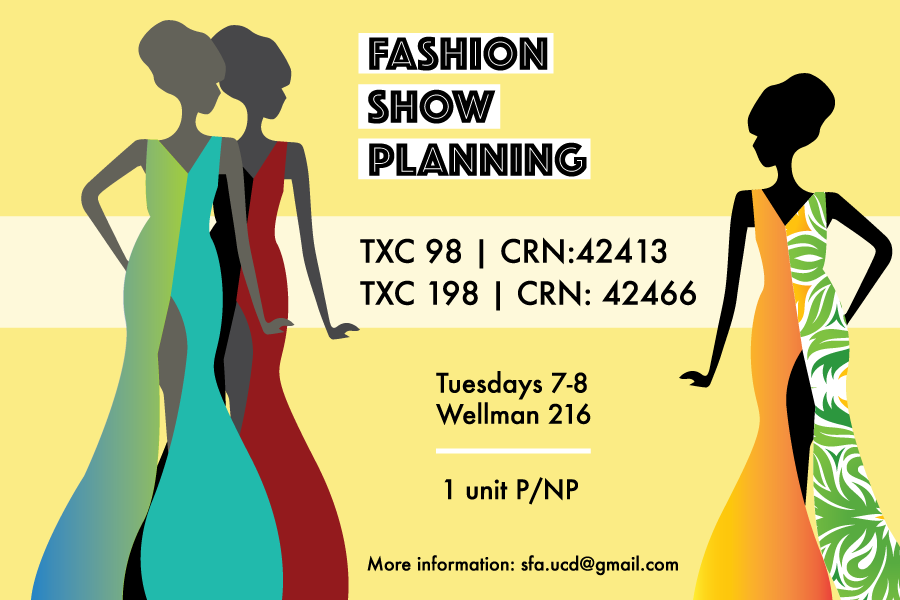 Student-run class provides students with experience in event planning
Every spring, the Student Fashion Association (SFA) hosts an elaborate charity fashion show in which student designers can showcase their work. An incredible amount of effort, organization and planning goes into the annual event for it to run smoothly, and this is all accomplished by the students who participate in the SFA Fashion Show Planning Class, held every Winter Quarter. Facilitated by the board members of SFA, this one-unit class helps students expand their knowledge of what it takes to plan and organize such an exciting event.
Camille Ramos, a third-year textiles and clothing major and SFA social media coordinator, touched on the club and class' welcoming environment for students of any major.
"We've very inclusive […] our members can range to an animal science major, to a pre-vet student, pre-law, to textiles and design majors," Ramos said. "Especially during the fashion show planning class, you get to be in contact and learn how to communicate with professionals, whether that be designers, the entertainment or photographers, and we try to enhance those skills for [students] to become better communicators and be able to facilitate such a huge event."
The board members are in charge of facilitating the student-run class, and it becomes a collaborative effort to bring all aspects of the fashion show together. The class is split into different committees — decorations, marketing, fundraising, stage design and talent. According to SFA president Jeannette Chiu, "It's all about group work!"
Chiu, a fourth-year design and communication double major, strongly believes that the value of teamwork is essential for any student's success.
"When we graduate, we'll have to work in groups, so it's building on communication skills and leadership skills," Chiu said. "Even if you're not very vocal, you can still be a leader."
Alana Williams, a second-year design major and SFA club member, also emphasized the benefits of the fashion show planning class, regardless of major.
"Anyone outside of the design and textiles major could take the class, because you get to meet new people and network," Williams said. "We work with a lot of clubs on campus, and you get to learn business aspects for what it takes to run a fashion show, or anything in general."
Even for those who have no prior experience, SFA has them covered, too.
"It's all a learning process, and you'll have many people to support you if you don't have any experience," Williams said.
The theme for last year's fashion show was "Wanderlust," and all funds from the show were donated to the Children's Literacy Foundation.
"Our funds helped the organization give books and school supplies in areas where they don't have the educational materials that are needed, and this also encourages [kids] to grow their passion for reading and writing," Chiu said. This year's theme and charity choice are still undecided.
There may be a lot of work involved, but it's worth it to the students involved, who are doing what they love.
"It's a lot of planning, but it all comes together because we have a common goal," Chiu said.
For more information, readers may check out SFA's Facebook page and its website, sfaucd.com, for information and videos of past fashion shows. The class will be held Tuesdays from 7 to 8 p.m. in Wellman 216. The course is P/NP, and the CRN is 42413.
Written by: Pari Sagafi — arts@theaggie.org