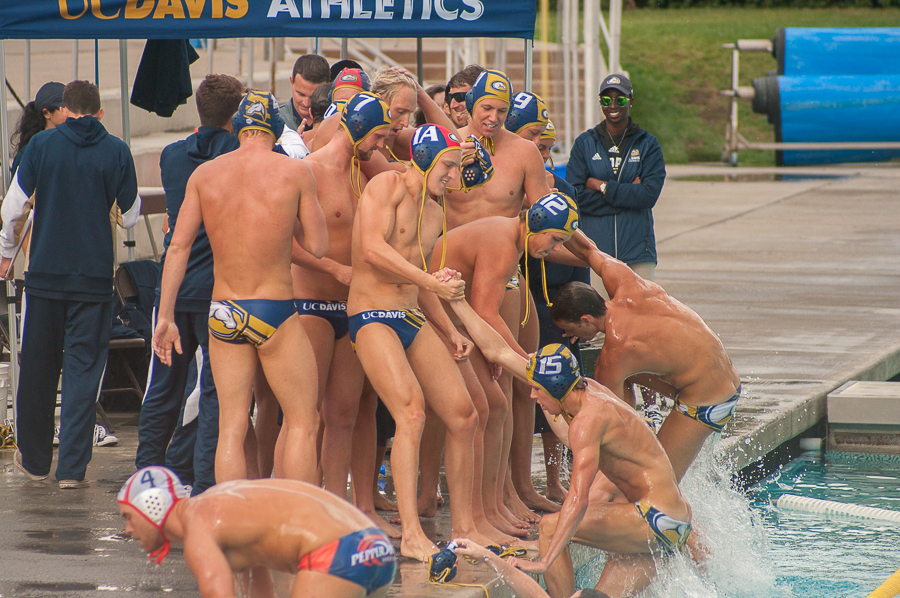 UC Davis men's water polo continues exceptional season, wins WWPA Championships
With an overall record of 23-5, an undefeated conference record of 6-0 and a secured Western Water Polo Association Championship, it is no surprise that The California Aggie's choice for Fall 2016 Team of the Quarter goes to men's water polo.
Looking back at the 2015 season, the team was undefeated in conference but fell short in the WWPA championship final against UC San Diego. Coming into this season, head coach Daniel Leyson defined the goals for the team that ultimately contributed to its success this year.
"Our goals are the same every year," Leyson said. "We want to have a top 10 ranking, we want to be in the championship game in our conference tournament, and we want a team GPA above 3.0. Those were the goals when I came here four years ago, and they continue to be the goals for our program now."
This season for the UC Davis men's water polo team has been nothing but successful. Its 23 overall wins has surpassed the school record of most victories in a season, previously set by the 2007 and 2011 teams with 22 wins.
The 2016 season is the second season that the team has been undefeated 6-0 in conference, but this year was the year men's water polo was able to win the WWPA Championships against UC San Diego 12-8, beating the team that had defeated them in the conference championships one year prior.
"It's a one-of-a-kind feeling," Leyson said. "We are arm-in-arm on the pool deck, and close to the end we knew it was over. We could just sit and wait and watch the clock go down and jump in the water together. It's a feeling like no other."
To go along with the success of winning the WWPA Championship, sophomore attacker Ido Goldschmidt received Western Water Polo Association Player of the Year honors, joining sophomore utility Sasa Antunovic on the All-WWPA First Team. Two more players, sophomore attacker Marcus Anderson and junior goalkeeper Spencer Creed, received second-team honors, while junior attacker Cory Laidig earned honorable mention and freshman attacker Yurii Hanley made the WWPA All-Freshman Team.
"I'm especially happy for the guys as a validation for all the work they have gone through and especially the feeling of disappoint from last year's loss," Leyson said. "I also feel that this win wasn't just for our current guys, but also for the past guys that have been so close and have come up short."
It was tough for Leyson to define the season in one word, but he eventually found the right one: "Satisfying."
"But it isn't over, and we want to get to the final four. We have to keep going," Leyson said. "I think that there is no question that these guys have an outstanding work ethic. I put them through a lot, and they always respond. It's a great group."
UC Davis men's water polo was drawn to compete in the NCAA championships and will play in the quarterfinal match and face the winner of Bucknell vs. Harvard on Thursday, Dec. 1 in Berkeley.
Written by: Ryan Bugsch — sports@theaggie.org