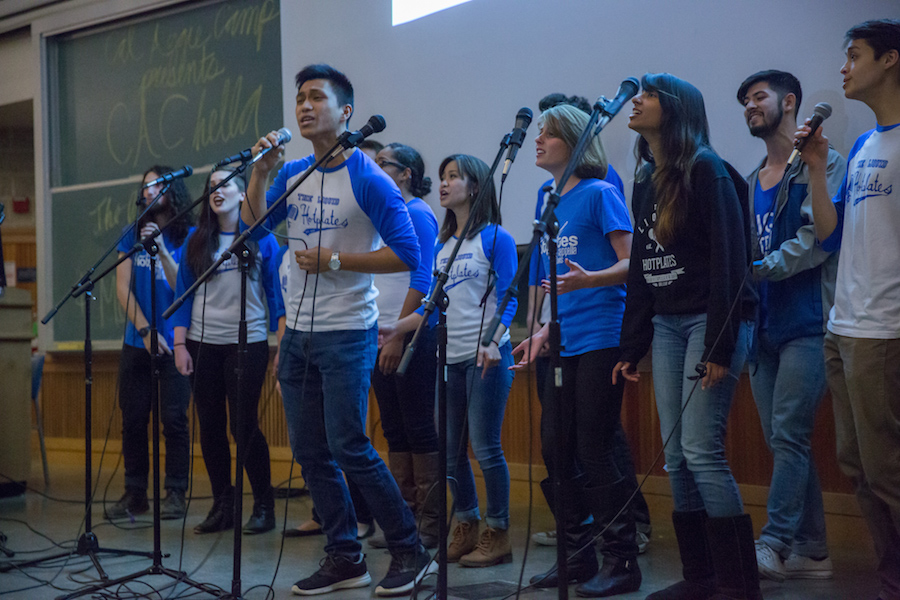 Liquid Hotplates host annual showcase this Saturday
The Liquid Hotplates, a co-ed a cappella group on campus, is here to offer students a gleeful time in the form of AlottaCappella 2016, its annual concert.
"[Singing] has been a part of my life for as long as I can remember, so joining a college a cappella group was the next logical step after a lifetime of choir, and the Liquid Hotplates was my personal favorite based on the quality of their sound," said Kiersten Allison, a third-year animal science major and co-public relation chair for the Liquid Hotplates. "I absolutely love being a member of this group, and it is by far the highlight of my college career."
This quarter, the Hotplates has been preparing for the International Championship of Collegiate A Cappella (ICCA) in April 2017, a competition for top-notch student groups around the globe.
"Right now, it's not just the competition [though]," said Cole Hofberg, a third-year civil engineering major and co-music director. "[We] try to figure out what the group wants and then decide what arrangement we want to do, and how we want to spend our time. One of our goals is to do the competition but as well as one of our biggest shows: AlottaCappella."
Most of the Davis a cappella groups will be performing, including Davis Chamber Choir, The Spokes and the Lounge Lizards. The majority of songs performed in the show will be R&B, soul and pop music. As the host of the show, the Liquid Hotplates will perform several songs, including "Hey Ya" by Outkast and "Here," an R&B mashup song by Alessia Cara.
"We are so excited to perform at AlottaCappella again this year," said Amanda Beardsley, a fourth-year psychology major and president of The Spokes. "In the fall, we usually travel to LA and Berkeley for various showcases and it's so much fun. With being so busy, it's so nice to end the quarter with a show in Davis surrounded by a great a cappella community. The Liquid Hotplates always put on an amazing show and we are very excited to hear them perform."
For the Hotplates, one of the most exciting parts of the performance this year will be its new sound equipment. In past years, the host rented sound equipment for performances, and had all the performing groups share four microphones on stage.
"This is the first year we will be using our own sound equipment, and we will also ramp up the decorations more than ever this year. SciLec will truly be glowing with musical bliss," Allison said. "Those attending should prepare themselves for a night of wonderful music and being endlessly entertained by the variety of talented voices performing in the show!"
AlottaCappella 2016 will be held on Saturday, Dec. 3 from 8 to 11 p.m. at Science Lecture Hall 123. Pre-sale tickets are available online for $10. For more information about the show, please visit its Facebook event page.
Written by: Betty Wu — arts@theaggie.org