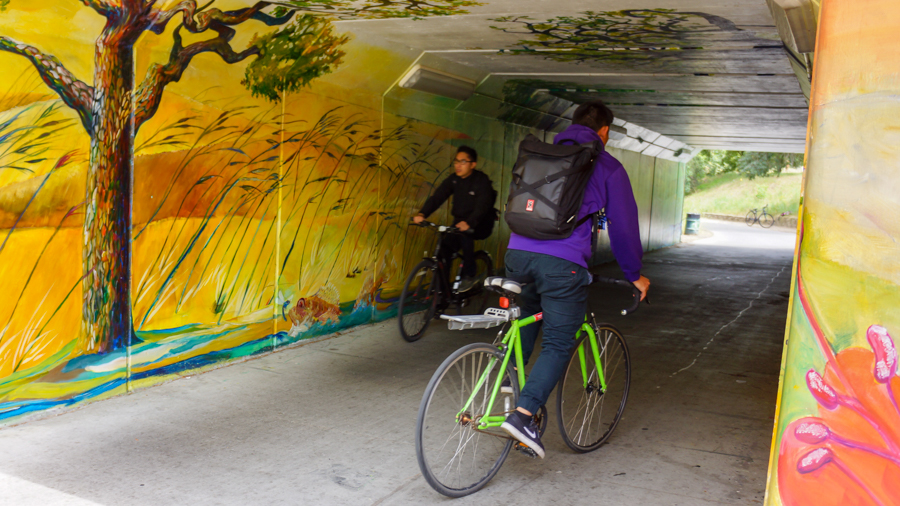 Volunteer program distributes bicycles, aims to foster positive biking experiences
Davis, California — home to thousands of cyclists and bicycles. It is the city that introduced bike lanes to our country, and it is often referred to as "The Bicycle Capital of the U.S." The Davis city logo proudly features a penny-farthing, 98 percent of the city's streets have some sort of bicycle provision and navigating a bike circle for the first time is a rite of passage for incoming UC Davis students.
Judging by all of this, one might imagine that all Davis residents and all UC Davis students like bicycles — but that is not the case. According to the recently released 2015 to 2016 UC Davis Campus Travel Survey, only 45.3 percent of UC Davis students bike to class. Commuting to campus from out of town contributes significantly to the amount of students who don't bike, but some simply do not like bicycles. Sarah McBride, a third-year psychology major, does not enjoy biking around campus.
"I liked [bicycles] a lot when I was younger, but I don't really like riding them around Davis," McBride said. "There are so many bike riders here that it's not an enjoyable experience anymore."
Brett Stults, a third-year English major, cites a general lack of awareness for the rules of biking as a reason he does not bike.
"[Bikes are] vehicles, so they have to stop at stop signs, they have to ride in the correct direction of traffic, they have to not ride on sidewalks," Stults said. "That's a big pet peeve of mine. It's a sidewalk, not a sidebike. I think that if you're going to do it, you need to do it with proper respect for all those who are involved."
Maria Contreras Tebbutt, a local biking advocate, believes that training and guidance can go a long way for those who don't like biking. She aims to help more residents and students have positive experiences with biking through her nonprofit volunteer project, The Bike Campaign. The Bike Campaign provides bicycles to those who cannot afford them, holds bike clinics, provides bike training for riders of all ages and runs a bicycle garage in Woodland where you can have your bicycle repaired by volunteer mechanics or learn how to work on bicycles yourself. The overall goal of The Bike Campaign is to build appreciation for bicycles.
"Riding a bike was not on your SAT, nor is it in your DNA," Tebbutt said. "So, you need people to guide the way for you, to share information with you. You're not going to find it on the Internet, because it's something that you physically do. Every situation is different, every bicycle is different, every rider is different. And finding all those pieces that come together so you have bliss, that's what we're aiming for."
Tebbutt has been passionate about biking since the age of 12 and does everything she can to share her passion with the community. She believes biking is not only a useful alternative to driving, but a lifestyle with great community and health benefits.
"I would wish for more people to be able to enjoy what we enjoy in Davis, which is a lifestyle," Tebbutt said. "I think [biking] causes us to care more deeply about the people around us, our environment, I think bike riders just have that opportunity to be much more aware, much more alive and alert and, you know, tuned into what's going on around them. […] It's way better than taking a multivitamin. It helps support your health."
The Bike Campaign restores abandoned bicycles and donates them to those who cannot afford to buy a bike on their own.
"If we can harvest [abandoned bicycles], restore them, and then present them to somebody with some basic bike appreciation information so that they have a great experience, I'd like to do it a thousand times over every year," Tebbutt said.
Tebutt encourages anyone who would like to get into biking to contact her. She can be reached from 9 a.m. to 5 p.m. at (530) 753-1125, or via e-mail at funmaria@sbcglobal.net.
General information about The Bike Campaign can be found at its website.
Written by: Raul Castellanos Jr. — city@theaggie.org