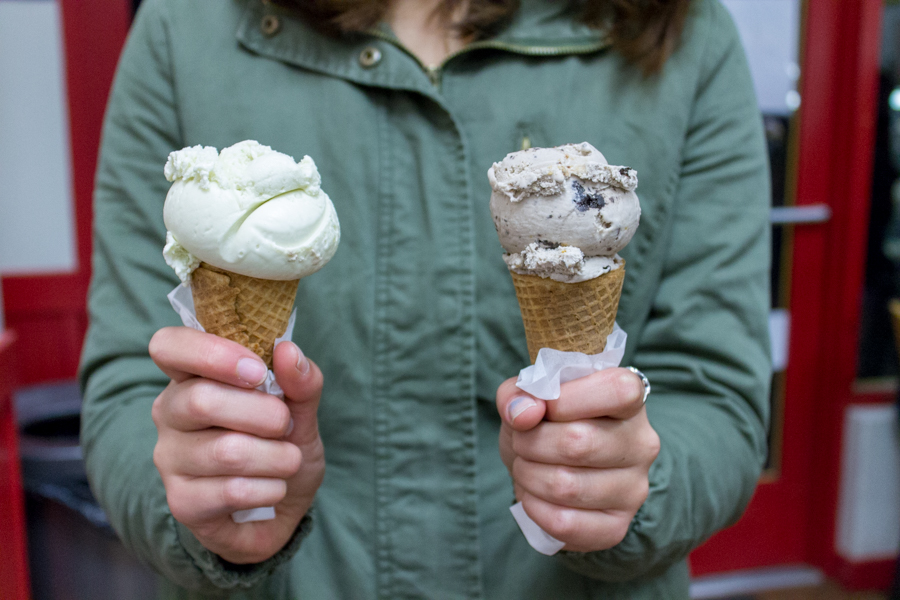 The Aggie investigates Davis' ice cream offerings
It seems ironic for someone who is lactose intolerant to be covering a story on ice cream, but I was looking for any excuse to eat one of my favorite desserts again. I guess I'm just really dedicated to journalism. I taste-tested some of downtown Davis' favorite ice cream spots, factoring in student budget and, of course, flavor.
Read on to get the scoop:
Davis Creamery:
An employee explained to me that the favorite flavors that week were Avocado Coconut and Trifecta, each voted in by the Bracketology board, a Davis Creamery feature which allows their customers to pick their favorite flavors each week. I got one cone of each, eagerly awaiting the first bites.
Trifecta is a blend of Reese's peanut butter cups, Butterfinger and Oreo with underlying tones of vanilla. This flavor is definitely for anyone who eats Reese's on the daily. The ice cream was pretty standard overall, and could have been improved by having real chunks of Reese's and Butterfinger evenly dispersed with the Oreo bits.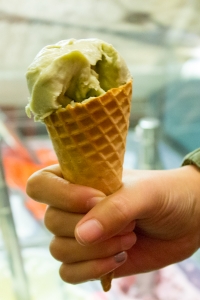 I was extremely skeptical of the Avocado Coconut ice cream, as it was a suspiciously pale green. As much as I love avocado, I prefer my sweet and savory foods to stay separate. Luckily for me, coconut was the overpowering flavor, and the avocado made the dessert creamier. To me, though, the flavor was too weak, and it tasted like eating a cleansing face mask, not a sweet treat.
Each scoop is $2.75 each, but if you go on Mondays from 5 to 10 p.m. the ice cream is $1.75 for each scoop, providing a reasonable price point for the money-pinching college student.
Gelato Classico:
Connected to the Varsity movie theater, Gelato Classico was definitely populated by an older crowd. This is probably because a child's size ice cream is an outrageous $4.00. The flavors were definitely more adventurous, however, featuring options such as Honey Lavender and Fresh Ginger. I sampled Fresh Ginger first, a flavor which packs a punch with chunks of ginger folded into the ice cream. This one will definitely help clear the sinuses. Honey Lavender was the perfect harmony of tastes. Slightly sweet with a tinge of lavender essence, it's an adventurous choice but is grounded in familiar flavor profiles. Overall, Gelato Classico leaves your stomach happy but your wallet hurting.
CREAM: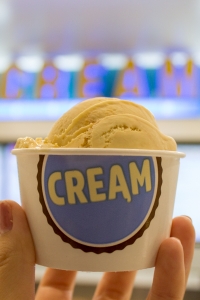 Most of us have probably been to CREAM or at least seen a long line out the door. Their famous ice cream sandwiches and cheap prices ($2.50 for one scoop) attract students desperate to improve their Instagram feeds and who want to indulge after a long study session. I ordered one of their best-sellers, Salted Caramel, which has a vanilla base with ribbons of salted caramel coating the ice cream. This flavor is for those of us who have a serious case of the sweet tooth. This flavor represents CREAM as a whole: a traditional and simple flavor executed pretty well.
The Verdict:
I would recommend stocking your fridge with Ben and Jerry's and not leaving your room at all. More ice cream at a cheaper price and less movement required. Wins on all fronts.
Written by: Abigail Wang — arts@theaggie.org