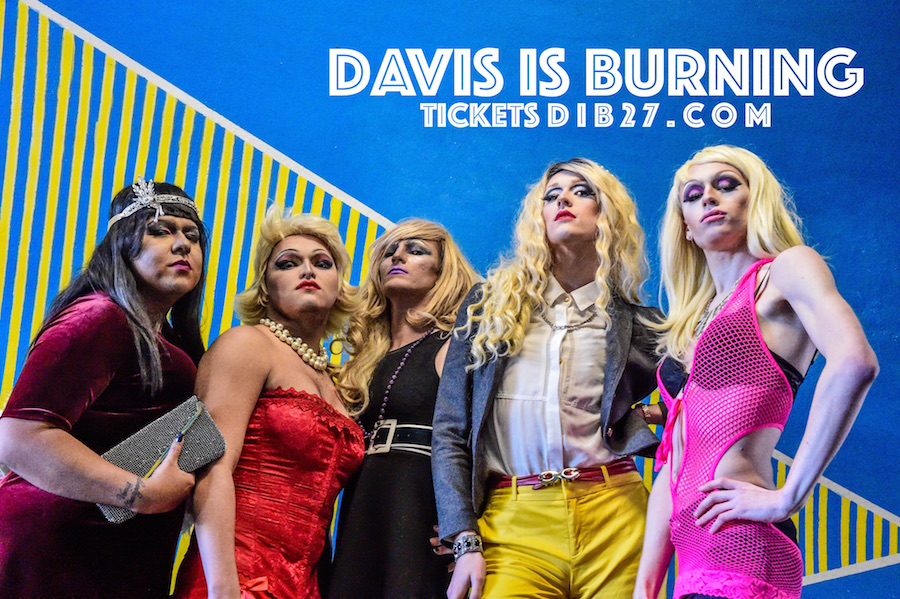 Drag show highlights range of gender expressions
Davis is Burning, the annual drag show hosted by the Xi Chapter of Delta Lambda Phi (DLP Xi), an LGBTQ+ social fraternity on campus, will be held on Jan. 14 in the Wright Theater. The chapter will donate most of the proceeds to the Trevor Project, the leading organization for LGBTQ+ suicide prevention.
Matt Reese is a third-year linguistics and Chinese double major and has been performing in Davis is Burning since 2015.
"Queer youth have a very hard time in this world because oftentimes friends, family and community don't understand the realities that we live everyday. The Trevor Project provides a lifeline for these kids, someone willing to listen to understand and to say 'I believe you,'" Reese said.
Mason Schmidt, the vice president of the fraternity and a fourth-year international relations major, is the main planner for the event.
"I think drag culture has so much to provide for everyone […] it's seen as a culture that is not mainstream but to be able to bring it to campus and for it to be student produced is really beautiful," Schmidt said.
Schmidt was inspired to rush Delta Lambda Phi after watching Davis is Burning.
"I come from a really small conservative town and so experiencing that was like 'wow' everyone is so comfortable with their gender expression and who they are, and they're celebrating it," Schmidt said.
Schmidt also performs in the show as Lavender Woods, his chosen stage name.
"Everyone has their own unique way of picking their name. Some people take the last name of their drag mother, the drag performer who coached them, my favorite scent is lavender and I feel it kind of fits my drag aura and then Woods just had a nice flow to it," Schmidt said.
The name Davis is Burning has a unique connection. It comes from the 1980s documentary "Paris is Burning," about the drag balls of New York City. The show was first performed in the living room of one the members of Delta Lambda Phi and since then the tradition has grown and moved to the stage.
"[It's] really liberating for me to be able to express myself and my gender so openly and in way that is entertaining and brings people together," Schmidt said.
Performers start preparing for the show months in advance and the production is a labor of love. It can take the performers up to three hours to apply their makeup before the show. During rehearsing, the performers are paired with a more experienced coach or "drag mother," from the fraternity. Despite the intense work ethic the performers feel that it all pays off during the show.
"My favorite part of performing is sharing my creative vision with others. I love having an idea for a song, picking out an outfit, doing my makeup, and making choreography to fit. When it all comes together others can see what I think and feel when listening to a song, what the song means to me," Reese said.
Another aspect of preparation for the show has been the dancing. Jerrad Senesac, a third-year gender, sexuality and women's studies major, is the lead dance choreographer for the show.
"I think that there's a beautiful thing to be said about how someone can make you connect with their performance on stage. It takes a tremendous amount of confidence and whimsical nature to move on stage and to captivate attention," Senesac said.
The show aims to promote voices that have historically been marginalized and to showcase a range of gender identities and expressions.
"Drag proves that we can act, dress and be how we want regardless of what society says is 'for boys' or 'for girls', that human expression is a vast landscape which cannot and will not be confined by prescriptive heterosexism," Reese said.
Davis is Burning is the biggest drag show in Northern California and professional queens from across California and queens from other chapters of Delta Lambda Phi will be performing.
There is a 2 p.m. matinee and 7 p.m. performance. Tickets can be purchased online. Please visit the event page for more details. Tickets are $12 online, $15 at the door and $13 at the door if attendees come in drag.
Written by: Abigail Wang – arts@theaggie.org