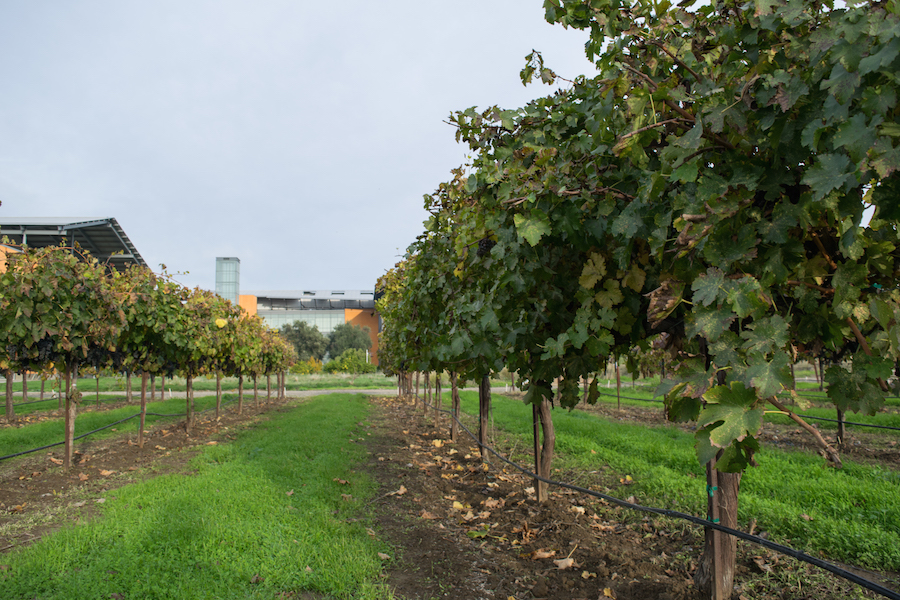 On campus vineyard hosts classes for viticulture, enology students
UC Davis is true to its agricultural background right down to its roots, or, rather, vines — specifically grapevines, 12 and a half acres of which sit at the front entrance of campus. This acreage, also known as the student vineyard, is used by the UC Davis Department of Viticulture and Enology as a teaching facility for students and represents the school's rich agricultural history.
Located off of Old Davis Road near the Welcome Center, the student vineyard was first started in 2011. The vineyard provides viticulture and enology students with a hands-on learning opportunity.
"Our educational program is very applied," said enology professor Andrew Waterhouse. "Our students are expected to work in a very specific industry. To be properly trained, we feel it's important they get […] experience. They need to learn about the practical aspects."
Depending on the class they take, students can get all kinds of experience in the vineyard. Some classes offer grapevine identification techniques, while others detail the arts of pruning and propagation.
"You [learn] to say what variety the grapevine is by its leaf shape," said Chelsey Azevedo, a fourth-year viticulture and enology major. "One time I was going through the grape samples [and] I figured out that I was in the wrong vineyard […] by the shape of the berries."
In Viticulture and Enology 101A: Viticultural Practices, a grapevine identification class, students learn to identify 40 different wine-grape varieties, as well as 20 rootstocks and 50 table grapes.
"Students learn by sight," Waterhouse said. "They can walk up to a vineyard and say, 'Oh, there's chardonnay growing here.'"
The VEN 101 series also covers vine training and other growing techniques. Students are taught to train vines so that they grow into particular structures and produce the right amounts of fruit according to curriculum.
For both students and faculty, working in the vineyard is no walk in the park. As an outdoor facility, the vineyard is susceptible to weather and damage from natural elements.
"That [we're working in] an actual field is the main challenge," said Andrew Walker, a professor in the Department of Viticulture and Enology. "We have to deal with the environmental changes, the temperatures, the rainfall amounts and not having enough money to get all the plants in and [getting] funding for […] projects. Getting [the fields] properly irrigated and fertilized and pruned each year is a lot of work as well."
However, in spite of both environmental and financial obstacles, students benefit greatly from having the vineyard in such close proximity to campus. Students can bike to class and access the vineyards easily.
"Having the vineyard on campus is extremely convenient because it allows […] us to go out and study the vines and grapes at our leisure," Azevedo said. "The vineyard is so close to the […] lab. You can be studying flash cards of the variety names in the lounge [of the lab] and then go out to the vineyard and put the variety name to the actual vines."
Besides the practical proximity, the vineyard is also an opportunity for students to hone their skills. Each year, six different rows of grapevines are planted, and after eight years the vines are pulled out and replaced as a part of a rotational system. Through this, students can study the vines from beginning to end.
"My graduate students get the chance to do everything from dirt to DNA," Walker said. "It's [important for them] to have a full range of experiences, so they really know how a grapevine grows […] more about it culturally and a lot more about it specifically in terms of genetics or even physiological responses."
The vineyard and the scientific practices that accompany it draw students not only to take classes in viticulture and enology, but also to pursue the field as a passion or career.
"I like chemistry, and I knew that [viticulture and enology] tied into something that was an actual product," Azevedo said. "You don't just dump your products into the drain like in chemistry. People get to enjoy it — they can have fun with it. I love [when] everybody [is] having a good time, and wine helps with that."
In addition to the student vineyard on campus, the Department of Viticulture and Enology also manages other primarily research-focused vineyards, including 40 acres in Napa Valley. Another 35 acres are located west of the campus airport. This facility, planted in 1975 to replace the early vineyards on campus, is used for researching topics such as the development of new varieties.
"I'm trying to develop new rootstalk and varieties, so [I look] at the individual [varieties] more intently," Walker said. "We screen them for all sorts of diseases and pests, water tolerance, salt resistance [and] drought tolerance. We eventually work it down to a small number that we can release."
As much as the student vineyard remains an important part of the viticulture and enology community, it also carries meaning for the UC Davis community as a whole.
"It's nice that the vineyard is right there at the entrance to campus," Waterhouse said. "It reminds visitors that UC Davis has an agricultural heritage."
Written by: Allyson Tsuji — features@theaggie.org