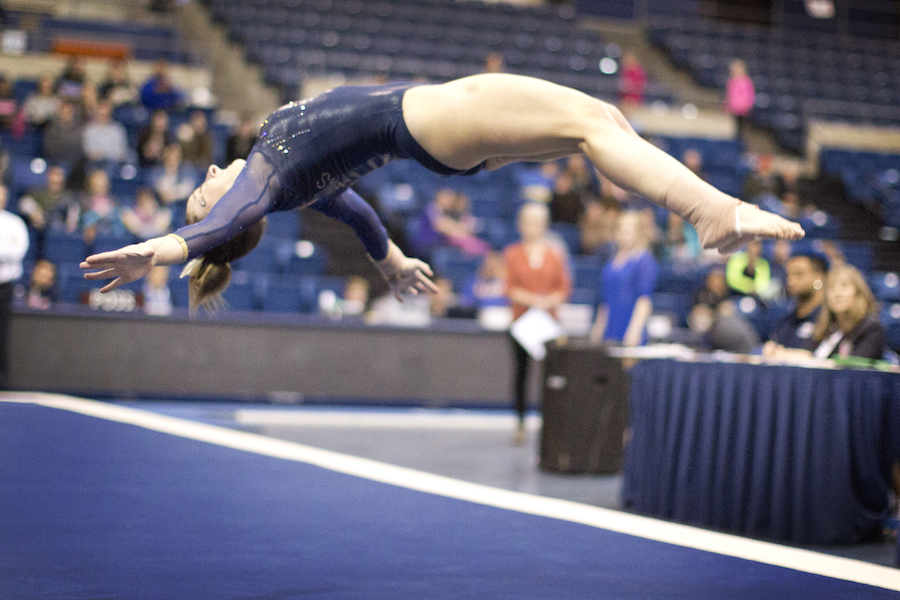 UC Davis women's gymnastics team has high hopes for season
As the UC Davis women's gymnastics team prepares to commence its 2017 season, one thing is clear: slow and steady wins the race. Even in the midst of the injuries affecting a handful of their athletes, the Aggies are determined to keep a positive and competitive outlook about the imminent season with confidence that they will capture NCAA postseason nods.
With an accumulated five Mountain Pacific Sports Federation [MPSF] conference championships in the past six years, the team has no reason to be humble, and it's that same calm yet tenacious attitude that has been the key to the team's success.
"We focus on our rituals," said senior co-captain Katy Nogaki. "We keep an emphasis on the Aggie bubble, and centering [our focus] on what we need to do as a team in order to accomplish our own goals."
This approach of fixating all competitive concern towards the team's goals rather than outwardly during meets has proven to be successful, as its athletes look forward to another fruitful and thrilling season.
The team has accomplished impressive feats recently and hopes to use that excitement as fuel in upcoming meets. Nimble Nogaki is well on her way to becoming the first gymnast in UC Davis history to compete in four consecutive NCAA postseason meets. Junior Alexis Brown dominated the conference with All-MPSF titles in vault, bars and beam, while senior co-captain Yonni Michovska took home an All-MPSF title of her own for bars. The list of accolades continues and serves as a testament for the level of athleticism and contagious excitement for the sport that these Aggies possess.
Prior to the team's first meet, the NorCal Classic, on Monday, Jan. 9, head coach John Lavallee emphasized the importance of slowly picking up steam throughout the season in order to preserve and rejuvenate the athletes for the bigger meets.
"Ultimately, we want to be our strongest at the end of season, so we want to give everybody the chance to be as healthy and strong as they can before they get out there," Lavallee said.
Looking forward, the team takes to the mats to build its Regional Qualifying score with the hopes of qualifying for post-season competition.
"No matter what goes on around us, whatever happens, it's all about Davis," Nogaki said. "All eyes on Aggie."
Despite some injuries across the team, the Aggies exceeded expectations and excelled with their performance at the NorCal Classic on Monday night. The meet, which hosted opponents like UC Berkeley and Stanford, proved to be the perfect place for the Aggies to regroup and perform; they ended the night with a third-place finish after capturing an overall score of 193.875, which was comprised of a 48.700 score in both vault and bars, a 48.075 on the floor and a 48.400 on beams.
Among the many standout performances of the meet, Brown's 9.800 on uneven bars and 9.825 on vault and Michovska's 9.625 floor performance were sights to behold.
The Aggies will host Stanford, Boise State and Yale for their home opener on Friday, Jan. 13 at 7 p.m.
Written by: Alex Arechiga — sports@theaggie.org