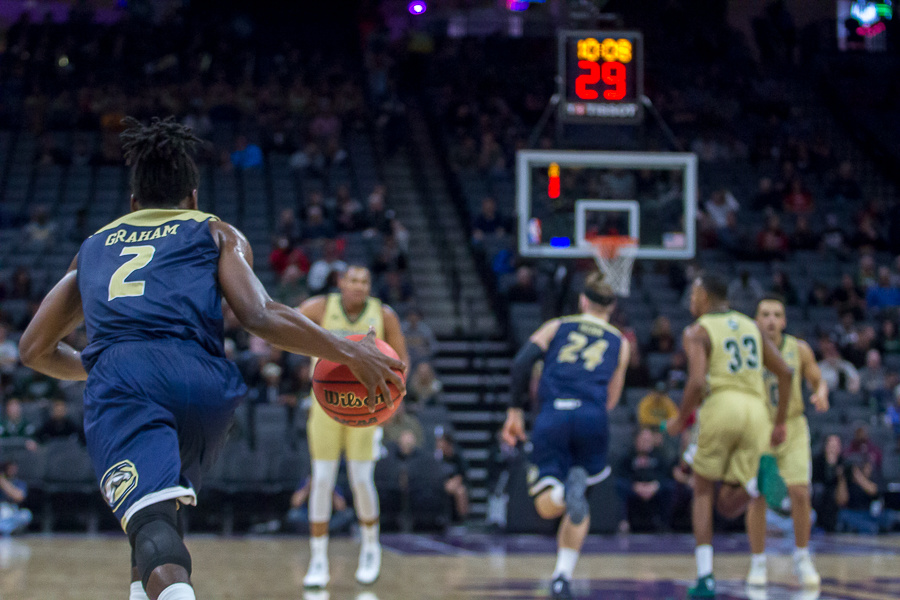 With conference play beginning, the Aggies hope build lead atop the Big West Conference
The UC Davis Aggies currently sit atop the Big West Conference's men's basketball division at 10-7, but going into the second half of the season means that they must begin to distance themselves from the rest of the competition atop the Big West standings. It has been a season of ups and downs for the men's basketball team. What started out as a promising 5-2 season quickly turned sour after a four-game skid, but appears to be headed back in the right direction after winning five out of the last six games, four of which were won by double digits.
For head coach Jim Les and the rest of the Aggies, that change will need to start now, as nearly every game becomes a conference matchup that will have a profound effect on the overall standings.
Having played just five of 17 games at home, all of which were victories, the Aggies must also take advantage of a friendlier schedule. In the 2017 portion of the year, the team will have eight home games and eight road games to secure its place in the standings. On the backs of leading scorers, senior guard Brynton Lemar and junior forward Chima Moneke — who was named Big West Player of the week on January 2 after putting up back-to-back double-doubles — the team is looking to take advantage of a friendlier schedule going forward.
The team will need to keep up the dominant work not just on the scoreboard, but on rebounds and on defense as well. Brynton Lemar also received some accolades and was named Player of the Week by College Sports Madness during the same week as Moneke, in which the Aggies went 2-0 versus Seattle University and Utah Valley. He put up 19 points per game on 52 percent shooting, including 42.9 percent from three-point range. The team will need its leaders to keep up the great work going into conference play if they want to continue this much-needed upswing.
With the standings in their favor, as well as a much friendlier travel schedule, the Aggies are in prime position to enter the conference play with a little bit of momentum. Lemar, Moneke and the rest of the team must enter every game with the same intensity they have displayed during their better games, as well as learning from the mistakes from the others.
March will be here before they know it, and it is up to the Aggies to break out from the rest of the teams fighting for the top spot in the Big West Conference if they want to finish strong.
The team will tip off next at UC Riverside on Thursday, Jan. 12 at 8:00 p.m. The game can be seen on ESPN 3 and heard on KSAC 105.5 FM.
Written by: Bradley Geiser — sports@theaggie.org