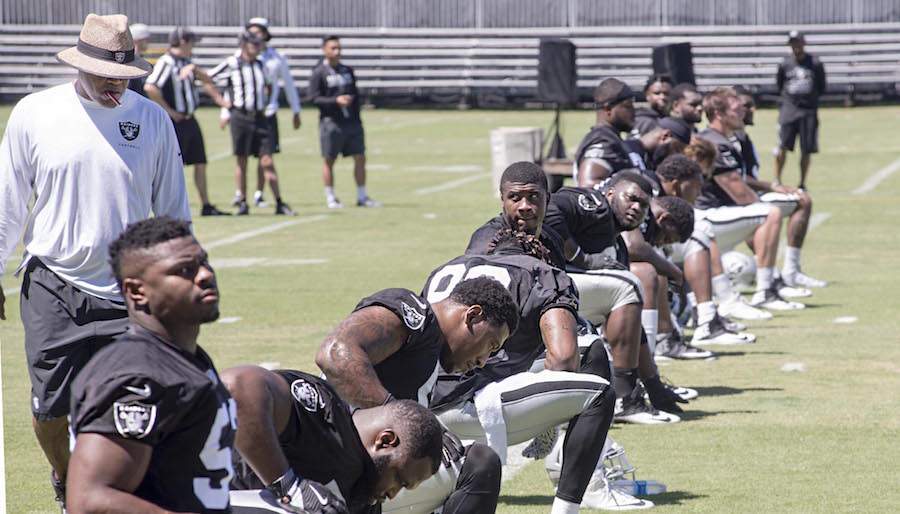 Oakland Raiders lose in wild-card matchup, but promise is in the air
The last time the Oakland Raiders made it to the playoffs, it was 2002. Let that sink in for a moment. Many of us weren't even old enough to throw a football, let alone remember the days of Rich Gannon, the last Raiders quarterback to take them to the playoffs, heaving the ball downfield to Hall of Famers Tim Brown and Jerry Rice.
This past Saturday, the Raiders went on the road to face the Houston Texans without their MVP candidate quarterback and team leader, Derek Carr, at the helm. Instead, they were forced to start their rookie third string, Connor Cook, after career backup Matt McGloin went down with a shoulder injury in the last game of the regular season. Cook started his first game in the NFL in an AFC Wild Card matchup against one of the most dominant defenses on paper. Tough break.
For the Raiders, many believed that their season was all but over after Derek Carr went down in week 16, against the Indianapolis Colts, suffering a fractured fibula that would end his incredible season. Before going down, on the lone sack that the Raiders stout offensive-line gave up, Carr was picking apart a sad Colts defense, proving what many have deemed was an MVP season and leading his team to a then 12-3 record.
He was clearly the heart and soul of this team, and it showed in his absence when the Raiders went 0-2 after his injury — losing the last regular season game in Denver that would have clinched a home field advantage throughout the playoffs. Instead, they had to go to Houston where they were beaten up on both sides of the ball — losing their first playoff game in 14 years.
Although many fans had to swallow a large pill of disappointment after such an exciting and promising 2016 season, Raider fans should not fret. Raider Nation can rest assured that this is no fluke season. The Men in Black will be back in the postseason next year if all of their key players can stay healthy and if Carr can make a 100 percent comeback. Seeing how Carr became this team's emotional and physical leader this season, all indicators point to him following his third year, where he earned his second consecutive Pro Bowl and is still in the talks of MVP of the league, without missing a beat.
The Raiders are no longer an up-and-coming team. They are up, and they came — just without the key contributors that helped them get to the postseason. Having been forced to thrust a rookie quarterback into play on the road, with very few reps in practice throughout the year and the added pressure of it being a playoff game, the Raiders were banking on a miracle.
That miracle was sitting at home, nursing a broken leg.       
Written by: David Flores — sports@theaggie.org