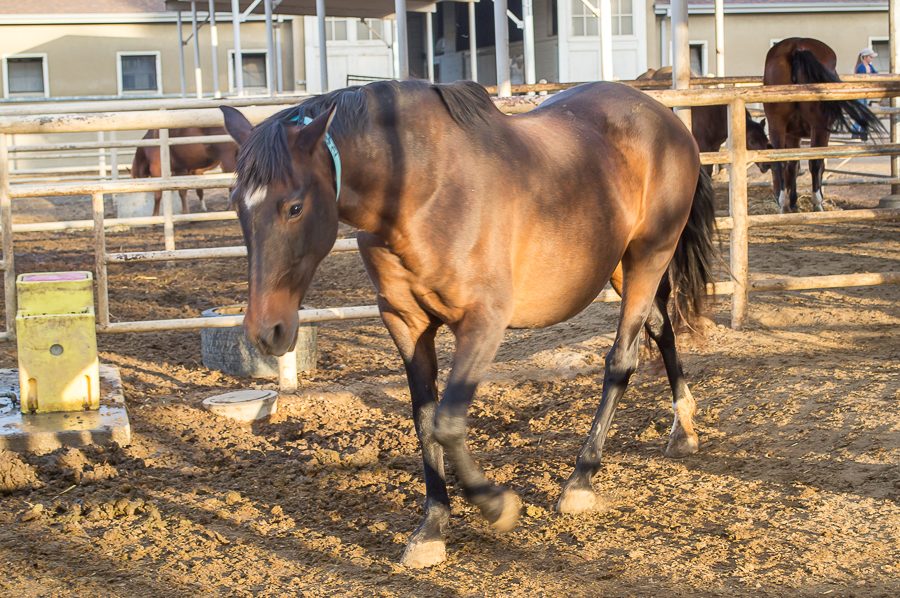 A look into UC Davis' horse history
Before the Silo was a hub for Green Burrito and caramel macchiatos, it was a functional barn for some of UC Davis' original inhabitants: horses. While the animals' home has been relocated to the Horse Barn and Equestrian Center, horses are present almost anywhere on campus, from Gunrock to horse-drawn carriages.
"Horses are an integral part of many lives at UC Davis, and they play many roles as companion animals," said Dr. Sharon Spier, professor of Medicine and Epidemiology at the School of Veterinary Medicine. "[The University] houses hundreds of horses between the Horse Barn, with a student workforce, [and] the Equestrian Center, where students can board their own horses and compete on equestrian teams or take lessons."
Amy McLean, manager of the Horse Barn, earned her Ph.D. in Equine Science from Michigan University and has done research in 23 countries on various equine animals. Despite her extensive travels and experience, McLean says the UC Davis horses are among the most unique and special she has seen.
"This group of horses is very kind, forgiving and understanding of students, so it's remarkable to watch how they get along with students who may be unfamiliar with horses," McLean said. "Some of my favorite horses are the draft horses, a [type of] breeding horse from France. [They] are phenomenal to work with […and] are really gentle giants."  
McLean explained that, among the several different breeds that call the Horse Barn home, each has its own personality.
"Draft horses are known for being docile like the larger horses who are known for being cold-blooded, which actually means laid-back in horse terminology," McLean said. "We also have one of the oldest breeds of horses, which was originally imported from Spain during Christopher Columbus days. These horses are fiery and hot-blooded, as opposed to the mares which have great laid-back personalities perfect for classes and labs."
While the UC Davis Equestrian Center is the place for sport, companion and recreation horses, the Barn is home to about 30 horses strictly used for breeding, teaching and research purposes. While most of the horses are excited to engage with students and get out of their stalls, not every animal may be compatible with every student. McLean strives to personally match each animal with a specific student based on personalities since the two will spend a lot of time together during classes and internships.
"In the winter and spring, our mares and stallions will be used intensively for an equine reproduction internship that focuses on breeding stallions and collecting them for artificial insemination," McLean said. "There's a little bit of match-making I do between stallions and the interns who will be working with them. It's like finding a dance partner in that you're asking a partnership from the animal."
According to McLean, the horses at the barn are very patient, and she expects to see students bond with mares during the reproduction internship because of the commitment and time spent together. McLean has also seen close relationships form between the animals themselves as they establish their own communities.
"When the young horses are weaned from their moms it's almost a tragic experience for the foals to go through — kind of like a student being shipped off to college and leaving home," McLean said. "You will see a group of foals that were weaned at the same time go out in pasture and still stick together after, so they do form similar relationships the way humans do."
When students first come to UC Davis, it may take a while to get adjusted before finding a solid group of friends. Holly Fox, program coordinator at the UC Davis Equestrian Center, explained that when the center receives its new herd of horses every year, there is a similarly slow integration process as the animals get accustomed to life at UC Davis and meet the resident horses.
"The new horses start by being separated from the current ones in the slow integration pasture so they can smell each other's noses and get to know each other before joining the herd," Fox said. "Soon they will have their favorite friends out in the pasture who will stand together in pairs looking after each other. Sometimes if the group is laying down there will be one standing up and looking out for any make-believe dangers, guarding the group."
Fox has been working at the Equestrian Center since 1985 and has observed all kinds of personalities with its inhabitants.
"Some [horses] are sweet, docile and gentle, others are feisty and assertive, running around and wanting to be the first ones to eat dinner," Fox said. "This is really great because out of all of the riders taking lessons or on teams, there is usually a horse that fits their personality and riding level."
For Lizzie Wilson, a second-year neurobiology, physiology and behavior major, the Equestrian Center was the perfect opportunity to continue her 10-year long passion for riding, as she is now on the Three-Day Event Team. Coming to UC Davis from the East Coast, Wilson appreciates the campus horses for their diverse personalities and willingness to be worked every day.
"A dog is cool because [it] can be your buddy and friend, but with a horse it's a little more of a soulful relationship," Wilson said. "You and the horse are equal, they're your teammate and best friend and it's so nice to have that at college. It's also an amazing stress-reliever because if you can't get outside during school, you still have the responsibility take care of the horse which may sound like a chore until you get out and realize how much you needed it."
Since UC Davis is an agricultural campus, horses fit in naturally with the physical environment and scenery. However, as the campus continues to grow and change, it is important to keep horses present in many forms as a part of UC Davis's unique history.
"Going out to the horses on campus, whether to ride or just visit them, helps create a balance that gives students a moment to refresh, and benefits the animals as well," Fox said. "I think it's a very nice fit for this particular school."
Written by: Gillian Allen — features@theaggie.org