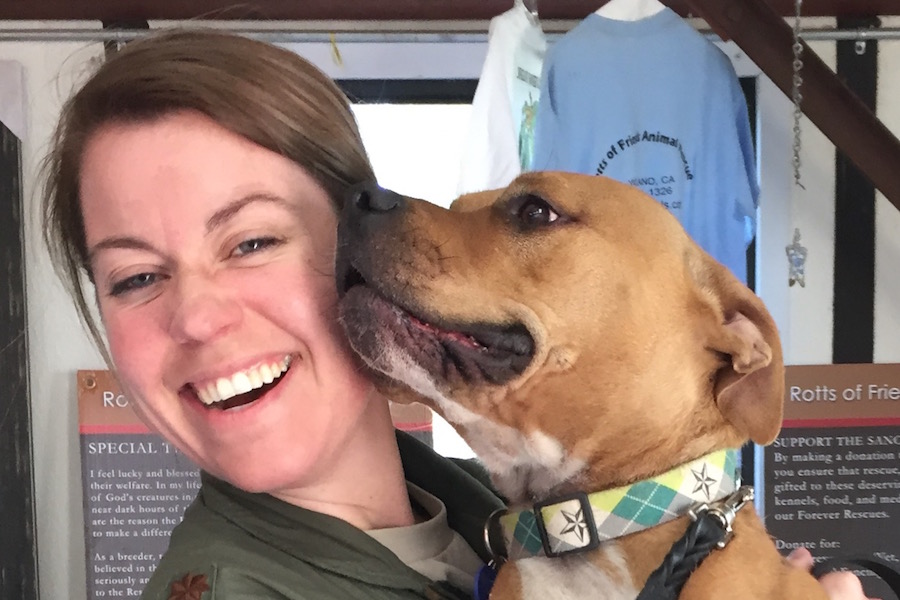 Petco Foundation awards $10,000 to local animal shelter
For the past four years, the Petco Foundation has held its Holiday Wishes grant campaign, in which people who have adopted pets are able to submit stories of how their pets have changed their lives. This year, the grant money amounted to $750,000, including a $100,000 grand prize.
Rotts of Friends, originally founded by Renee Lancaster in Woodland, started off rescuing rottweilers and German shepherds but expanded to rescuing dog breeds of all kinds, and now rescues cats as well. As a rescue foundation staffed by volunteers, it can apply for grants, although this was the first time the foundation had entered in the Holiday Wishes campaign.
With a total of 5,100 submissions, Rotts of Friends was one of 54 finalists in the campaign. Touching the hearts of many, its story of a rescued pit bull named Disney won the foundation $10,000.
"When guests give a donation at checkout in a Petco or Unleashed by Petco store, their contributions enable the foundation to make big investments in lifesaving animal welfare organizations across the country," said Lisa Lane, the manager of press relations and communications at Petco.
Donations for grants like these benefit animal foundations or shelters in order to provide for their rescued pets.
Rotts of Friends was encouraged to enter in the Holiday Wishes campaign by Gina Knepp, manager of the Front Street Animal Shelter in Sacramento, whom the company closely partners with.
Disney's story started with a homeless man in Humboldt County, who abandoned Disney as he moved on. She was then taken to the Humboldt County animal shelter, where she stayed until their funding sent her to Rotts of Friends to be trained for a future home.
"She was with us at Rotts of Friends for a long time," said Barbara McNaughton, Community Outreach Coordinator at Rotts of Friends. "No one was even interested in looking at her because she was a pitbull, despite the fact that everyone at Rotts of Friends knew she was going to make a great companion for someone who would give her a chance. Then came Jessica who adopted Disney."
Jessica Bishop's story about Disney described how she, as a veteran, underwent a tough transition in her life, coming from long-term deployment and battling loneliness and depression. Bishop hoped to adopt a dog in order to fill the empty space in her life.
"Disney is more than just a dog; she is my family," Bishop wrote. "Military life can be very lonely. Now in my mid-thirties, as a single woman who has been doing this alone for over a decade, I have found a sense of purpose and joy, thanks to Disney."
Disney was rescued and given a home, and Bishop found that adopting Disney helped her find herself and provided her with a much-needed companion.
"Disney has been attached to my hip ever since. She's chewed up flip flops, destroyed rolls of paper towels, but in the process has taught me patience and how great it feels to care for something other than oneself," Bishop wrote. "She's filled the hole in my heart and changed my life for the better. It's not always easy to handle a strong-willed, type-A hard-headed lady, but she mirrors me, and we learn from each other every day. I'm so thankful for finding her and the changes she has brought to my life."
This touching story was selected by the Petco Foundation team for the grant, and it is now featured on its website.
"Disney's story is a wonderful example of how pets can help people through difficult life challenges. It's always better to have someone in your corner through a tough time, and Disney was just that for Jessica as she transitioned back to life after deployment," Lane said. "All of the winning stories told a story rather than simply reciting facts as they happened. Quality storytelling and excellent supporting photos or videos made Disney's and the other winning submission stand out from all the others."
With the $10,000 grant, Rotts of Friends plans to purchase a gently-used full-size van, which will help transport rescued animals. In addition, the shelter is building a 26,000 square-foot rescue dog sanctuary. This will help the team add to the 250 dogs and cats already rescued per year.
"We were, of course, thrilled to have been chosen as a $10,000 winner," McNaughton said. "There are many, many very hard-working, worthwhile nonprofit organizations doing the truly important work of saving animals in our country. So to be awarded one of the 54 grants was an honor."
Written by: Kaelyn Tuermer-Lee – city@theaggie.org