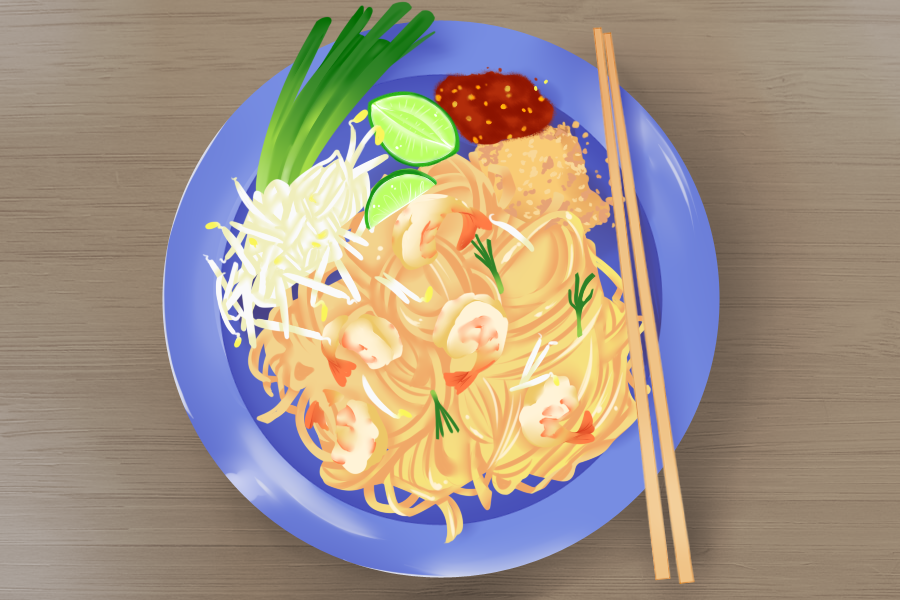 Downtown Davis offers a wide range of Thai cuisine
Sweet, salty, sour and spicy. Thai food has it all. Although Thai cuisine centers around these four main flavors, it offers an endless range of dishes. With curries, salads, noodle plates and rice, Thai food can be go from sweet to brutally spicy.
This is especially true for local Thai establishments. Downtown Davis features six Thai restaurants and a Thai market. Peter Sriboonreuang, manager of Thai Canteen on Second Street, could not provide an answer as to why there are a multitude Thai restaurants in town.
"There [are] so many, I honestly don't know. Thai food just does well in Davis," Sriboonreuang said.
Wannee Saicheur, a UC Davis alum and the former owner Thai Recipes, which closed recently, believes that food businesses fare better than other businesses in downtown Davis.
"I feel like all the retail, it's hard to be able to survive […] That's why people open more and more restaurants," Saicheur said. "In the past 8 years I saw many businesses, you know, when they're gone they turn into restaurants."
Saicheur, better known to her customers by her nickname "Lek," retired and closed Thai Recipes at the end of 2016. The restaurant, formerly on Second Street, opened for business in 1998. At the time, it was one of only two Thai restaurants in town. During its 18-year run, Thai Recipes was popular with local Davis families. It offered a peaceful environment and focused on quality and authenticity of food.
"We use all the fresh ingredients […] Mostly, it has to be prepped fresh […] We try to make it authentic the best we can," Saicheur said. "Even though maybe it's not the same as we have in Thailand, we try to use the most close to the thing that we use […] We try not to put things that is not really Thai. We don't try to change it, and I think the customers appreciate what we do here."
Although Thai Recipes closed over winter break, Thai food remains readily available in Davis. From the quiet Thai Nakorn to the lively KetMoRee Restaurant and Bar, Thai restaurants in Davis range from small, family-friendly establishments to large, late-night hangouts with live music and alcohol.
Jessica Walters, a UC San Diego student visiting Davis and dining at Thai Recipes, said she likes Thai food for its comfort and simplicity.
"I like that it's not as heavy as Chinese food but still [heavy enough to be] comfort food. I like the herbs — the Thai basil, cilantro, and spices are appealing. I like the fresh veggies […] They have Phanaeng, it's this peanut curry. They use coconut milk, which I'm a fan of. The ingredients are simple, but it's still a filling and substantial comfort food," Walters said.
Sriboonreuang likes Thai food for its endless possibilities.
"You can play with Thai food. There's definitely no limits when it comes to Thai food […] It's just all the flavors. You get sweet, savory, salty, sometimes bitter. Being able to mix those together, they kind of compliment each other. Also with Thai food, it's vegan friendly," Sriboonreuang said.
Crunchy peanuts, savory meat, fresh vegetables, creamy sauces and chewy noodles — whatever one is in the mood for, Davis Thai restaurants have it. The next time a round of midterms leaves students battered and in need of comfort food, head downtown and try some Thai.
Written by: Raul Castellanos Jr. — city@theaggie.org