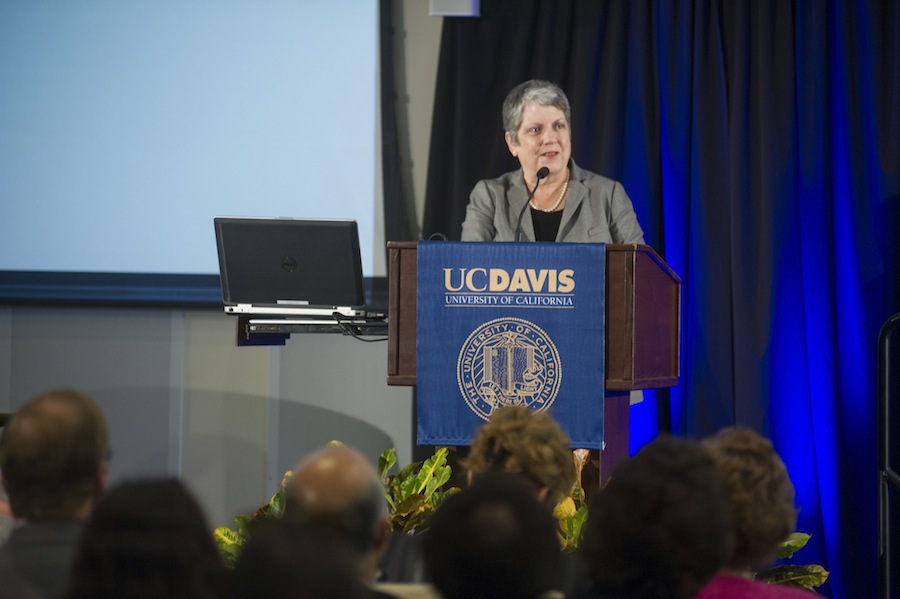 Napolitano expected to leave hospital soon, maintain leadership role
UC President Janet Napolitano was hospitalized on Tuesday Jan. 17 after experiencing side effects from undergoing cancer treatment.
Napolitano combatted cancer in previous years, but received her second diagnosis in August 2016. The exact type of cancer remains unknown to the public. She has since been receiving treatments, with Tuesday's incident being the only time Napolitano had to be hospitalized due to side effects.
A press release from the UC Office of the President was sent out on Jan. 17, alerting the media of Napolitano's condition. The statement noted that her treatment regime was "nearly complete," and that she has continuously informed the UC Board of Regents about the condition of her health.
"President Napolitano had a previous diagnosis of cancer that was successfully treated. She has kept the chair of the UC Board of Regents informed throughout the course of her current treatment," the press release said.
Napolitano is expected to be released from the hospital and resume her leadership position soon.
"[Her physicians] expect her to be discharged in the next day or so and back to her normal duties at full capacity very soon," the press release said. "While she is recuperating, UC's senior leadership will continue to support President Napolitano in the management of the UC system and in advancing the University's key priorities."
UC spokesperson Dianne Klein had not responded to The Aggie's request for additional information at the time this article went to press.
Written by: Lindsay Floyd — campus@theaggie.org