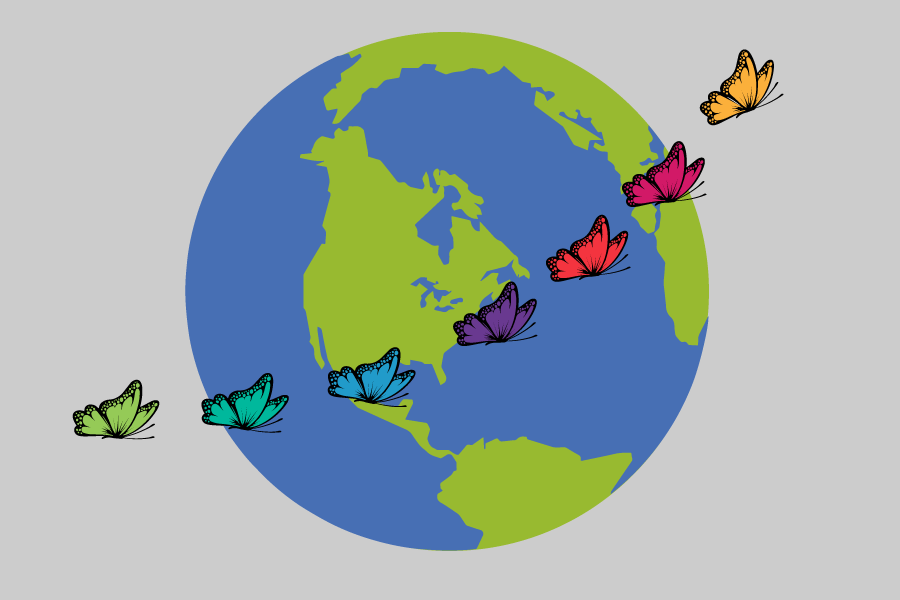 AB540 and Undocumented Center provides students with resources, solace, community
Most students visit the Student Community Center (SCC) for their daily dose of coffee at the South CoHo. However, the SCC is also home to various service centers that offer resources and a supportive community, such as the AB540 and Undocumented Center. With services ranging from student programs to legal counseling services, the center provides students with a way to help themselves and their families while furthering their educations.
"One of the reasons why I came to Davis was mainly because of the AB540 Center that had opened the year prior," said Yajaira Ramirez Sigala, the AB540 and Undocumented Center advocacy and policy coordinator and a second-year sustainable agriculture and food systems and Chicano/a studies double major. "My immigration status was something that I was introducing myself to accepting, because it was something that I [used to] try to hide. [The center] really changed my life a lot as [I learned] more about what I was and what that meant."
Assembly Bill 540 (AB540) was passed in California in 2001 to grant in-state tuition to non-residents who had attended and received diplomas from California high schools. This law, along with the Deferred Action for Childhood Arrivals (DACA) policy, which exempts minors from deportation under certain eligibilities, plays a major role in the center's goals regarding undocumented students or students with undocumented relatives.
Based on these policies, the AB540 Center provides resources such as free legal counseling for students who want information or aid in issues related to being undocumented. These services are open not only to undocumented students themselves, but also to any undocumented immediate relatives of a student.
"We're here to make sure that undocumented and documented students are able to focus on their studies," said Amy Barnett, the UC Undocumented Legal Services Center attorney fellow to the UC Davis campus. "Sometimes that means helping them, sometimes that means helping their relatives."
According to Barnett, the usage of these legals services has certainly increased since the election.
"There was great concern […] about the security of our students," Barnett said. "However […], many of the university offices have responded really positively, and I see that as […] a silver lining. Hopefully that […] continues throughout the next administration and beyond."
The AB540 Center also implements programs for awareness and support. Ramirez Sigala, for example, is currently working with the UC Davis Police Department to establish connections that will improve students' lives at UC Davis, based on her own experiences.
"One of the personal issues that […] resonates with me a lot is that fear of being deported," Ramirez Sigala said. "A lot of those fears also come with seeing police. Trying to make more connections with them has been one of my focuses. I'm trying to […] get one of the officers to come to the center […] like a meet-and-greet."
Other programs at the center include the UndocuAlly Program for Educators, a faculty training designed to promote the formation of on campus allies for undocumented students by discussing policies such as AB540 and DACA and the UndocuPride Speaker's Bureau, which promotes awareness through a panel of speakers.
Like Ramirez Sigala, many of the staff members at the center use their own personal experiences with immigration status issues to relate to students who come to the center for support.
"I self-identify as undocumented," said Derick Romero, the AB540 Center administrative assistant, volunteer coordinator and a fourth-year Chicano/a studies major. "I was born in Mexico. When […] I was in high school […], I felt that I was just meant for the hard labor force. There [were] a lot of barriers to reaching higher education. Once I got [to UC Davis] I had more opportunities."
The AB540 Center not only provides programs, but also a community for students at the university.
"During my first year here at Davis, […] I met one of my mentors, Daniela De La Cruz, who is a mentorship coordinator," Ramirez Sigala said. "She was the one who helped me join the program, and […] since meeting her, I've just had so many positive experiences. She's […] been a huge part of why I wanted to [work] at the center."
As a mentorship coordinator for the AB540 Center, Daniela De La Cruz manages many of the programs that the center runs. However, De La Cruz also focuses on supporting and advising the students who come through the center.
"I support students in their identity development process," De La Cruz said. "My goal, when a student comes in touch with me or any of the programs that they participate in, is for them to build […] acceptance of their identity and their circumstances. A lot of our students don't feel comfortable stating that they're undocumented. My job is to help them find pride in that identity."
The AB540 and Undocumented Center focuses its attention on being a safe and encouraging space for students. In light of the recent presidential election and the possibilities of the coming inauguration of President-elect Donald Trump, the center has seen many doubts and fears from students.
"The day after the election brought about a lot of […] things that were hidden within the students' minds," De La Cruz said. "We definitely […] felt an impact. A lot of fears came about. I was scared because I didn't have any answers."
Despite many student and faculty fears regarding the coming presidency, De La Cruz and her colleagues remain hopeful for the future.
"There's a lot of uncertainty, but I know that […] we will continue to be here," De La Cruz said. "We're not going to go anywhere. This is definitely a time to be together, working towards what we have always been working towards, which is the inclusion of undocumented students, freeing people of the burden of silence."
Written by: Allyson Tsuji — features@theaggie.org