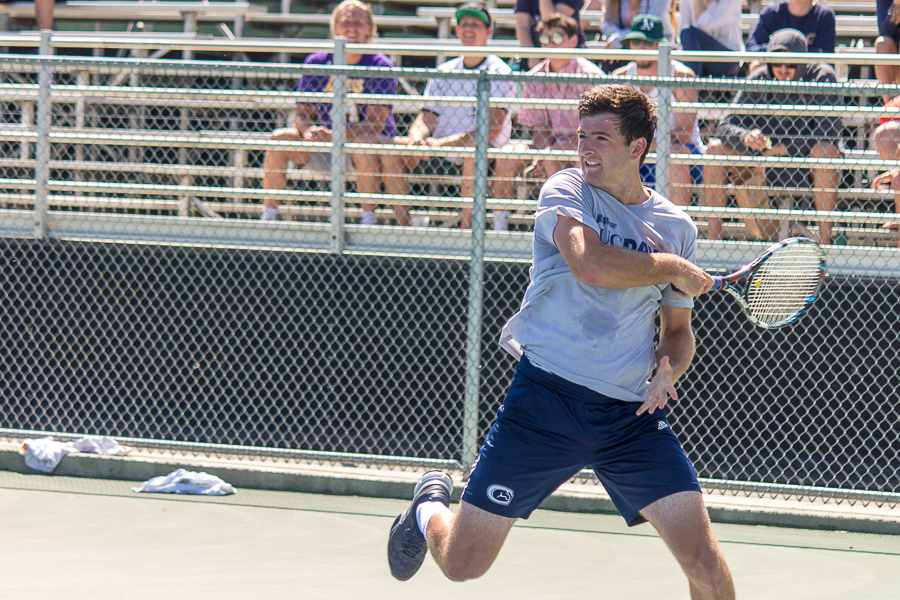 Ags open their season 0-2 after double-header losses
The UC Davis men's tennis team opened its spring season this past Saturday when the Aggies traveled to Stockton to compete in a double-header against the Pacific Tigers. Though the Aggies jumped ahead early by dominating four of the five doubles matches, it wasn't enough to clinch either of the team matches.
In the first match, all three UC Davis doubles teams won were victorious. Freshman David Goulak made his doubles debut with junior Tommy Lam. Goulak and Lam won their doubles set 6-4, while seniors Bryce McKelvie and James Wade put away their opponents 6-3.
Heading into the first sets of singles matches, Goulak and McKelvie earned points with their two-set wins while the rest of the Aggies, including senior Alec Adamson, lost their matches to give Pacific the 4-3 upset.
In the second match, UC Davis looked strong with Goulak and junior Everett Maltby handily winning their set 6-1. Pacific tied it up by beating Lam and McKelvie, 6-4, but Adamson and freshman Max Pham put the doubles competition away with a decisive 6-4 victory of their own.
However, the Ags could not pull through again in the singles matchups. With only Adamson and Lam each posting three-set wins, Pacific dominated four of the six singles events in the rematch.
With these losses, UC Davis starts the season 0-2 and will hit the road again on Saturday for another double-header against the Fresno State Bulldogs and the Sacramento State Hornets.
Written by: Nicolette Sarmiento — sports@theaggie.org