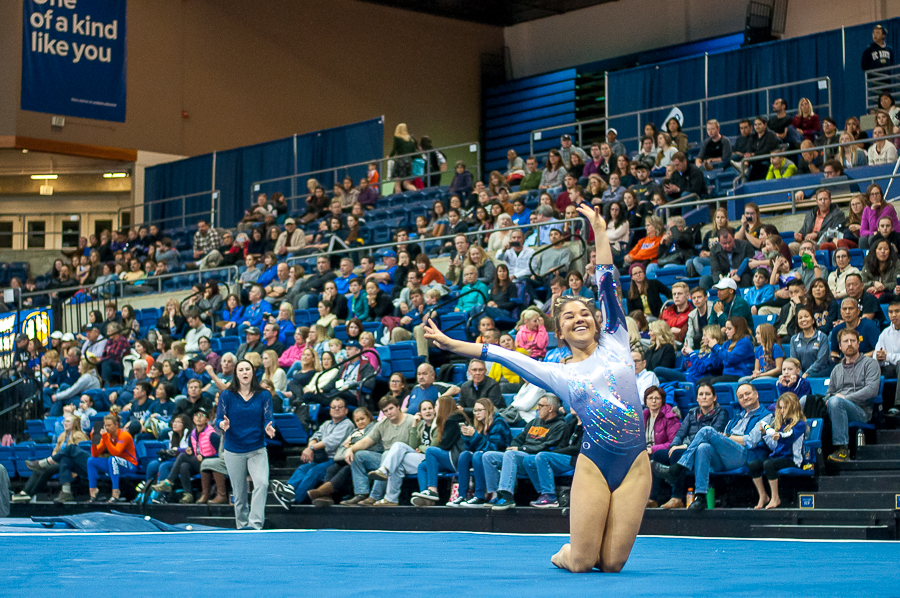 UC Davis women's gymnastics team finishes in third place on Friday
Over 1,200 fans filled the seats of the Pavilion on Friday, Jan. 13 to watch the UC Davis women's gymnastics team hold its first home meet of the season, a four-way meet that welcomed Yale University and the 11th and 15th nationally-ranked teams of Stanford University and Boise State University, respectively. The Aggies excelled in three of four events for the evening and rallied for a third place finish with a score of 193.275, just a fraction of a point behind second place Stanford (193.800) and frontrunner Boise State (195.300).
The home team started strong with its first rotation on vault; all six participants scored 9.600 or higher on the event and senior co-captain Katy Nogaki's standout 9.825 helped bolster the Aggies' combined score to 48.575 to poise them in a comfortable second-place standing behind Boise State.
The Pavilion was electric with excitement for the Aggies as they continued into their second rotation at the uneven bars. Senior co-captain Yonni Michovska had a particularly exciting performance complete with impeccably executed handstands and a solid dismount, landing her a career-best score of 9.875. Her efforts, along with her teammates' collective performances on the bars, totaled 48.750 and escalated the Aggies score to 97.325 halfway through the meet, leaving them just .025 points behind BSU's first-place 97.350.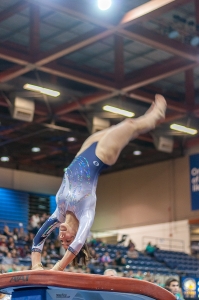 However, the balance beam proved to be a source of struggle for the Aggies during their third rotation. Three of six athletes fell during their routines, creating a deficit in their overall score which caused them to slip from second to third.
"Sometimes the stars don't line up," head coach John Lavallee said. "We had an excellent week of practice on balance beam […] We kind of let it slip away there. That's always disappointing, but you've got to have a thick skin if you're going to be an athlete, and you have to be ready to bounce back and get it done."
Instead of letting the balance beam faults hinder their performance for the rest of the meet, the Aggies returned for their fourth rotation with a dazzling sense of confidence, pulling out all the stops to hit solid performances on the floor. It was all smiles and cheers from both the crowd and the team as each athlete made the floor routine rounds, and together the team scored 48.700 in the event. Junior Amanda Presswood tallied a 9.725, while sophomore Yasmine Yektaparast's scored a 9.800 at anchor. Junior Alexis Brown, who suffered an unexpected fall on the beam, ended the night with a stunning finale floor performance and captured first place in the event with a score of 9.825.
"I was a little bit irritated with myself [after the fault on beam], so I just turned all of that energy into positivity on the floor, and that was probably like the best routine I've done in a long time," Brown said. "I think there was a little bit of negative energy on the beam, but we were able to turn that around on the floor, and I think that really shows the character of the team. That inspires me more to see how far this group of girls can go."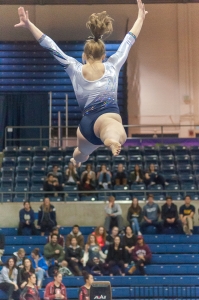 Brown ended the night with a score of 9.800 or higher on three events, which mirrored the team's performance for the evening. With three out of four events touting great scores from the home team's athletes in a showcase featuring nationally-ranked squads, the home opening meet felt as though the Aggies were just scratching the surface of their athletic prowess, just a precursor of what's to come as the season progresses.
"These are two great teams […] We were really very competitive halfway through the meet, we were right there with [Stanford and Boise State], and so that really gives us a lot of good feelings moving down the road as we continue to improve and get better," Lavallee said. "I think we're going in the right direction."
The Aggies hit the road for their next meet at Arizona State University on Jan. 21. Their next home appearance will be the spectacle 40th Anniversary Causeway Classic against Sacramento State on Jan. 29 at 1 p.m.
Written by: Alex Arechiga — sports@theaggie.org