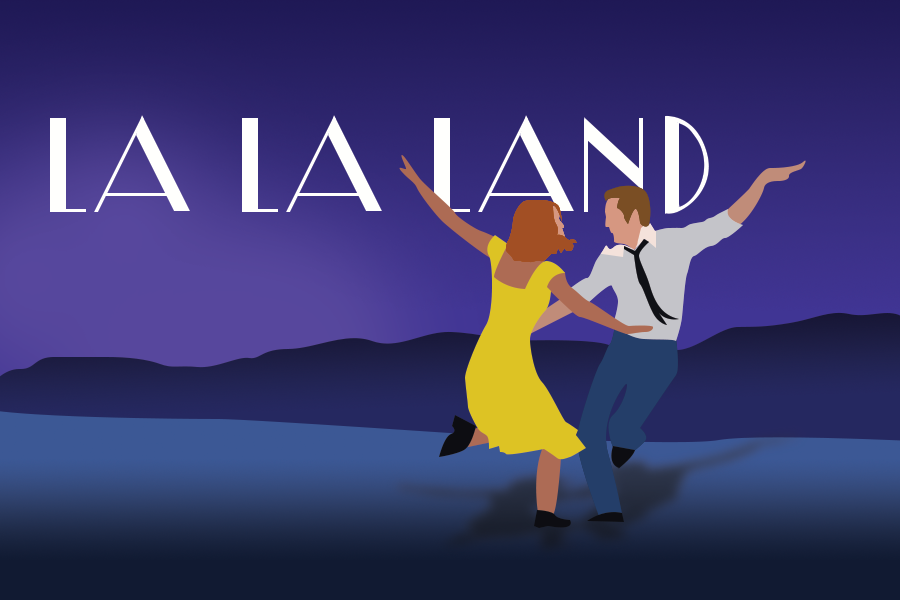 Damien Chazelle film features knockout performances from Emma Stone and Ryan Gosling
When I first saw La La Land, Damien Chazelle's modern take on the nostalgic beauty of old Hollywood musicals, I was awestruck. Although I couldn't quite place every emotion I was feeling at that time, I knew one thing for sure — I just had to see it again. Chazelle, most recently acclaimed for his Academy Award-winning film Whiplash, premiered La La Land this past summer at the Venice Film Festival. Early critics initially shut down Chazelle's vision for this modern-day musical because many viewed the premise to be uncommercial. However, the film turned out to be an immediate success. With its brightly-colored costumes, breathtaking skylines and vibrant locations, La La Land romanticizes the beauty of Los Angeles, while depicting the struggles that come with living as a dreamer in the City of Angels.
The film opens with an extravagant ensemble performance, as most musicals do, with the group number "Another Day of Sun." In one unbroken shot, people of all backgrounds sing and dance atop cars amidst Los Angeles traffic at the junction between the 110 and 105 freeways. As an LA native who has sat through my fair share of standstill traffic over the years, there was something relatable and humorous about this scene. It sets the tone perfectly for the rest of the film to come — upbeat, witty and captivating.
La La Land follows the lives of Mia and Sebastian, two struggling artists in Los Angeles who fall hopelessly in love along their journey to achieving their dreams. Mia, played by Emma Stone, is an aspiring Hollywood actress stuck serving coffee in the meantime, while her counterpart, Ryan Gosling, plays Sebastian, a jazz-loving pianist with a passion for keeping his precious genre alive. Stone and Gosling, who have appeared in two other films together in the past, have an intense on-screen chemistry palpable from their first duet, "A Lovely Night," to the surreal moments of the film such as when they float through stars at the Griffith Observatory.
Stone and Gosling truly sell Mia and Sebastian's love story, never leaving room for doubt of the rooted feelings they hold for one another even through the poignant ending. And for two actors who aren't typically known for their vocals or dance moves, they both deliver outstanding performances. Pre-production took place for three months prior to filming, during which Gosling took the time to practice piano in order to be able to expertly play it on screen. Gosling and Stone also learned different styles of dance during this period. The work has seemed to pay off, as Stone and Gosling recently won the Golden Globe awards for Best Actress and Best Actor in a Comedy or Musical, respectively.  
La La Land heartbreakingly conveys the real struggles that dreamers in Los Angeles face every day. The film portrays love that doesn't always end in the way we might hope, and shows that there are different kinds of happy endings, despite what our hearts desire. This raw emotion makes La La Land stand out from the crowd. Whether you resonate with Mia's character or with Sebastian, or are simply rooting for their love story, La La Land manages to wow with its colorful and flashy dance numbers while capturing the audience's heart and mind.
As the movie came to a close, I noticed my eyeliner was tear-streaked across my face, while several other audience members sniffled behind me in the theater. I was frustrated, amazed, satisfied and experienced all kinds of conflicting emotions as the credits began to roll. La La Land is a film worth seeing — maybe even more than once.
Written by: Sydney Odman — arts@theaggie.org