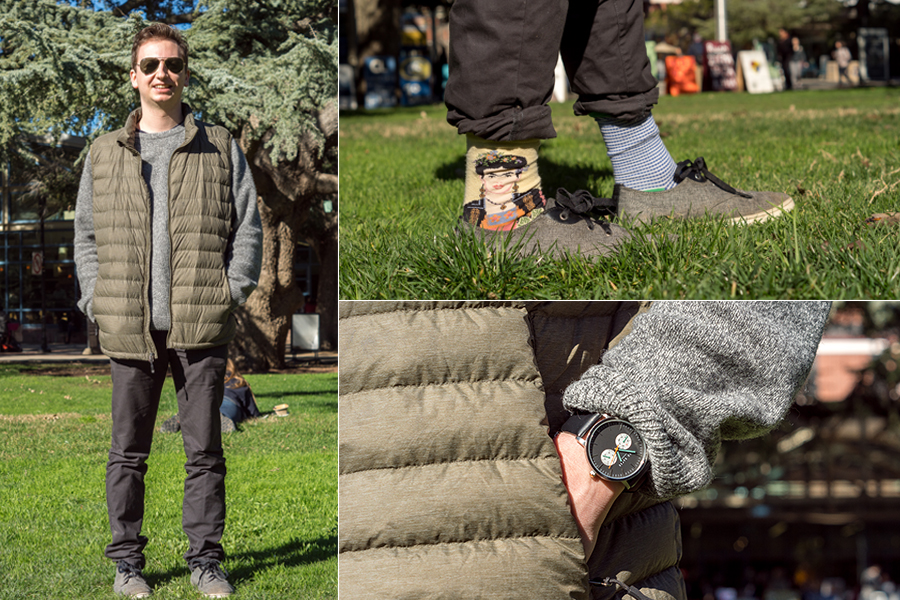 Windbreakers, onesies and mismatched socks
This week's Aggie Style Watch focuses on Ryan Brady, who, from mismatching socks to bold onesies, is always full of fashion surprises. Brady, a third-year statistics major, knows how to survive the storm with layers, but admits he's not as confident in the shoe department.
ASW: What is your style inspiration?
Brady: Honest answer: I just see magazines around, like H&M and Urban Outfitters and base my style on what I like. The main person I get my inspiration from is Russell Westbrook, and he is not stylish, but he's really funny. When I go shopping, I see something that's pretty cheap and looks nice so I get it. Or when I'm shopping online and I see a good-looking jacket online and just pray it will look good on me. Sometimes I look on Reddit for male fashion advice but not as much as I should. But my biggest inspiration comes from the actor Steven Anthony Lawrence.
ASW: Where did you buy everything you're wearing?
Brady: The jacket is from Macy's, watch Nordstrom Rack, shoes Nordstrom, the left sock from Sock City Sacramento, the right sock from Nordstrom, and both the sweater and jeans are from H&M.
How did this past storm affect your style?
Brady: It didn't, I was just soaked and miserable. Half of my shoes were dripping, and I don't have any boots, so I should probably get a pair.
ASW: Do you have any style advice?
Brady: It's all in the sweater vest. You put on the vest, and you just look stylish. Just wear the basics, it will always make you look better than everyone else.
ASW: What is your go-to outfit?
Brady: A windbreaker, a t-shirt or a sweater vest when it's colder, nice pair of jeans or a onesie if we get weird.
Written by: CaraJoy Kleinrock — arts@theaggie.org